Oliver Parini
Jennifer Kahn in her studio
In Japan in the early 1990s, researchers developed a material that completely upended the field of fine metal work. Called precious metal clay, it was powdered metal, often pure silver or gold, mixed with water and a binding agent. PMC looked and acted like clay — it was malleable and beige colored. But during firing, the binding material burned away, leaving a piece of shining metal in whatever shape the clay had been.
Tim McCreight, a metalsmith and jeweler who's authored more than a dozen books on his craft, wrote that when the first shipment of PMC arrived in the U.S. in 1995, it confounded customs agents. Today, searching "precious metal clay" yields more than 20 million hits on Google. In his 2006 book PMC Decade: The First Ten Years of Precious Metal Clay, McCreight wrote: "Because it is such a new material, PMC offers a unique opportunity to observe the growth of the field, a bit like the pencil lines in the doorway that mark our children's growth."
If such a doorway did exist, one of those pencil marks would certainly note Jennifer Kahn's contribution to PMC artistry. She began working with the metal clay in 2000, right after graduating from the University of Vermont and starting her jewelry-making career.
Nineteen years later, her business is thriving. Kahn, 40, has a Burlington studio and showroom and sells her work through several craft markets; she also has developed wholesale accounts in more than 60 shops nationwide, including about 30 in Vermont. Kahn works with other materials, as well, but PMC has played a significant role in her evolution as an artist and craftswoman.
"At the time, the appeal was that anyone working in it could be a pioneer and write articles and do videos and teach classes," Kahn said of her earliest years. "We looked at it as an entirely new way to work with metal. It was alchemy. It felt like magic."
By "we," she meant herself and her mentor, Celie Fago, a jewelry artist based in Bethel. Kahn first took a class from Fago in Middlebury. The two began working together while Kahn finished school — she would borrow a car and drive to Fago's house for the weekend. Eventually, Kahn convinced the jeweler to take her on as a live-in apprentice. Fago, who'd lived alone for a long time, wasn't sure about it at first but was willing to try. Kahn lived there for nine years.
"She was right. She made herself absolutely necessary to my operation," Fago said. "I took her with me everywhere I taught. We went to Japan, England, all over the United States."
Fago watched Kahn grow up and develop her own style as a jeweler and metalsmith.
Oliver Parini
Jennier Kahn earrings
"What she's created is so dynamic," Fago said. "She's a phenomenon ... I've heard people say that when they get on the plane in Chicago or Atlanta or wherever, they know they're going to Burlington because everybody's wearing Jen Kahn earrings."
Kahn's jewelry is ubiquitous around Burlington, in part due to her 15-year tenure at the weekly summer outdoor BCA Artist Market. Her designs feature many similar, repeating shapes in different sizes, including hoops, crescents, discs and teardrops, but she overlaps and adjusts these shapes to create hundreds of unique designs. Most of Kahn's work is hammered, giving it a dynamic, matte finish. Many of her necklaces are reversible, so wearers get two pendants in one.
"I've tried to be very creative through the years," Kahn said. "How can I make so many things from similar pieces?" she would ask herself. "Often, just the way things are sitting on my table, if one pair of earrings is sitting on top of another pair, that becomes a new pair."
Working with PMC influenced her rustic, boho aesthetic, even when she began using sheet metal again for some pieces. "PMC was so organic and textural. You don't normally get to pattern metal with this very organic, tactile stuff," Kahn said.
She launched her wholesale line five years ago, shipping larger quantities of certain pieces out to stores. Because she gets only half of the profit from those sales, she carefully planned which items would be most cost-effective. Most of her wholesale jewelry comes in silver, copper and brass, and at different price points.
"I just kept making what I liked to wear," Kahn said. Whenever she made something, her mother, whom she described as "a superfan," would tell her, "'Make me a pair of those, but smaller.' So I would always have the big pair for me and the small pair for her," Kahn said. "And when I started my wholesale line, I added a middle pair."
She has begun to get some pieces laser cut — "to save my hand," Kahn said. She now has three part-time assistants who help with various aspects of production and distribution. After 19 years, doing less hammering is a relief.
Kahn has done custom work for local stores, such as Birdfolk Collective in Winooski and Waterbury and Stella Mae in Burlington, and also for Phish — on its website, the rock band sells her brass and sterling silver hoop earrings with little fish pendants dangling in the middle.
As if Kahn wasn't busy enough, she also has a 2-year-old son. (In her showroom, all jewelry is placed above the reach of toddler hands.) His birth was one of the reasons she increased her wholesale work.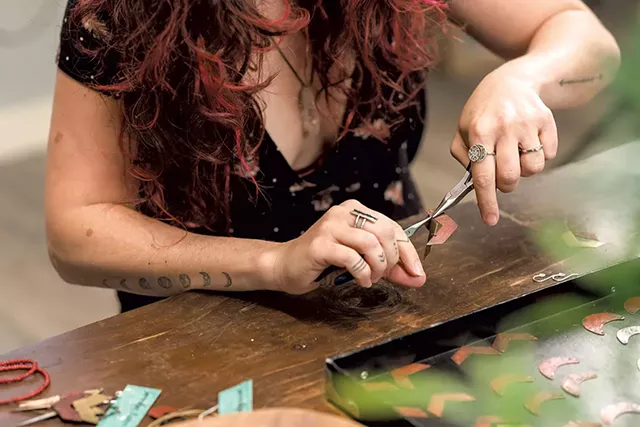 Oliver Parini
Jennifer Kahn
"I was so terrified of losing my business, because this has been my baby for so long," Kahn said. But now, her son serves as a reminder to maintain a healthy work-life balance.
Calling herself "kind of an anxious person," Kahn cited her natural prudence several times when describing the evolution of her business.
"I feel like it's been really slow, because it's been 19 years that I've been doing this, and it's been five years of really getting into stores," she said. "I've taken these painstakingly slow transitions. I'm just nervous and cautious, and I want to have a stable foundation so that things last."
Kahn took a big leap recently by moving into a showroom and large workspace in the Soda Plant, on the second floor above Tomgirl Juice. Just a few walk-in sales cover a month's rent, she noted. The space also gives her room to dream up new projects, such as workshops and events.
Kahn has connected with the owners of two international clothing brands she loves — Nomads Hemp Wear, based in British Columbia, and angelrox, based in Biddeford, Maine; she sells a small collection of clothing from each in her showroom.
"It's been this crazy time over the past few years of new momhood, [and] thinking that I would try to just maintain my business," Kahn said. "But instead, it's just been growing."
In Vermont, her biggest account is Birdfolk Collective. Owner Nicole Carey has known Kahn for a decade and worked with her last year on a line of custom bird-themed jewelry.
"I think that her pieces are timeless," Carey said, standing in front of a cabinet full of Kahn's work and sporting a pair of her hoops. "She's our best-selling jewelry artist ... She's really created a community around her."
Wearing Kahn's jewelry, Carey said, is a little bit like being part of a club.
Next month, that club might well expand: Kahn will offer her work at the Women's Festival of Crafts in Burlington City Hall, the South End Holiday sHOP in the Soda Plant, and the Holiday Artist Market at the BCA Center. She'll also hold pre-Christmas open-studio hours, she said, for last-minute shoppers.