Courtesy Of Carlos Cardinal
Ann Dávila Cardinal
In the fall of 2017, Hurricane Maria hit Puerto Rico, leaving devastation in its wake. At the time, Vermont writer Ann Dávila Cardinal, who has roots and family on the island, was in copyedits with her first solo novel, Five Midnights.
"I wanted to go straight down," she said in a phone interview, but her uncle in Puerto Rico warned that her presence would add to his worries. When she did return to the island, Dávila Cardinal recalled, "The power went out three or four times a week. The grids were still exploding. I said to my cousin, 'What if I need to call an ambulance?' She said, 'Don't worry, they wouldn't have come anyway.' The hospitals were so full."
The 57-year-old Morrisville resident transformed that witnessing of the hurricane's aftermath — and the anger it roused in her — into her second horror novel for young adults. Released in June, Category Five shares many of its characters with 2019's Five Midnights, which won an International Latino Book Award and was a finalist for the Horror Writers Association's Bram Stoker Award.
On her website, Dávila Cardinal calls herself a "Gringa-Rican Author, Tattooed Punk." In the interview, she described the protagonist of both books, Lupe, as "who I would have been as a teenager if I was untamped."
Like the author, Lupe has an alcoholic parent — "absolutely a defining part of a person's life," Dávila Cardinal said. Also like the author, Lupe lives in Vermont and visits her relatives in Puerto Rico every year. In both books, her uncle's job as police chief pulls her into murder investigations involving the supernatural.
In Five Midnights, Lupe tangles with El Cuco, a traditional boogieman of Latin cultures who, Dávila Cardinal said, embodies drug addiction in her narrative. The monster targets Lupe's love interest, Javier, who's in recovery.
In Category Five, Lupe finds herself on the island of Vieques, where specters roam, and fresh corpses have started turning up with their hearts removed. Developers from the mainland U.S. have taken advantage of the hurricane to snap up cheap land and build resorts, and all of the murder victims are involved somehow in that ongoing exploitation.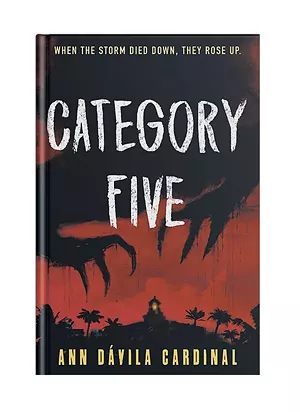 Courtesy
Category Five by Ann Dávila Cardinal, Tor Teen, 240 pages. $17.99
As the kids mobilize to find the killer, Javier's PTSD and unresolved anger threaten to drive a wedge between him and Lupe. "I'm just not the same since Maria," he tells her. "It's like that storm ... it chewed us up and spat us out."
Dávila Cardinal never considered telling a story set during the hurricane, she said: "That I don't think I could have done justice to." But she saw enough of the consequences to share Javier's anger. "The aftermath is what pissed me off. The way the U.S. responded. It just really frustrated me," she said. "So that was actually a more important story for me to tell."
The ghosts in the book represent older unresolved traumas. After weathering the deadly hurricane of 1928, many residents of Vieques were relocated to St. Croix in 1941 by the U.S. Navy, which used the island for weapons testing until protests led to its withdrawal in 2003.
Dávila Cardinal learned about that dark chapter in the history of a beautiful island at a diversity conference in Brattleboro, where she met a woman whose family the navy had relocated from Vieques "to unfarmable land," she said. "They were given some ridiculous pennies on the dollar ... and just moved to another country."
Dávila Cardinal's mother used to tell her hair-raising stories of the 1928 hurricane. She also "grew up on horror comics, watching creature features with my brothers," she said. "They gave me nightmares, but I was drawn to it anyway."
The author holds an MFA in writing from Vermont College of Fine Arts, where she works as director of recruitment and has helped establish a writing residency in Puerto Rico.
She credits VCFA's writing community with educating and sustaining her. "I learned to write on campus," she said. "I was a militant pantser" — i.e., a seat-of-the-pants writer. "I would write entire books and put in plot structure later. That's like making a body and putting in the bones last." She called the school "such a safe place to try new things and try things you're afraid of."
Though education is her business, Dávila Cardinal doesn't see herself as handing down lessons to teenage readers. Her young characters are self-motivated activists and amateur detectives, respecting the wisdom and lore of elders without taking their cues from them.
"I have such respect for Generation Z, I can't tell you," she said. "If you preach to them, they're gone."
What role does horror fiction play in dark times? In Dávila Cardinal's view, it "makes you feel better about the dark parts of your own life. It's a way to flirt with things you're most afraid of in a safe way."
Right now, she suggested, "We're living in a dystopian situation" that has many of us suffering from anxiety. Stories of ghosts and boogiemen and other hyperbolic threats "make it more bearable to deal with that on a daily basis."