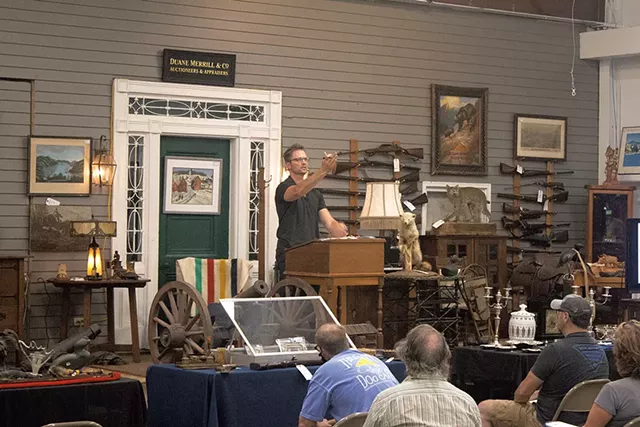 Derek Brouwer
Ethan Merrill
Flanked by a field cannon and a stuffed fisher cat, auctioneer Ethan Merrill rattled off descriptions of antiques for sale last Thursday at his family's gallery in Williston. He had 800 items to get through and two days to move them.
The first hour attracted buyers for punch bowls, duck calls and a century-old nutcracker carved in the shape of a bear. Merrill, a former minor league baseball player, raised a muscular arm to recognize each bid as his eyes searched for a higher one amid the sparse crowd at Duane Merrill & Company's warehouse.
Lot 111, a 45-star American flag, fetched $250 from an online bidder. The next item proved equally valuable.
"This is the Third Reich party banner," Merrill announced. He explained that the 12-foot-long, swastika-emblazoned artifact had been found in Rome during World War II by a U.S. army sergeant from Vermont. "Supposedly," he added, the banner was carried through the streets of Burlington to celebrate the war's end. It sold for $250, also to an online bidder.
As this Seven Days reporter waited for the hammer to fall, a Merrill's employee asked me not to photograph the banner or any of the seven other Nazi items listed in the auction catalog. "This is traumatic for us, too," she said.
Merrill's decision to sell the items in the first place raised eyebrows in the small Vermont antiques industry and among local Jewish leaders, who say the trade is unethical.
"Profiting off of Nazi memorabilia is problematic at best," said Rabbi David Edleson, of Temple Sinai in South Burlington.
Several of the world's top auction houses, as well as eBay, have long refused to handle most Nazi material. Still, a market remains. Items tied directly to Adolf Hitler can sell at auction for tens of thousands of dollars, and consistent demand for Nazi paraphernalia has provided business opportunities for forgers.
This month's auction was not Merrill's first to include Nazi artifacts. In fact, the company's website features a swastika-adorned helmet it once sold for $2,760. But, after fellow dealers spoke out, it was the first time that the state's largest antiques auctioneer felt compelled to defend such sales.
Merrill's is the premier antiques auction house in Vermont, started in 1967 by Ethan's father, Duane, who still takes turns at the podium. The company will sell anything "made by man," the elder Merrill quipped from the podium last week, typically using a flat-rate commission structure; the more an item fetches at auction, the more the auctioneer makes.
Adelle Lawrence, who co-owns the Barge Canal Market in Burlington with her husband, Jeremy Smith, occasionally buys items from Merrill's to resell at her Pine Street store. The auctioneer's previous listings of Nazi items bothered her, she said, but she was reluctant to criticize the practice. "This is such a small business world that people hesitate to say a lot because they don't want to be blacklisted," she said.
Recent events prompted Lawrence to reconsider. In the weeks following George Floyd's killing by a police officer in Minneapolis, she and Smith pledged to become better "allies" for racial justice. The Merrill's auction seemed like an occasion to "actually do what we say we're going to do." In late June, Lawrence posted images of Merrill's online listings to her store's Instagram account and asked rhetorically, "Do you really think this is ok?"
Merrill's soon received calls and messages criticizing the planned auction, and on June 26, the company issued a lengthy statement defending its decision. The desire to "destroy these items or sweep them into the shadows only does a disservice to the period of history from which they originate, to those who were systematically murdered by the regime they represent, and to those who fought and died to annihilate that regime in the name of democracy," the company wrote.
On Facebook, some customers supported Merrill's stance. It didn't take long, however, for other antiques dealers and their friends to criticize the company.
In a post of his own, Clarendon Springs-based dealer Mike Winslow recalled a Connecticut antiques show he attended in the 1980s at which a Holocaust survivor was visibly shaken by the sight of a Nazi banner on display. Winslow asked the manager to take down the banner, and he complied.
Winslow told Seven Days he didn't buy Merrill's claim that the sale of Nazi memorabilia helps preserve the memory of their atrocities.
"You're not doing the world a favor," Winslow said. "I thought that was pretty pitiful."
In another online response, Alex Shevrin Venet of Winooski identified herself as Jewish and urged Merrill's to help donate the items to an educational institution or museum.
Merrill's deleted both comments, saying they were "tainted." In an interview, Ethan Merrill accused competitors of trying to exploit social unrest for a competitive advantage. "It's a blatant attack," he said. "They took something like this as a social issue, and they went after possible competition in the workplace to basically damage my reputation for their financial gain."
Screenshot
Auction items
Venet is an acquaintance of Bittner Antiques owner Brian Bittner, who also objected to the auction. Bittner was the 2019 president of the Vermont Antiques Dealers' Association, a trade group that the Merrill family founded more than 50 years ago. Bittner said his Shelburne business doesn't buy or sell any objects that he considers racist, be they Nazi artifacts or Jim Crow-era products featuring demeaning caricatures of Black people.
"It's disgusting how much was made, and how much is still out there," Bittner said. "It doesn't all need to be here anymore."
Nazi objects can pose a particular dilemma, as much of the paraphernalia was taken and preserved by American soldiers during World War II. As more of those veterans die, their families must decide what to do with the keepsakes.
Bittner and Lawrence said that dealers should explore whether an object could be of use to a museum or similar institution. If not, "the answer may be to destroy it," Lawrence said.
Three Burlington rabbis who spoke to Seven Days said they objected to the sale of Nazi artifacts. Rabbi Jan Salzman, of Congregation Ruach haMaqom, said Nazi symbols can provoke devastating emotions in Holocaust survivors and their families. The apparent "fetishism" involved in collecting Nazi memorabilia, she said, walks the line between the excitement of owning a piece of history and something "far more sinister" — especially as today's neo-Nazis repurpose old symbols.
In addition to two swastika banners, Merrill's July 2 auction included five daggers and knives that the Nazi party manufactured widely before and during the war. Ethan Merrill contends that the only people who bid on such items are military collectors who keep them in historical context. Some interested customers are also Jewish, the company noted in its statement.
"Skinheads," Merrill said, aren't looking for original material. "They're going to buy some knockoff, Chinese-made piece of junk."
There's no way to know for sure. Many of Merrill's customers bid through third-party online platforms, giving auctioneers less interaction with their buyers. At last Thursday's event, about 20 paddle-carrying customers waited to place bids. Many of the winning bids were placed online, including those for four of the eight Nazi items. The most coveted of the array was a 28-inch Railway Eagle insignia that appeared on German trains; it sold to an online bidder for $750.
One of the in-person bidders was Sandor Farkas, a member of the Vermont Army National Guard who described himself as an orthodox Jew and a regular at Merrill's auctions. When Farkas arrived at the auction, an employee pointed out this reporter; Farkas quickly volunteered his thoughts on the auction.
"They're beautiful items in many ways, and we can't forget the allure that that kind of thing has," he said of the Nazi items.
Farkas said he has amassed a small collection of flags from what he considers "evil regimes," including Hamas, the Palestinian Islamic Jihad and the Soviet Union. He successfully bid on the smaller of two Nazi party banners, winning it for $125.
The other local bidder was a Panton man, Shawn Hoague. Hoague runs an antiques resale business called Dogface Supply, which specializes in militaria.
Hoague told Seven Days that he began learning about Nazi equipment after he started his business a few years ago. "It kind of creeped me out a little bit to own those items," he said. "But in the same breath, I knew the old adage of, 'If we forget our history, we're doomed to repeat it.'" He said he's particularly concerned that children won't learn enough in school about such a dark chapter of world history.
Hoague purchased two daggers for several hundred dollars each with plans to resell them. He said he won't sell to a potential buyer who presents as a neo-Nazi. But he also said it's not his responsibility to probe his customers' intent.
"Even if they are a sympathizer, what business is that of yours or mine?" he said. "We're in America; we're supposed to be free to do as we choose and have differing opinions."
One of the daggers Hoague bought, he explained, was issued to young Germans who worked in the Reich Labor Service, which he compared to the New Deal's Civilian Conservation Corps in the United States. The German organization was a mandatory work program that served as a tool to militarize and indoctrinate the country's young men and women.
The blade of the knife is engraved with the program's slogan, "Arbeit Adelt." Hoague, repeating the description in Merrill's catalog, said the words translate as "Labor Enables."
That translation is in error. "Arbeit Adelt" means "Work Ennobles." Historians today understand the slogan as an insidious Nazi propaganda instrument.