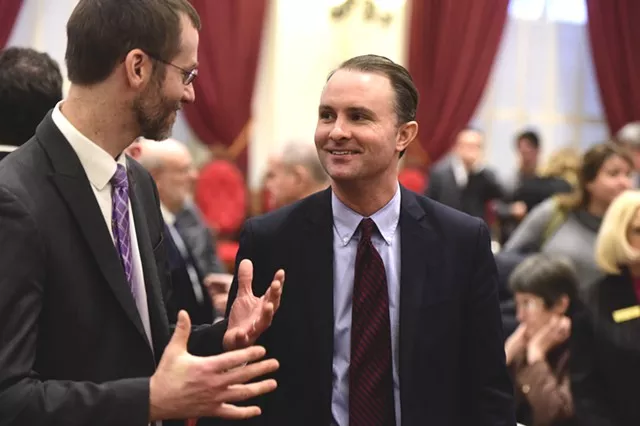 File: JEB WALLACE-BRODEAUR
Vermont Attorney General T.J. Donovan
Updated at 5:45 p.m.
Vermont Attorney General T.J. Donovan said Thursday that he will not seek reelection and plans to put politics behind him.
Donovan has long been floated as a potential candidate for higher office, and
he considered a run for governor in 2019.
A brief written statement announcing his decision on Thursday seemed meant to quash musings about his political future — at least for now. "It is time to take a break from the political world and pursue other opportunities," Donovan said.
Donovan descends from Democratic royalty in Vermont. His grandfather, Bernard, was appointed a federal judge by president Lyndon Johnson; Burlington's Leddy Park now bears his name. Donovan's mother, Johannah "Joey" Leddy Donovan, was a longtime state representative, and his uncle was a state senator.
Donovan began
his political career
as the Chittenden County state's attorney, a position he held for a decade. He unsuccessfully challenged then-attorney general Bill Sorrell, a fellow Democrat, in 2012 before easily winning election to replace the retiring incumbent four years later.
Donovan was viewed as a
forgiving prosecutor
during his time in the state's attorney's office. His inclination to give breaks to people who broke the law sometimes irritated local police, and one of his signature initiatives — a program to divert people with substance-use issues out of the court system — was adopted statewide. In 2015, people lined up for blocks in downtown Burlington to participate in a
ticket amnesty program he conceived
to help low-income Vermonters who had trouble paying fines, which put their licenses in jeopardy.
But his progressive chops have been questioned at times during his tenure as AG. Most notably, he disagreed with his successor, Chittenden County State's Attorney Sarah George, over her decision to dismiss three murder and attempted murder cases against people who claimed insanity as a legal defense. Donovan
refiled charges in all three cases
.
Donovan has often said his views on criminal justice were shaped in part by his experience with the court system as a young man. At 18, he was arrested after a drunken fight and was charged with aggravated assault. He eventually accepted a plea deal that reduced the charge to a misdemeanor, and the crime was later expunged from his record.
He alluded to that chapter of his past in his statement on Thursday, saying that he has approached his job as AG with a belief that "Vermonters are good, decent people who should not be defined by their mistakes, but should be given the opportunity to comply with the law."
"This belief stems from my own experiences growing up in Vermont, which taught me a valuable lesson: trust Vermonters and believe in their goodness," he said.
Anyone seeking to replace Donovan must make their move soon; the deadline for major party candidates to file to run is just weeks away, Those keeping score can cross off Chittenden County prosecutor George. She said in a phone interview that she has no interest in the post now held by her former boss.
But Donovan's chief of staff, Charity Clark, does. She said she is "very seriously" considering a run."I will make the decision in the coming days," she said, adding a few seconds later: "It has been a major motivation for me that no woman has ever served as AG."
Washington County State's Attorney Rory Thibault, a former assistant AG, said he, too, is mulling a run. "Before committing to a decision, I want to speak more with my family, friends and other colleagues about the best direction," he said.
Donovan's decision only adds intrigue to what was already shaping up to be one of Vermont's most exciting election cycles in recent memory, with six statewide offices now lacking an incumbent.
The dominos began to fall with Sen. Patrick Leahy's (D-Vt.) announcement in November that he will retire after nearly 50 years. Rep. Peter Welch (D-Vt.) quickly announced plans to run for Leahy's seat, setting off a mad scramble for Vermont's lone seat in the U.S. House.
Since then, Lieutenant Governor Molly Gray, Secretary of State Jim Condos and State Treasurer Beth Pearce have all said they won't be seeking reelection either. Gray is running for Welch's seat, while Condos and Pearce are retiring.