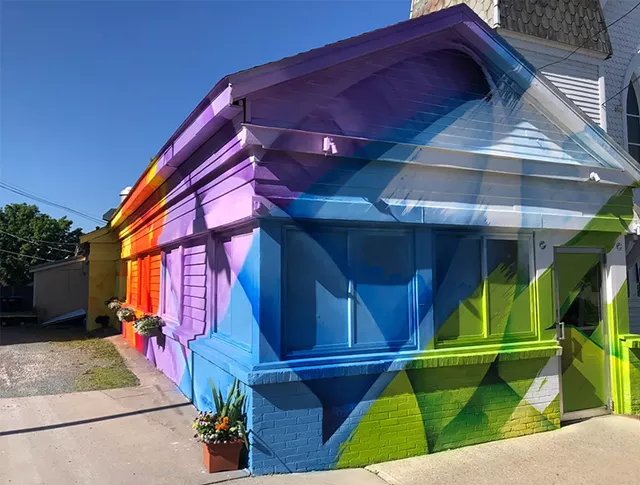 Sabine Poux
Mural by Hans Schmitter on former diner on Merchants Row in Middlebury
Natural beauty abounds in Vermont, but the state has its fair share of human-made artistic contributions, too. Public art can be found in every nook and cranny, whether in the form of murals and sculptures or musical and theatrical performances.
Over the next few months, the Vermont Arts Council is asking for help documenting this arty goodness. The Montpelier-based nonprofit is inviting Vermont residents and visitors to send in photos of public art from around the state so that, by the time winter arrives, it will have at least one image from each of Vermont's 251 towns.
The campaign borrows the concept of the 251 Club of Vermont, an informal organization of "Vermont enthusiasts" who aim to visit every town (and gore!) in the state. It also illustrates a core tenet of the council: In the Green Mountain State, culture is everywhere.
"We have always said, no matter where you are in Vermont, if you turn around you can probably find an arts event, an activity or a structure," said VAC communications director Kira Bacon.
The images the council amasses will serve as visual representations of this omnipresent creativity, she added. And she hopes the project will encourage participants to keep their eyes open for art in their own communities, as well as those they visit.
"As I'm driving through places, as I go through all these little Vermont towns, I think, Is there a gallery? An arts center? Piece of public art? Concert?" Bacon said. "Hopefully, everyone will do that."
Participants can submit pics to the council via email or post on social media using the hashtag #VTArts251. The council will post submissions on its social media accounts, on its website and in a biweekly newsletter.
And if the VAC falls short of its goal to hit every town?
Bacon doesn't plan to let that happen — "even if I spend two days traveling the state," she vowed.