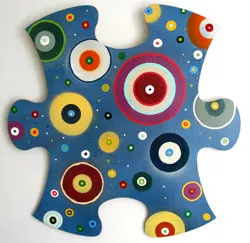 Puzzle Peice by Janet Van Fleet
Last year the Vermont Arts Council ran a statewide arts campaign, called Palettes of Vermont, that engaged 118 organizations and 40,000 palette-painting participants in 247 of the state's 251 towns. (Aren't the other four gores or something?) Most of those towns hosted painting-party workshops and exhibits of their palettes, and collectively raised some $300,000. On the heels of that happy success, this year's project, dubbed Art Fits Vermont, is a puzzle.
Literally.
"Since we accomplished all our goals last year, we took the time to think about whether we wanted a theme," says Diane Scolaro, communications and development director at the VAC. "The thing that was the most outstanding result was the connections between people — artists connecting with communities, communities with other communities, etc." Bingo: Nothing says connection more than puzzle pieces, right?
Beginning in April, participants will be given an outsized puzzle piece to decorate as they see fit. It's approximately 14 by 14 inches, with "two innies and two outies," as Scolaro puts it, "so it's universally connectable." The Vermont Wood Manufacturers will provide about 8000 wood puzzle pieces, she explains. Another 50,000 paper versions will be made available to kids in school or summer camp programs. "So right there we're looking at almost 60,000 pieces," Scolaro adds.
The scope of the puzzle project is more ambitious in other ways, too; for starters, it will last 18 months rather than just a year. "The Lake Champlain Quadricentennial is an opportunity to showcase to a much larger audience," says Scolaro, who notes that on the weekend of July 4, 2009, "we'll put on 'Puzzlepalooza.' We'll line the lakeside with thousands of puzzle pieces."
The VAC is partnering with the state's tourism department to make sure visitors find out about puzzle events, too. And that's not all. This year, the neighbors are invited. Because of the Lake Champlain celebration, Scolaro says, "We will give puzzle pieces to artists in Québec and New York, as well as France." France? Mais oui — the birthplace of explorer and lake namesake Samuel de Champlain, n'est-ce pas?
Though it may involve connecting puzzle pieces along the Burlington Bike Path, the grand finale of the project is still TBA. "Someone suggested getting puzzle pieces to cross the lake," Scolaro confides. But first things must come first: Until March 26, VAC staffers will be hosting meetings in towns across the state to toss around ideas and network with community organizers. And then there's that all-important fundraising part. "In our endless quest for money, we're going to request $90,000 from the legislature," says Scolaro. "We saw last time those communities that participated were able to leverage income from the [Palettes] project. If we can get the legislature 
to invest, we're pretty sure the return on the investment will be worthwhile."
Either way, Art Fits Vermont will launch on April 16. To find out the meeting schedule or otherwise get involved in this project that's "bigger than the sum of its parts," visit www.vermontartscouncil.org.