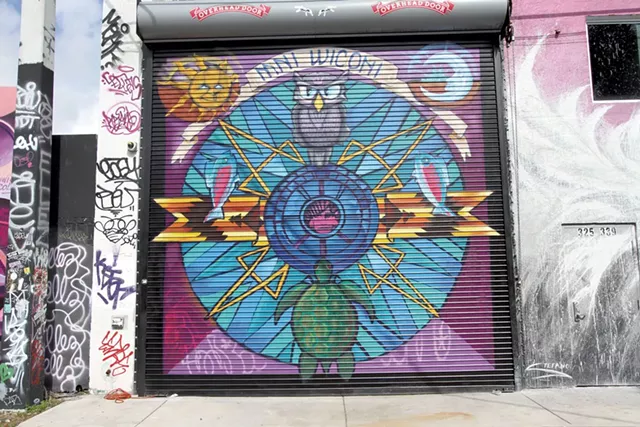 courtesy of Anthill Collective
Anthill Collective's Standing Rock water mandala in Miami
For an event with the confrontational name "Wrecking Ball: F**k 2016," last Saturday's "cabaret" of performances at Off Center for the Dramatic Arts in Burlington was surprisingly low-key. Conceived in Toronto in 2004 and designed to produce "professional calibre theatre that is responsive to world events," the Wrecking Ball concept seemed tailor-made for progressive Vermont theater artists. In fact, Canadian citizen Laura Roald offered the most engaging presentation — a humorous, slide-supported argument for why we shouldn't all move to Canada (despite its hunky and feminist PM, Justin Trudeau).
Chances are good that the next four years will offer plenty of opportunities for Wrecking Ball to return, and for artists of every stripe to practice the art of protest in various formats. Not to mention the raising of consciousness and funds — Saturday's event benefited the ACLU.
In fact, Vermont artists have already started that activism work, whether in response to the recent presidential election, the Dakota Access Pipeline standoff in North Dakota, police violence against African Americans, the ongoing threats to women's health care access, or other abrogations of human rights at home or abroad. There's a lot to choose from when it comes to causes.
Artists the world over have long had a role in trying to effect change — indeed, some seem particularly energized by an opportunity to fight the power. And, as a recent article in Hyperallergic put it: "If we're going to protest continuously for four years, we might as well keep it aesthetically interesting." Another piece in that newsletter schooled readers on how to reignite the art of making a statement.
Meantime, Robert Lynch, president and CEO of Americans for the Arts, has declared, "The arts have always been used as a healing force, and we have seen the power of art to affect people's thinking."
Other arty actions around the U.S. include a "Not My President's Day" initiative on February 20. A coalition of theater artists calling themselves Bad and Nasty — remember "bad hombres" and "nasty woman" in the Trump lexicon? — is encouraging "radical inclusive, disruptive, provocative, ridiculous, enraged and engaged work" in every state. Another effort that activists are trying to get off the ground — adopting the hashtag #J20 — involves an art-world strike on inauguration day. That is, "mass absenteeism" from galleries, museums, theaters and other art institutions." It's not clear what such a move would accomplish.
Closer to home, longtime theater artist David Schein has a better idea. He told Seven Days, "I've always had an ear and eye for political theater. These days are reminding me of those days — when we feel that the most dangerous government around is our government." When he heard about Not My President's Day, Schein said, he decided to adapt Alfred Jarry's absurdist play Ubu Roi, which satirizes greed, power and their attendant evils, "and just get down and dirty."
The updated version, which Schein is writing with Vermont poet Seth Steinzor, will be called Trumpuboo Roi: King Turd Revisited and will be performed at FlynnSpace in Burlington. Schein added, "There's going to be a lot of political art — I'm kind of excited and rejuvenated by this."
Melissa Lourie, artistic director of Middlebury Actors Workshop, had already been planning a full stage production of American Radical, a play about women's rights activist Elizabeth Cady Stanton, for March — women's history month. Since the election, she noted, the play feels "more relevant than ever."
Vermont is home to the grandfather of arty political protest, Peter Schumann, founder of Bread and Puppet Theater. The troupe has not relaxed its vigilant stance against the powerful and the corrupt for the past half-century, and certainly won't now. According to B&P's Linda Elbow, members of the troupe plan to attend the Women's March on Washington on January 21. And Schumann, she said, "is now trying to do Insurrection Masses every Sunday afternoon through the winter."
For this last arts column of 2016, we scanned the arts community for issue-specific activities, scheduled for now and in the near future. We divided these efforts into several categories: artist-created merchandise; visual messages; performances designed to raise awareness; and benefit shows. What follows is a sampling. We expect more to come.
— Pamela Polston
Purchasing Power
Raise Your Fist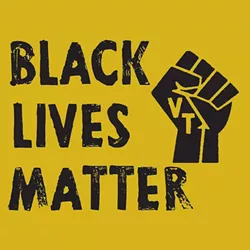 Ebony Nyoni, leader of the local chapter of the national Black Lives Matter movement, along with Shela Linton and Emma Redden, designed a fierce 802-centric rendition of the original Black Panthers raised-fist symbol. To help raise awareness and funds, Burlington's Green Door Studio and members of the band Gang of Thieves helped the group print the logo on T-shirts, which are available in the BLM Vermont online store.
In recent weeks, the shop has expanded as a platform for not only BLM wares but an array of local artists who are donating a portion of their sales to the cause. Their offerings include a print of a quote from former Black Panther Assata Shakur, designed by Jabari Jones and printed by Jasmine Parsia; ceramics by Rebecca D'Agostine and JRD Mudworks; and custom upcycled sweatshirts from Alana Redden.
— Rachel Elizabeth Jones
Ruby Electra, 'Snatch the Patriarchy' T-Shirt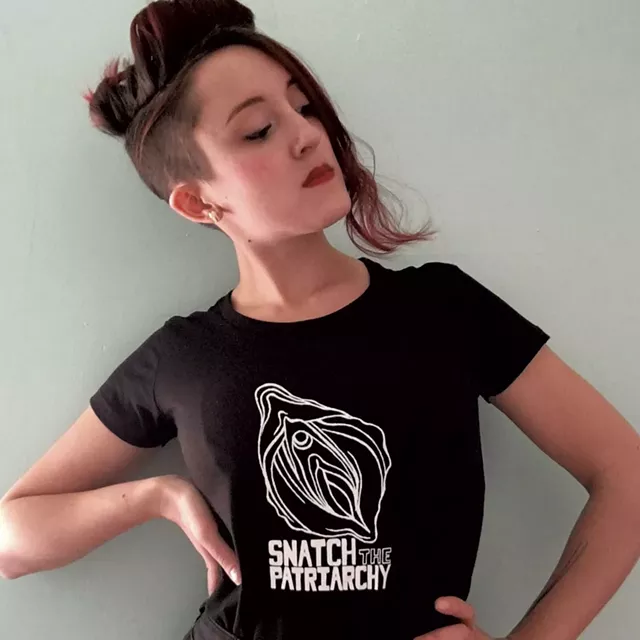 courtesy of Ruby Electra
Ruby Electra's "Snatch the Patriarchy" T-shirt
Ruby Electra said that, on election night, she was gripped with the desire to paint vaginas on "everything." Instead, the 26-year-old bartender, artist and personal assistant to Radio Bean owner Lee Anderson designed a T-shirt emblazoned with an artfully articulated vaginal unit and the slogan "Snatch the Patriarchy." Printed by Burlington's Unknown Arts, it's sold in men's and women's sizes through Electra's website for $25, and she donates 50 percent of the proceeds to Planned Parenthood.
— Sadie Williams
Haley Fenn, Standing Rock Hoop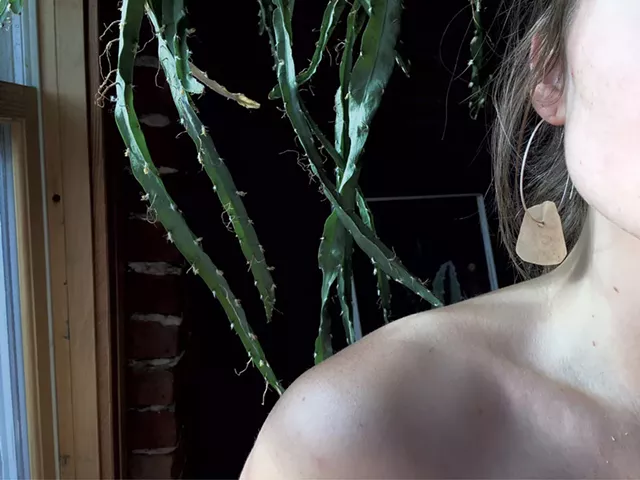 courtesy of Haley Fenn
Standing Rock Hoop
For the past year or so, Haley Fenn has been turning out minimalist, modern jewelry from her Burlington studio Warren & Fenn (a collaboration with textile artist Emma Warren). On Thanksgiving Day, she released a new set of silver earrings with a social mission. You can special-order the Standing Rock Hoop with a dangling, organically shaped brass piece for $70 via email, and Fenn will donate 50 percent of the proceeds to an organization supporting the Standing Rock Water Protectors.
—S.W.
Visual Messages
Street Graffiti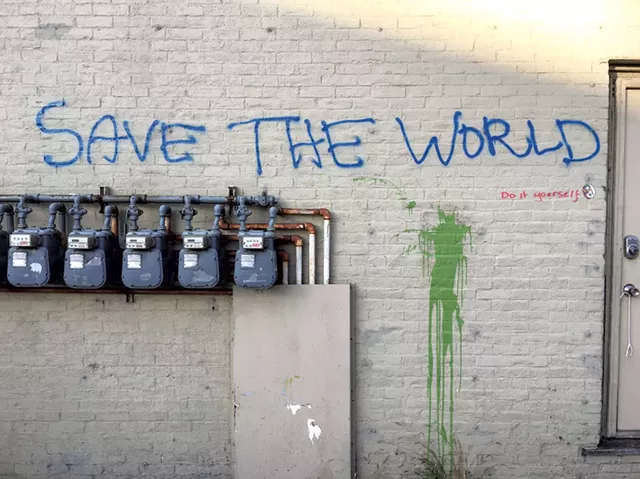 The term "public art" encompasses any work sited in a public space with permission. Because unapproved art such as graffiti is considered illegal, it's often executed rapidly and minimally. Two examples we've noted recently in Burlington are the massive, hastily scrawled blue letters spelling "Save the World" on the Pearl Street side of East West Café; and the "Make America Nice Again" stenciled in black on the sidewalk by the downtown Rite Aid. These anonymous contributions to our built environment serve as uplifting reminders of the power to speak one's truth in the face of judgment — whether it comes from local law enforcement or the president-elect.
—S.W.
Standing With Standing Rock
In late November, Anthill Collective members Brian Clark and Scottie Raymond, along with Adam "Wing Nut" Hineman of the Taco Truck All Stars, road-tripped south for Miami Art Week. They made a pit stop to warm up at North Carolina State University in Raleigh, and left their mark with a simple "NO DAPL" [No Dakota Access Pipeline] piece in the school's "Free Expression Tunnel."
Once in Miami, the trio set to work decking out a door at the Concrete Beach Brewery with what Raymond called a "water mandala." Initially, the group had proposed a work that showed overt solidarity with Standing Rock — but, as Raymond put it, the brewery powers-that-be "weren't in love with it." So the collective adapted, toning down the message. Still, at the end of a three-day painting spree, they emblazoned their mural with a ribbon declaring, "Mni Wiconi," or "Water is life" in Lakota — a battle cry of those in opposition to the pipeline.
"We knew by the nature of the political atmosphere there that nobody was going to know what we were talking about," Raymond said. "Most people in Miami didn't seem to have any idea what 'Mni wiconi' meant."
—R.E.J.
Safety in Numbers
courtesy of Susan Blethen
A group of Burlington High School students has designed a symbol to spread the message that Vermont is a welcoming community. The nine teens, members of the school's International Club, created the symbol in two weeks, with the help of teacher Susan Blethen and Andrea Green from the University of Vermont Children's Hospital. The result is a drawing of a dove in cupped hands.
According to a statement from the students:
[The] dove represents peace and also immigration because the dove is a bird and often migrates [to] places for warm weather to live... The hands show that our community welcomes everyone, protects them and ensures that they are in a safe place.
Next, the students will work with a graphic designer to finalize the symbol. They hope to raise enough money to reproduce it on pins and T-shirts for sale, with proceeds going to local organizations. They also hope local businesses will print the symbol on posters and hang them in their shop windows.
"Our goal through this project is to help the refugees, immigrants and asylum seekers live in the United States without fear, and it is also our hope that everyone accepts this symbol for its good cause," wrote the students.
— Kymelya Sari
Acting Out
'American Radical'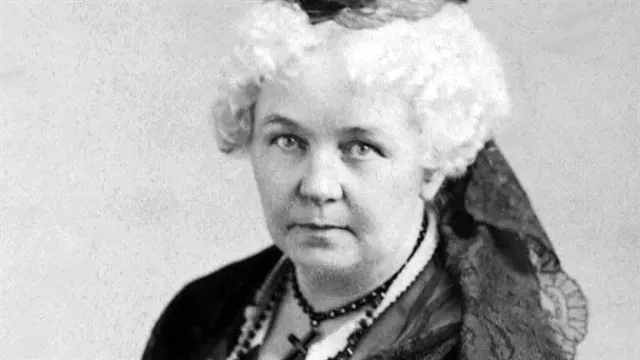 In February, Middlebury Actors Workshop staged a reading of local actor Kate Redway's play American Radical, a biographical drama about 19th-century suffragist Elizabeth Cady Stanton. In March, said artistic director Melissa Lourie, the group will mount a full production of the show. "After the election," she added, "I thought it was more important and relevant than ever."
—S.W.
'History Retweets Itself'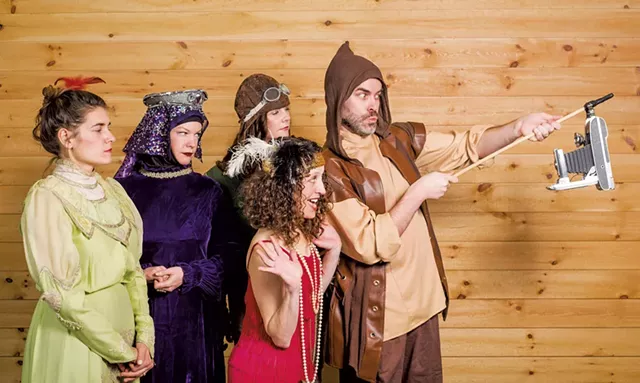 courtesy of Josh Larkin
Stealing From Work sketch comedy troupe
Burlington sketch comedy troupe Stealing From Work commonly packs a feminist punch in its pee-your-pants funny skits. Its next show, in February, might have a little extra edge. "We started writing 10 months ago," said Marianne DiMascio, a primary creator of the group's material with Angie Albeck. "But the stuff we touched upon recently has to do with race and privilege and white people not doing enough to contribute to the dialogue about racism." Like similar theater artists, "We think about how to use satire to move people to think," DiMascio added. The president-elect's obsession with Twitter presumably inspired the title of SFW's latest show.
—P.P.
Public Panic Attack
In late October, local activist group Feminists Against Trump rallied a group of like-minded women for the theatrical Witches Against Trump demonstration. Now, postelection, the group will join the All Affected Coalition ("pronounced aaaccccckkkk!!!!!!," according to its Facebook page) to stage a "Public Panic Attack" — so no one need panic alone.
Group member and Middlebury College associate professor Laurie Essig told Seven Days, "So often when women have responded to the illogic of masculinist governments or societies, they've been marked as hysterical, crazy [and] panicked. We thought that being panicked at this moment was the correct response." Referencing historical notions of acceptable femininity and hysteria, the group will riff on the 1950s housewife by donning purple dishwashing gloves, and it encourages other attendees to do the same.
Public Panic Attack, January 14, 2:30 p.m., at the top of Church Street in Burlington.
—R.E.J.
'Trumpuboo Roi'
French playwright Alfred Jarry's Ubu Roi so outraged Parisian audiences that its first production opened and closed in one day — in 1896. More than 120 years later, little has the power to shock onstage, yet the work remains at least unsettling. Perhaps that's because an absurdist play about power and greed is still so damned relevant — much like Macbeth. This update of Jarry is also darkly funny. Burlington actor David Schein and writer Seth Steinzor are "totally changing the text" and producing it in conjunction with the national movement Not My President's Day. Said Schein, "I'm just writing new text to fit the new circumstances."
—P.P.
Trumpuboo Roi, February 20, 7:30 p.m., at FlynnSpace in Burlington.
'I Am Not Your Negro'
courtesy of Vermont International Film Foundation
James Baldwin (center) in I AmNot Your Negro by Raoul Peck
Filmmaker Raoul Peck has created a documentary that bills itself as "the book James Baldwin never finished," according to the website of the Vermont International Film Foundation. Baldwin died before completing Remember This House, which addressed the lives and assassinations of Medgar Evers, Martin Luther King Jr. and Malcolm X. According to programmer Seth Jarvis, recent events and concerns inspired the organization to book the film before its general theatrical release. (Watch for info, too, about VTIFF's Global Roots 2017: Food & Music Film Festival in February. "Several of the films will be political," Jarvis noted.)
I Am Not Your Negro, January 26, 7 p.m., at Main Street Landing Film House in Burlington. $5-8.
—P.P.
Benefit Performances
The best activist art demonstrably changes people's lives. That's exactly what the Green Mountain Mahler Festival's seventh annual holiday performance of Beethoven's Symphony No. 9 aims to do. Ticket sales for the concerts — December 30 in Stowe and January 1 in Colchester — will go to the Vermont Refugee Resettlement Program to help New Americans.
This is the first time the community orchestra has chosen a repeat beneficiary. In the past, the event has given an average of $5,000 to community organizations ranging from the Vermont Family Network to the Visiting Nurses Association, according to GMMF's founder, Daniel Weiss. Last year's concert raised $7,000 for the VRRP.
"In the current political climate, it seemed a good idea to continue with that," said guest conductor Daniel Bruce.
Given the current attitudes toward immigrants, Weiss added, "we want as a community to support this, and this is one way of doing that."
Last year's donation from GMMF made a definite impact. Said VRRP director Amila Merdzanovic, "We were able to get winter boots for all families arriving during the winter months, both adults and children." Donated boots are never enough, she explained, adding, "We were able to get rice cookers, pots and pans, knives and picture dictionaries."
In addition to helping the broader community, the GMMF's Beethoven's 9th tradition also creates one. Many musicians are former Vermonters or college students visiting family for the holidays, and the chorus comes from all over the state, said Weiss, who is a bass player.
Then there is the music. Beethoven's last symphony, which turns poet Friedrich Schiller's "Ode to Joy" into a choral declaration, is a powerful and moving tribute to brotherhood. "It's an anthem of freedom and hope and joy," said Bruce. "When everyone is apprehensive about the future, I see this performance as giving hope."
— Amy Lilly