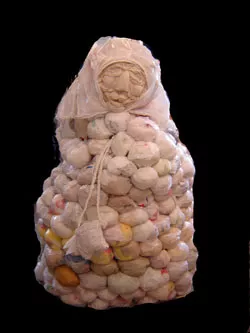 A Plastic Bag Lady by Sophie Hood
Turning Japanese? Not so much, but four artists from Vermont are certainly turning their sights toward Japan this winter. Janet Van Fleet, Riki Moss, Janet Fredericks and Sophie Hood have been invited to participate in an international exhibit titled "On the Planet: we will live on this planet" at a gallery in Nagoya, Japan, opening in January 2010. Curated by videographer Izuru Mizutani, the show was conceived in conjunction with the Conference on Biodiversity to be held in that city later next year.
Accordingly, the Vermont quartet will install in the 1200-square-foot space individual works that speak to the diversity and survival of life forms on earth. Collectively, the women aim to represent the rural perspective; the other artists involved — seven from Japan and four more Americans — hail from urban environments. "I think their work will be less environmentally explicit than ours," predicts Van Fleet. "Not that we want our work to be didactic, but the meaning piece is important."
What's the East-West connection? Van Fleet explains that part-time Vermonter Emiko Sawaragi Gilbert "goes back and forth from Vermont to Japan a great deal" and was approached about this exhibit by Mizutani, who has spent time at the Vermont Studio Center in Johnson. Gilbert in turn connected Mizutani with Van Fleet. "He asked me to send him a list of people in Vermont who were doing environmentally related work, and he chose from that," she says.
Van Fleet's circular "web of life" installations will be part of the Nagoya exhibit, along with watercolor "river maps" by Fredericks, odd biomorphic forms in mixed media by Moss, and wearable creatures/costumes made from plastic bags by Hood. To mount three reciprocating shows in Vermont next fall — at Studio Place Arts in Barre, the Flynndog in Burlington, and the quarries at Millstone Hill — Van Fleet will switch to the role of co-curator, along with SPA director Sue Higby. She will issue a call to artists to contribute to what promises to be a sizeable collection of works from both local and Japanese artists. All three floors of SPA will be allocated to the thematic show.
Meanwhile, the four Vermont artists need to raise some money — target goal: $5000 — to cover their trip to Japan. Stay tuned for word on several fundraisers in the works.