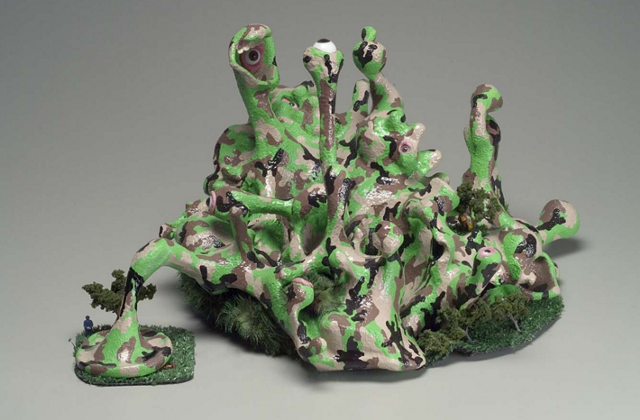 "Natural Rebellion," sculpture by Jennifer McCandless
Every year since 2002, Miami Beach and the surrounding area have swelled with artists, gallery owners, curators, celebrities (art-world ones as well as the cinematic variety) and art enthusiasts. Art Basel, the influential international art fair, has drawn crowds since its inception in Basel, Switzerland, in the 1970s. The show's Miami iteration is relatively new, but it has quickly spawned more than 20 satellite shows.
This week, the work of eight Vermont-based artists will appear at two such events, the Fridge Art Fair and the inaugural X Contemporary fair, where that art will be exposed to fairgoers from around the world. Participating artists are painters Scott Andre Campbell, Brooke Monte and Sara Katz; mixed-media artists Alex Costantino and Catherine Hall; sculptors Leslie Fry and Jennifer McCandless; and choreographer Laura Gordon, who will perform at various locations within the Fridge Art Fair.
The participation of Vermont artists in what is loosely called Miami Art Week is in large part due to the initiative of Burlington-based ONE Arts center codirector Margaret Coleman and the national nonprofit arts organization she directs, Art Shape Mammoth. Composed of various nodes, ASM incorporates a national artists' representation program and a new arts-exchange project in Shanghai.
ONE Arts, which has a physical space in Burlington's Old North End and curates local exhibits, events and classes, is one of several ASM projects. The organization's primary goal is to "enhance contemporary arts dialogue [by] supporting the development of artists by connecting them with new communities."
Bringing artists to Miami is one example of what Coleman describes as her ongoing effort to "develop a relationship with a larger contemporary arts dialogue." She asserts, "Everybody who we're taking absolutely has the quality of work that should be at a contemporary art fair."
Another major booster of Vermont's arts profile is Jill Badolato, director of social responsibility at Dealer.com. To help get the Vermont work seen in Miami, the company issued what Badolato refers to as a "fuse grant." The charitable contribution is specifically earmarked, in this case, for the costs of professionally transporting artwork to Miami — a task that can become a nightmare.
Like Coleman, Badolato plans to attend the fair herself, where she will "go and see so much art, and get the lay of the land of who's out there," she says. For her, increasing Vermont's presence in the art world helps to "make it a place that people want to live."
Rather than being clustered together, the Vermont artists will exhibit with other ASM-associated artists. Nine of them, including Fry and McCandless, will appear at X Contemporary as part of ASM's "The Language of Objects" show. Campbell, Costantino, Fry, Hall, Katz and Monte will exhibit at Fridge Art Fair as part of ASM's exchange program, alongside five Chinese artists presented by Shanghai curator Lufei (Vera) Sun. (Sun graduated earlier this year from the MFA program in emergent media at Champlain College, where she cocurated a Burlington exhibit of Shanghai digital artists last spring.)
"When you live in Vermont and you'd like to get your work in front of people who are serious about buying," says Winooski sculptor Fry, "[Miami Art Week] is the ultimate marketplace, because there are people who come from all over the world."
If it sounds like there's a lot going on in Miami, that's because there is. Through the art-centric ambition and hard work of Coleman and Badolato, the Vermont artists will have the opportunity to multiply their audience, connections and inspirations in a short span of time. "The whole time we're there," Coleman says, "we'll be talking about what we're doing in Vermont."