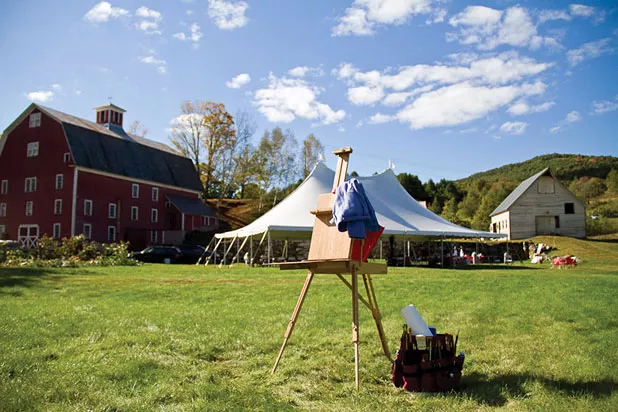 When artist Chip Evans knocked on the door of the Farmhouse Inn at Robinson Farm in Woodstock last year to ask for permission to paint the massive barn there, he got a bewildered response from owner Barry Milstone. "Could you paint the barn?" Evans recalls Milstone asking.
The two men had very different ideas of what that meant: Evans imagined a canvas and some oils, brushing at an easel en plein air. Milstone, who had long dreamed of fixing up the nearly 100-year-old structure, was thinking ladders and gallons of red paint.
Turns out both men are getting what they wanted.
Last week, as part of a project Evans initiated called Artists for Barns, he and 16 artists from around New England set up their easels on the Milstones' property and got to work painting the barn. That is, pictures of the barn. Over the next three days the artists finished a total of 34 works, meant for an exhibit in Evans' Gallery on the Green in Woodstock. The paintings will be auctioned off in early October. Half the profits will go to the Milstones to help them give their historic barn a new coat of stain.
"It's like the old days," Evans says, referring to community barn raisings of yesteryear. "Bring nails, bring boards; we're going to put a barn up."
Nowadays, too many barns are coming down. According to SaveVermontBarns.org, a Vermont barn collapses every four days on average. On Friday morning, the Milstones' five-story behemoth is still standing tall and casting an enormous shadow on painter Marieluise Hutchinson, who is sitting at her easel, bundled up against the wind.
"I'm not loving being out here freezing," she says. "I already had a spider climb down my neck."
The 63-year-old contemporary folk artist usually paints her New England farmscapes indoors and at home, she says, with the cat purring nearby and classical music on the stereo. She splits her time between Cape Cod and Maine, where she lives in a restored barn. Farm buildings show up all over her nostalgic paintings, dusted with snow, their roofs gently bowing. She's happy to be a part of any effort to keep them from collapsing.
Like all the participating artists, Hutchinson shows her work at Gallery on the Green. Evans would like to replicate the fundraising project all over the state and, eventually, throughout the country. As an artist, he's always felt drawn to barns; he loves them for their connection to our agricultural heritage, their clean lines and, most of all, he says, their color.
"Practically speaking, when you have a whole big landscape of green, you need a red barn to invite somebody into the painting," Evans suggests.
The barn at the old Robinson Farm is certainly inviting. It's what sold the Milstones on the property when they relocated from northern California about four years ago. As they stepped into the giant structure, their imaginations went wild with possibilities. The top floor, with its cathedral ceilings, would make a great space for weddings, Milstone says. The fourth floor could be an event hall. The lower levels, which currently house chickens and a stall for the Milstones' horse, he envisions as future artists' studios.
Right now, though, the primary concern is to avoid further damage to the structure.
"We're just making sure it doesn't fall down on our watch," says Tory Milstone, Barry's wife.
Built in 1915, the high-drive bank barn is in relatively good shape, thanks in part to its post-and-beam construction and sturdy slate roof. But the Milstones say it's at a critical turning point. The second floor, which once served as winter housing for the 40 cows that made up the Robinson family's dairy operation, is rotting away. A jack is holding up some of the vertical posts, and powderpost beetles are chewing away at the rest.
If they do nothing now, Barry Milstone says, the barn will begin a steep decline toward collapse over the next five years.
Still, it makes a striking subject for the artists out there on Friday. Hutchinson may be a little chilly, but she's captured something melancholic and beautiful on her canvas. She's focusing solely on the upper portion of the building — the slate roof that's held it together for nearly a century and the mangled weather vane on top, which, Hutchinson points out, is missing one of its arms.
Maybe it's those very signs of decline that make old barns so attractive to artists?
Perhaps, but Evans and his crew of volunteer artists don't want to lose the barns altogether. "All spiffed up, is it going to be as pretty?" Evans asks rhetorically. "Well, maybe not, in an artistic sense. But, hey, if it's going to be gone in eight years…"