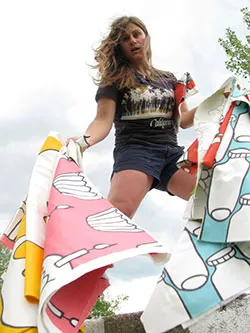 It's not uncommon for painters, sculptors and designers of all kinds to supplement their incomes by producing housewares, clothing lines or sundry tchotchkes for a mass market. Michael Graves did it designing toasters for Black & Decker. Isaac Mizrahi did it creating fashions for Target. Keith Haring did it selling all kinds of merchandise bearing his iconic images. So Abby Manock, a visual artist who splits her time between New York City and Vermont, is in good company.
Recently, Manock, 32, launched a line of organic cotton fabric under the name abbyabby. Though her simple, graphic line drawings on a solid-color background may suggest "outsider" art, Manock holds an MFA from Columbia University.
Based in New York for her work as a multimedia installation artist, the Vermonter feels strongly about setting up shop in her home state. "I really want this to be a Vermont company," Manock says. "I don't want it to seem like I'm some poseur."
Still, her return home to establish her business was a bit of a happy accident. Manock had sublet her New York apartment for the summer to create a sculptural piece for the Bonnaroo Music and Arts Festival in Tennessee, which would require her to travel for a good part of the season.
But the Bonnaroo gig fell through and her apartment was already rented, so Manock came home to Burlington to craft her fabric. It worked out for the best, because she's been able to tap the skills of local folks to help her create abbyabby. These included her father, architect Jerry Manock, who designed her fabric-cutting table.
The fabric is sustainably sourced and is printed in Washington state. It can be used for whatever people want, Manock says — bags, curtains, pillowcases. If the fabric enterprise is successful, Manock sees some abbyabby housewares in the future.
Ask Manock about her motivation for creating these first five prints — featuring acorns, trucks, bottles or cupcakes — and you're likely to get a circuitous answer. But she admits there's a bit of vanity involved. "I always sort of thought I would like to have fabric with my drawings on them," she says.
Manock came up with the first designs after she tried to draw a truck from memory and couldn't get the proportions right. She spent weeks drawing trucks, over and over, until she could reproduce one on paper without having to look at a truck in real life. As she filled notebooks with her drawings, she was struck by the aesthetics of the repetition.
"I thought, Oh, that would be a cool fabric," she says.
The designs, which can be seen on Manock's website, have struck a chord with friends and fans of her work. The bold, minimalist patterns are unlike anything else you're likely to find on fabric. "They just go well with stuff," Manock says. "They just sort of fit in and enhance what's already there."