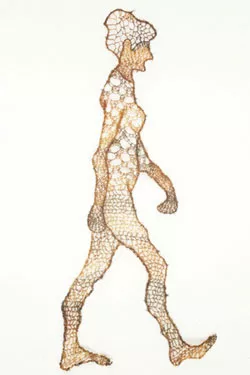 Erica Layton's "Human Hair Lace" exhibit is right at home among the unidentifiable bones, pressed flowers, mummified cats and other oddities in White River Junction's Main Street Museum. Calling itself an "eclectic display of material culture," the quirky establishment founded by David Fairbanks Ford is in the style of the 19th-century "cabinet of curiosities" museum. And curious indeed are its contents.
The hair lace "totally belongs [here]," Layton says of her intricate handiwork, which includes a dark blond, doily-type piece, curling slightly around the edges in the humidity, and an Eadweard Muybridge-inspired series of panels, stitched with single strands, that depict a walking woman.
Layton, who lives in Norwich, started making needlepoint lace during her senior year at the Rhode Island School of Design. She had been studying the history of lace making and wanted to try it for herself using traditional cotton, linen or silk. But she just couldn't find threads fine enough to make the 1840s-style lace she was after, she says.
So, she went with human hair.
Layton started with her own tresses, but, as word got out about her project, friends and family members began sending her their own. People would come over with bags of it, saying, "Here's some hair I've been saving and I didn't know why until now," Layton says.
Using fabric as a work surface, held taut with an embroidery hoop, she works on her pieces for hours at a time. One, just a few inches tall and employing a varied palette of hair hues, shows a woman walking in profile. It took 40 hours to create.
"It's a little hard on the eyes after a while," Layton admits.
Hair texture affects the resulting product. She's found that curly hair is harder to work with, but, counterintuitively, it doesn't roll up as much when she cuts it off the hoop.
"It's really important for me to know whose hair I'm using, because it contains DNA," Layton says. "I would feel uncomfortable walking into a barber shop and asking for hair, using hair from someone I don't know."
Only one of her pieces at the museum is made of hair from an unknown source, and it's part of a rather creepy interactive sculpture: Tug on the long, thin braid, which has been wrapped around a spool supporting a vinyl record, and the needle will screech and grate.
Keeping locks of old hair and weaving it into trinkets is nothing new, Layton notes. During the Victorian era, it was common practice to have the hair of your recently deceased loved ones made into mourning jewelry.
"The hair would be cut off and made into pendants, necklaces [or] braided watch chains, sort of as a memorial," she says.
Evidence of this already exists at the Main Street Museum: A little searching turns up the blond curls of Russian poet Aleksandr Pushkin tied with blue ribbon and framed behind the glass panels of a heavy cabinet. A few shelves away is a flowery wreath composed of copper-colored rosebuds made entirely of human hair.
Layton's contemporary take on the tradition is slightly ghoulish, but beautiful.