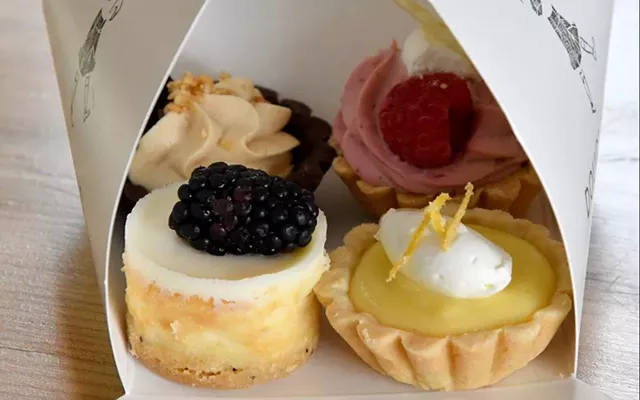 Lee Krohn
A selection from Douglas Sweets
A new community is taking shape off Route 7 in Shelburne. On 20 acres, Burlington-based architect Graham Goldsmith is constructing a group of buildings designed to evoke Vermont's agricultural heritage while supporting contemporary food and beverage enterprises.
Goldsmith owns the property located at 120 Graham Way, east of Route 7 and a bit south of Shelburne Museum. The concept connects Burlington and its suburbs with the rural region beyond, he said.
"We want to make the transition between businesses in Burlington and farming just south of [it], and we created a space in between where businesses can get a start," Goldsmith said. "They need a place that has presence ... I want it to be a fun place for people to come, and a fun place for people to work."
Goldsmith's firm has completed hundreds of projects, including the Kilburn & Gates complex occupied in part by Citizen Cider. He previously renovated and established a set of buildings — one of which houses EatingWell magazine — on the north side of the 20-acre property. The new phase of the development is projected to add 12 buildings on the southern portion, Goldsmith said. Of those, three are completed and occupied, and a fourth is scheduled for completion in the fall.
The Shelburne project, which Goldsmith prefers to call Shelburne Green, is more commonly known as Vermont Artisan Village. A handful of family-owned food businesses have set up shop there: Douglas Sweets, Vermont Tortilla Company, Bijou Fine Chocolate and Fiddlehead Brewing.
A new business, Wild Hart Distillery, is scheduled to open by Labor Day, said distillery co-owners and founders Naomi Clemmons and Craig Stevens. Wild Hart will make gin and vodka, using locally sourced grains from Nitty Gritty Grain Company of Vermont for the latter. It will also have a tasting room with retail sales.
Clemmons and Stevens said the site appealed to them for practical purposes — locale, visibility, sales opportunity — but primarily for the community they are joining.
"For us, it was really attractive because it's a community, and the folks there are really interested in being a community," Clemmons said. "So it's been fun. And there are opportunities to collaborate. And we think collaboration is where it's at."
Seven Days spoke with business owners already established at Vermont Artisan Village to learn more about the burgeoning community.
Douglas Sweets
Lee Krohn
Debra (left) and Hannah Townsend of Douglas Sweets
Debra Townsend, founder and owner of Douglas Sweets, took a somewhat circuitous route to starting her shortbread company. It began, sort of, in 2008, when Townsend and her four teenage kids embarked on a two-year backpacking trip around the world. Before leaving, she sold the timber-frame house she had built with her father on Bolton Mountain.
"My job was to show them the world," said Townsend, 59. "And that's what I did."
When the family returned to Vermont, they stayed for a few months with friends in Jonesville. Townsend had no firm plans for the future.
"I really didn't think that far ahead," she said. "I didn't care. I was just glad for what we were doing."
While in Jonesville, Townsend baked shortbread — a traditional Scottish butter cookie — for her hosts, Diane Mariano and John Cohn. Sharing the cookies with friends around the table, someone suggested Townsend sell her shortbread at Richmond's Annual Holiday Arts Festival.
"I sold tons," Townsend recalled.
When she moved out of the Mariano-Cohn home into her Bolton Valley condo, Townsend started a little shortbread company in her kitchen. She named it Douglas Sweets for her mother, Joan Douglas, whose shortbread recipe informed Townsend's.
"I took cookies into stores and dropped them off," she recalled. Her first retail account was at Healthy Living Market & Café in South Burlington, and many followed, including City Market/Onion River Co-op, Shelburne Supermarket and Hunger Mountain Co-op. Townsend added flavors and icings to the plain biscuits, a variety of which is packaged for sale.
Having outgrown the condo kitchen, Douglas Sweets moved last fall to Vermont Artisan Village, where Townsend and her business partner —daughter Hannah, 25 — have a retail bakeshop. Filling the shelves are bags of shortbread, coffee and a lovely array of baked goods, including fruit tarts, galettes and cheesecakes — all of which are made with shortbread dough.
Townsend designed and built the interior of the space — the walls, tile work, concrete counter and wooden bar with seating by the window.
"I honestly think she wanted a retail shop so she could design and build a retail space," Hannah said.
Her mother, who is considering moving to a larger space at Vermont Artisan Village, concurred.
"I love building; I love design," Townsend said. "I like baking, but designing stuff is my thing. That's me."
Hannah manages social media, marketing and other administrative aspects of the business. Through a cold call to Whole Foods Market five months ago, she landed an account with the grocery chain and expects Douglas Sweets to be in the chain's Massachusetts stores in coming months.
"I'm so happy Hannah's with me," Townsend said. "She came home, and I just love that she's there. She completes things."
Vermont Tortilla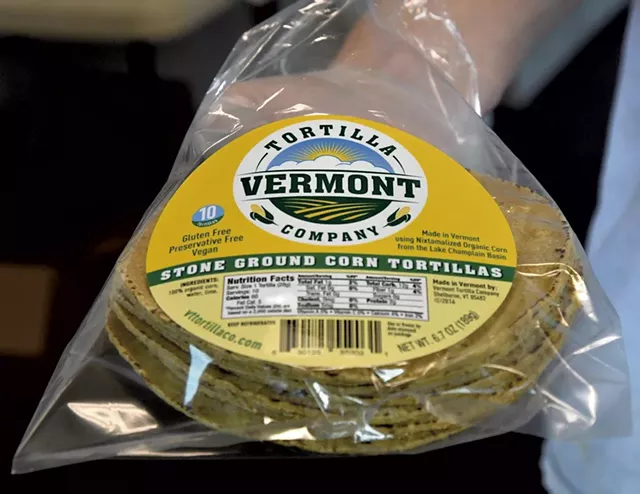 Lee Krohn
Vermont Tortilla
Next to the shortbread shop is Vermont Tortilla, an organic business that announces itself by the sweet and earthy aroma of corn.
Vermont Tortilla started production in June 2016 after April and Azur Moulaert learned to make their whole-grain tortillas in the kitchen of their New North End home in Burlington.
The tortillas are made with organic corn grown on the New York side of Lake Champlain at Adirondack Organic Grains. They cook the corn in several-hundred-pound batches in a big tub of water with food-grade lime for about 12 hours, then grind it with a stone. They then feed the resulting masa, or corn dough, into a machine that cuts, shapes and bakes the tortillas — a process that takes about 30 seconds per tortilla and produces about 1,200 tortillas per hour.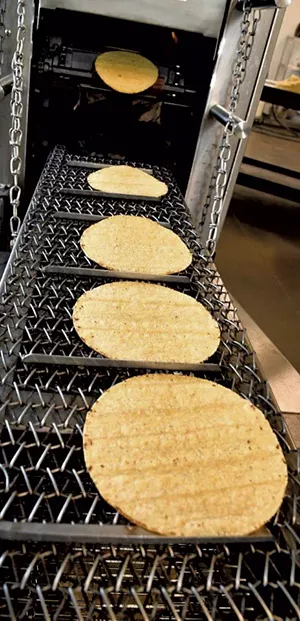 Lee Krohn
Tortillas at Vermont Tortilla
"We're learning as we go," said Ben Johnson, who works in production. "We seem to have gotten it down."
On two production days each week, they produce about 20,000 tortillas and package them 10 to a bag in two sizes: four or six inches in diameter. The tortillas are sold in area stores and used by local restaurants. Sales are expanding to regional Whole Foods Market stores and Sahadi's, a Middle Eastern grocery store in New York City, said April Moulaert. The company plans to increase production to five days a week, she added.
"We're learning on the fly," said Moulaert, 48, an environmental scientist who worked at the Vermont Agency of Natural Resources for almost a decade. She is a wetlands specialist who consults in her field while running the company with her husband and raising two daughters. Being part of a food community at Vermont Artisan Village is "really, really exciting," she said.
"So many times as a food producer I feel like I'm reinventing the wheel," Moulaert continued. "How do you figure out what's in a pallet? You're not born knowing this ... There's a lot of synergy that can be had by having people work together in similar lines of work."
As a rookie, she offers this piece of advice: Before going to the Specialty Food Association's Summer Fancy Food Show in New York City, as she did in June, sign up for the online boot camp to learn the trade-show ropes.
Bijou Fine Chocolate
Lee Krohn
Kevin (left) and Laura Toohey of Bijou Fine Chocolate
Housed on the north side of Vermont Artisan Village, Bijou Fine Chocolate started production in Shelburne in the spring of 2014 and opened its retail shop a year later.
Kevin and Laura Toohey make handcrafted truffles and other confections on-site with assistance from their adult children, Virginia and Rowan. Kevin Toohey trained many years ago with Swiss chocolatiers André Bollier and René Nussbaum, whose expertise and interest in teaching was on par with their culinary skills, he said.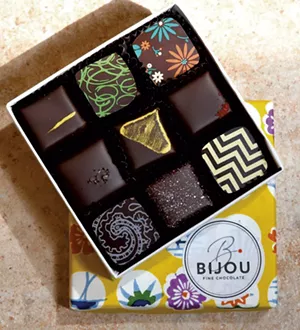 Lee Krohn
Bijou Chocolates
At Bijou, attention to detail ranges from the size of truffles — 22.5 millimeters — to the handmade Japanese paper in which they're wrapped. Truffles come in three broad categories: herbaceous, such as lavender, rosemary or mint — the last from plants grown and picked outside the shop; fruit, including passion fruit, raspberry or lemon ginger that is freshly juiced; and single-origin chocolates, or those made from one variety of cocoa harvested in one region.
Bijou has several tables for drinking tea or coffee and nibbling on sweets, as well as chocolates available for purchase.
The "sale is done" for most people when they enter the space, Kevin Toohey noted.
Bijou was the first food business to open at the Shelburne site, and Toohey said he is pleased to have a space that combines production and retail.
Still, with Burlington set to undergo a major mall development, he wonders about packing up and moving everything to the city, he said.
"The growth pattern that we are interested in is where we do our own retail," Toohey said. "Because then we have the most control over freshness and environment and look and product."
Fiddlehead Brewing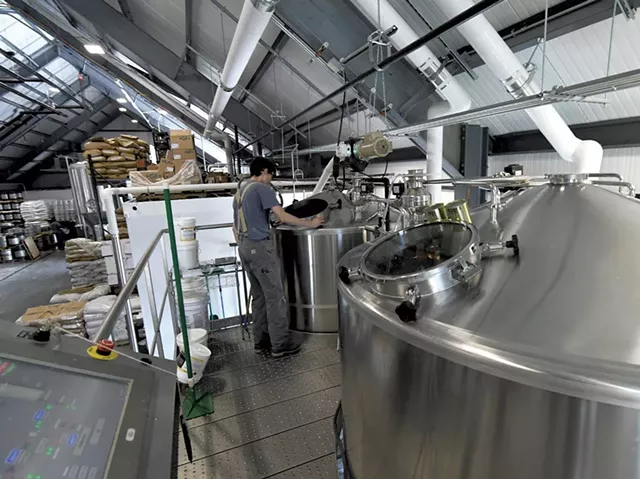 Lee Krohn
Fiddlehead Brewing
Fiddlehead Brewing opened its doors on Route 7 in Shelburne on New Year's Eve of 2011. Owner Matt Cohen operated out of 3,000 square feet in a building that also houses Folino's pizza.
"I knew it was small at the time, but it was what I could afford," Cohen said. "And I knew Shelburne would be a great spot to start a business." That first year, intending to brew 500 barrels of beer, he brewed 1,500.
"Right away, we were adding new fermenters," Cohen continued. "We quickly ran out of space" as production grew to 10,000 barrels a year.
Last December, Cohen relocated to a new brewery at Vermont Artisan Village southeast of his original site. The opening drew about 1,500 people to the 10,000-square-foot building whose fit-up, including a canning line, cost $2.5 million. Plans for another expansion are already underway; an addition to the east, to be completed in the next few years, will double the size of his brewery, he said.
Looking ahead five years, Cohen said he expects to brew 50,000 barrels of beer annually.
"As a brewery owner, you have to have a long-term contract on hops," he added. "You've got to sit down and put together a five-year plan."
Though he started small, Cohen anticipated a certain level of success.
"You do it to be successful," he noted. "And I've always believed in myself and my ability to make great beer. I put my time in, and I learned the business. So I'm really excited with the way it turned out. We stayed focused on the future and growing the business and, at the same time, not growing it too large."
For now, Fiddlehead's retail sales remain in the tasting room and shop on Route 7, but this aspect of the business could move one day to the new brewery, where Cohen plans to host special events. And maybe there's a restaurant down the line.
"If we move back there with our store, we'll bring a lot more attention and draw to [Vermont Artisan Village]," Cohen said. "That's the hope."