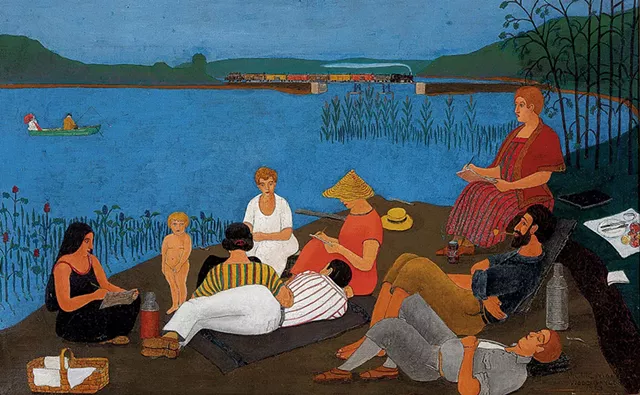 Courtesy of Fleming Museum of Art
"Picnic, Shaker Lake, Alfred, Maine" by Samuel Wood Gaylor
An article titled "2,500 Museums You Can Now Visit Virtually" has been holding steady as the No. 1 most read on the art newsletter Hyperallergic. For good, and obvious, reason. With the exception of those heroic individuals providing essential services in the time of COVID-19, most of us have hours to fill while under quarantine at home. And looking at the world's visual treasures can be one of the most transporting — and soothing.
Beginning this week, Vermonters can also get a peek at local exhibitions via Vermont Art Online. The platform, created by Sarah Laursen and Sarah Briggs of Middlebury College, allows viewers 360-degree virtual tours of participating venues. And the number of participants is rapidly growing.
A prototype of the site, which Laursen and Briggs began building just last week using thinglink.com, included the Middlebury College Museum of Art, the Fleming Museum of Art at the University of Vermont and Waitsfield's Bundy Modern. As of press time, more than a dozen art sites around the state had come onboard.
"We're using whatever people have available right now," Laursen said. That might mean a video walk-through but no discrete photographs just yet. Some art institutions, such as the BCA Center in Burlington, already had high-quality virtual tours on their websites.
Laursen is an assistant professor in the History of Art and Architecture Department at Middlebury and the museum's Asian art curator. Briggs is the museum's Sabarsky Graduate Fellow; one of her primary projects has been applying her interest in arts education to the exhibit "Weimar, Dessau, Berlin: The Bauhaus as School and Laboratory." But the museum, along with the rest of the college, shut down earlier this month to curtail the spread of the novel coronavirus.
The closure of the physical facility spurred Laursen and Briggs to digital action. "Sarah had already been talking about putting things online [from the museum's collection]," said Laursen in a Google Hangouts chat last week. "She has expertise with filmmaking and distance learning."
"I was thinking about how every other museum is doing [virtual tours]," Briggs added, noting an interest in not just public viewers but online information for educators.
It helped that Laursen had been teaching a course on digital methodologies for art historians, exploring precisely the kind of technologies that facilitate 3D imaging online. But rather than create a virtual product just for the Middlebury museum, the women envisioned taking the project to multiple venues statewide.
Enter the Vermont Curators Group, cofounded in 2016 by Fleming Museum curator Andrea Rosen and now composed of nearly 100 institutions and independent curators around the state. Laursen and Briggs reached out to the group to help spread the word about, and to populate, Vermont Art Online.
"It's very unusual that all of the curators in the state are connected," said Laursen. "We are uniquely poised to do this because Vermont is so small."
The initial focus for Vermont Art Online is museums and larger galleries; once the project gets off the ground, she noted, it will begin to engage smaller galleries, as well. For now, Laursen and Briggs are gathering images — or "photo spheres" — and ancillary information from the participating venues. "We're sewing everything together," Briggs said.
The Vermont Curators Group itself undertook a huge project this year: 2020 Vision: Seeing the World Through Technology, which involves tech-adjacent exhibits and events at venues around Vermont throughout the year. The spring schedule, at the very least, has been canceled. And the irony is lost on no one that the COVID-19 pandemic has forced us to navigate the new reality with technology.
"I think a lot about what would be happening 10, 20 years ago, when we didn't have these resources," said 2020 project manager Gillian Sewake, who lives in Peacham. "In Vermont, this [pandemic] puts connectivity issues in stark relief. There is no more relevant time to be having this conversation."
Sewake noted that the Vermont Arts Council and Vermont Humanities have announced financial support for the Vermont Art Online project.
The site is going live on Wednesday, March 25. One of its offerings is the Fleming Museum's spring exhibit "Let's Have a Ball: Wood Gaylor and the New York Art Scene 1913-1936." Vermonters who did not have a chance to see the show in person will have high-tech and hands-on options: a virtual tour and a beautiful exhibition book authored by Rosen.
Stay tuned for more to come from both Vermont Art Online and the Vermont Curators Group.