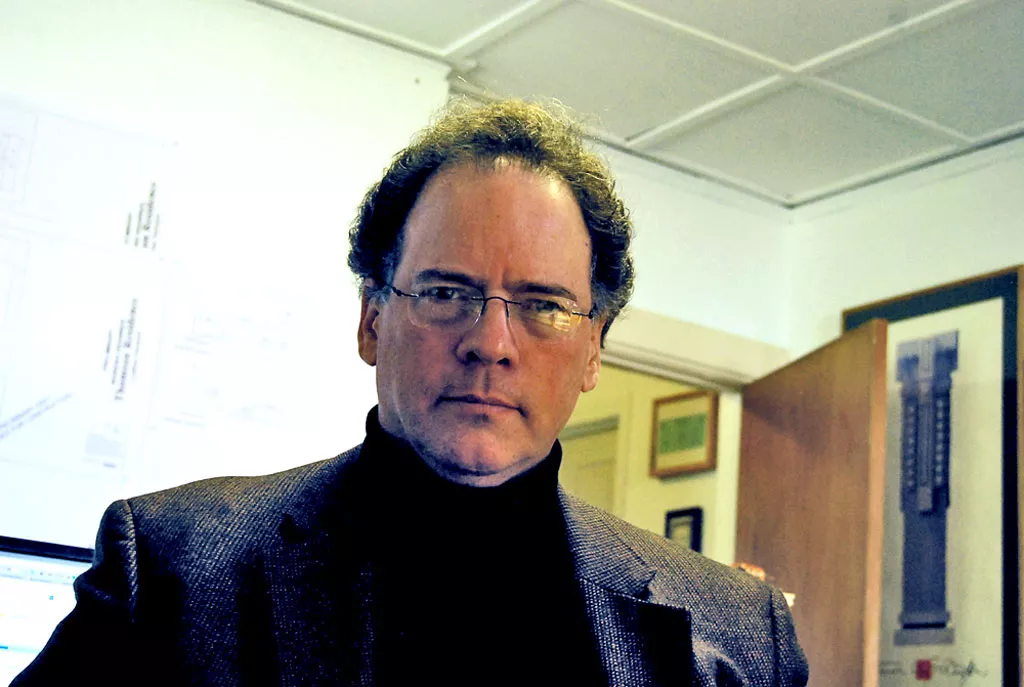 Courtesy of Claudio VéLiz
Claudio Véliz
Chester architect Claudio Véliz is particularly attuned to the environment in both his practice and his mindset. One of his favorite email signature taglines is a tally of unsustainable human practices: "Net human population growth, per day: 252,000; Net world oil consumption, per second: 952 barrels." It ends with the quip, "Net change in Earth's radius over past 4.5 billion years: 0 feet."
Véliz's projects in Vermont, where he moved his practice in 2006 from New York City, have tended to replace or restore, rather than add to, the built environment. He restored the Hildene estate observatory in Manchester, renovated the same town's First Congregational Church and designed a Ludlow residence to replace one destroyed during Tropical Storm Irene. Véliz is currently designing a series of high-efficiency, affordable "mini houses," in the tiny-house mode, to be erected in place of dilapidated homes or trailers.
"There isn't a project where I don't contemplate the geometric, of course, but also the chemical and physical relation to the environment," he says during a phone call.
So it seemed like a perfect fit when Véliz, 62, recently became one of two remaining finalists in a conceptual design competition for an "eco" ski resort on Japan's northern island of Hokkaido. Claudio Véliz Architect and seven other ecologically minded firms around the world were invited to submit designs for a ryokan, or inn, beside a stream and onsen, a natural hot spring.
Véliz's firm was suggested for the private competition by his son, an Australian ski-area developer who works with the Hokkaido resort's development consortium, Glade Design. A panel (of which the son was not a part) chose Véliz's and an Eastern European firm's designs as finalists.
The multinational developers already run bus-size Powdercats full of skiers up and down the local mountains, but otherwise the site, on the southwest corner of the island, is relatively undeveloped. (The rest of Hokkaido hosts more than a dozen major ski resorts.)
"It's the Japanese wilderness, if there is such a thing," says Véliz, who hasn't visited the country but received thorough site documentation in the form of site plans, images and video. The absence of lift lines and snow-making equipment — the latter made possible by Hokkaido's famous powder dumps, some of the deepest in the world — qualifies the ski destination as eco-friendly.
If Véliz is chosen to be the chief design architect, he won't be designing just one ryokan. The developers are planning a $100-million-to-$250-million, 15-to-20-year project, says the architect, which will include "a whole lather of 'cottages' — the equivalent of small homes."
That would seem to imperil the area's eco-friendly image. Fortunately, Véliz says, "the intention of the developers is to leave virtually no impact on the landscape. They're 30-to-50-year-olds who ski, and they really get it." Whether or not his designs win, Véliz will oversee the design continuity of the whole development — a project for which he is already assembling a team that includes Manchester Center, Vt.-based sustainable-design architect and energy-efficiency specialist Alan Benoit.
Véliz's long-term vision is "to have the entire site 15 to 20 years from now be virtually indistinguishable from what it is today. You may see buildings, but you'll have to squint."
His ryokan plans give a hint of what he means. Inspired by Frank Lloyd Wright's penchant for intimate site integration in projects such as Fallingwater, the Pennsylvania residence that spans and incorporates a waterfall into its living spaces, Véliz's drawings show a mostly single-level building arrayed along a boulder-strewn stream. Curved dividers between sections of the building rise above the roof level, their varied curves echoing those of the stream and the shapes of the boulders. Structure and site are extensions of each other.
The concept is sculptural, but Véliz contrasts his approach with "starchitect" Frank Gehry's similarly curvilinear designs, which the Vermont architect calls "arbitrarily sculptural." "His work doesn't respond to the sites," Véliz notes.
While his own does, the ski resort is nonetheless a "green" site — it breaks new ground — rather than a "brown" one, on which something already stands. Architect Doug Viehmann, of Guillot-Vivian-Viehmann Architects in Burlington, uses the terms to contextualize his own current project, the Trapp Family Lodge's new brewery home and restaurant, which is going up in a previously undeveloped field on the Stowe property. High-end clients often opt for such compromises with ecological practices, Viehmann suggests, to meet their clientele's expectations and their own revenue goals. The Japan eco ski resort would fit that category.
Véliz, who was born in Chile, earned his master's at the University of Wisconsin School of Architecture & Urban Planning. During that time he apprenticed in the Australian firm of Sir Roy Grounds, that country's foremost modernist architect. On graduation, Véliz moved to New York City, where he honed his admirable drawing skills in renderings for Hardy Holzman Pfeiffer Associates (now Pfeiffer Partners), Gwathmey Siegel Kaufman Architects and other major firms.
He launched Claudio Véliz Design in 1982, and converted the last word to "Architect" in 1986 after earning his license. During a 25-year career in Manhattan, Véliz completed numerous corporate, residential, museum and retail-sector projects.
Nevertheless, he could have pursued a career in either of his other passions: sailing — he once sailed on William F. Buckley Jr.'s crew — and astrophysics. Though he lacked the math skills to pursue the latter, in the late '80s Véliz landed a gig as consultant to NASA on the design of the space station's zero-gravity work station and modules.
That series of experiences with tight quarters and efficient design — in space, a boat hold and Manhattan's studio apartments — has, Véliz now recognizes, influenced his current predilection for the small and the minimally impactful.
That, and the state of the planet.
"Do you know the Lagrangian points?" asks Véliz toward the end of a conversation that has ranged far beyond eco ski resorts. Of these five gravitational anomalies positioned around Earth, in which objects remain suspended in space between the pull of two bodies' gravities, one point lies between the Earth and the sun, he explains. One proposal to fight climate change and lower the Earth's rising temperatures involves "filling that [point] with filamentary fragments of very thin aluminum. Billions of them. They would float in a cloud," Véliz enthuses.
It is an image that perfectly captures the conundrum of the environmental architect: an eco-friendly structure, but another structure nonetheless.
The original print version of this article was headlined "Thinking Green: A Vermont Architect Takes on an Eco Resort in Japan"