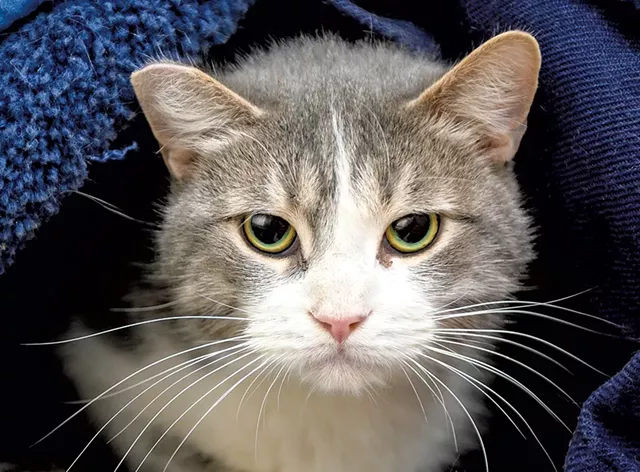 Courtesy Of Kelly Schulze/mountain Dog Photography
Mr. Particular at the Chittenden County Humane Society
In mid-March most Vermont businesses, schools and other institutions began closing their doors to brace for the coronavirus pandemic. Just days before, Homeward Bound, Addison County's humane society, accepted two large cat transports. One was from a high-kill shelter in Florida; the other was a load of what shelter manager Carly Lehrer described as "needy cats" from northern Vermont — some 85 cats combined. The timing for the Middlebury animal shelter was not exactly, ahem, purrfect.
For one thing, it's not unusual for cats to become ill following the stress of transport, Lehrer explained. She estimated that about 50 percent of the new animals were sick when they arrived. Nursing so many cats back to health against the backdrop of a growing human health crisis has proved to be a truly novel challenge.
"We've been quarantining and cleaning like crazy," Lehrer said, adding that at normal staffing levels the protocols for handling sick cats take double the amount of time as those for healthy cats. Lately, she said, the shelter has operated with a skeleton crew to minimize human-to-human contact.
As a result, the shelter has temporarily suspended adoptions. But it is actively seeking volunteers for fostering. Lehrer reported that she and her colleagues have managed to place more than half of the new cats in foster care as they've become healthy.
"It's been a lot of work," Lehrer admitted. But she sees that work simply as the latest challenge for her shelter to overcome. As a message on the Homeward Bound website reads: "We believe in Cattening the Curve."
"Shelters, in general, adapt really well," Lehrer said. "Because you never really know what's going to happen, especially during really high-volume seasons. So you get really good at working on your feet and staying creative."
That sentiment is echoed at animal shelters around Vermont. Like everyone else, they are dealing with unprecedented realities and doing their best to prepare for whatever comes next.
Homeward Bound and other area shelters reported a surge in adoptions just prior to Gov. Phil Scott's recent stay-at-home order. Even though shelters were deemed essential organizations by that order, most have closed to the public and temporarily ceased adoptions.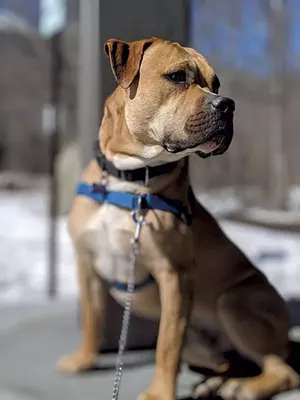 Courtesy Of All Breed Rescue
Chase from All Breed Rescue
Amanda Wagner, the shelter manager at All Breed Rescue, estimates that her South Burlington dog shelter was able to place about a third of its animals in homes, both through adoption and fostering, before it closed to the public last week.
"It's fantastic," Wagner said of placing those dogs, adding that All Breed still has about 15 dogs on-site. Thinning the pack makes it easier to care for those animals, she explained, particularly because the shelter's income is currently uncertain. Most of All Breed's dogs come from high-kill shelters in South Carolina. Wagner noted that the shelter has temporarily stopped taking new animals, which she called a "tremendously difficult" decision.
"It's lives we're talking about," she said. "We know what the conditions are for these dogs down south. So it weighs pretty heavily that we have to say no."
The Humane Society of Chittenden County also experienced a dramatic uptick in adoptions before it closed its South Burlington facility to the public last week — almost 50 adoptions in less than a week. It is also trying to deal with more than 450 foster requests. The population there is down to about 40 animals, including dogs, cats and "smallies" — guinea pigs and a few pet rats. But HSCC president and CEO Joyce Cameron expects that number to rise, perhaps drastically, in the weeks to come.
The humane society is preparing for an increase in animal surrenders as more Vermonters lose their jobs or become ill and are unable to care for their pets. That has required a shift in how the organization operates. Since it is no longer offering adoptions and has paused its foster programs, HSCC is prioritizing surrender prevention and trying to help keep pets in their homes. Among those efforts is a 24-hour support hotline that is accessible by phone and online for pet owners in crisis.
"Hopefully, it will mitigate strays that animal control will bring to us or, even worse, abandonments," Cameron said.
Like many shelters, the HSCC also operates a pet food shelf, where those in need can access free, donated pet food.
Not every Vermont shelter has suspended its adoption program. North Country Animal League, for example, is continuing to offer adoptions on a by-appointment basis. Its staffers meet with potential adopters outside wearing full protective gear, including gown, gloves and goggles. According to executive director Tracy Goldfine, last week the Morrisville shelter adopted out 28 animals, more than double its weekly average. At present, NCAL is down to three available dogs and six cats. The shelter can house up to 20 dogs and 30 cats at one time.
Like other Vermont shelters, NCAL is preparing for the likelihood that those kennels will become full again when surrenders increase, Goldfine said.
"We're waiting to respond to a need that I think will be coming," she said. "It's the calm before the storm right now."