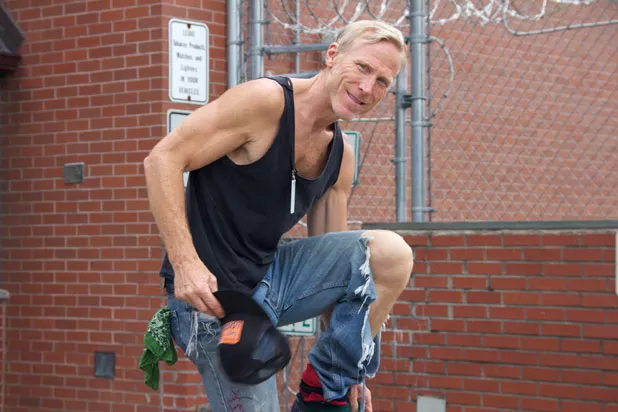 Rusty DeWees thought he might have to stop the show. The comedian, known throughout Vermont as the muscle-flexing, thong-shilling, redneck Logger, was halfway through an hourlong standup set for 90 inmates at the Caledonia County Work Camp last week when he accidentally sparked a near riot.
DeWees had already performed two shows that day at the adjacent Northeast Regional Correctional Facility, the final stop on a 14-show tour this spring that took him to all seven of the state's jails. Throughout the day, his act had gotten increasingly rowdier, his jokes raunchier — and the inmates were lapping it up.
The all-male group of mostly nonviolent offenders seemed especially to love it when the Logger singled out and teased guys in the audience. They were worked up to a frenzy by the time DeWees, who'd been singing a Joe Diffie tune and strumming his guitar, interrupted his song, shot up from his chair, pointed to a guy in the crowd and said, "Shit, I thought that dude was a bitch!"
The dude in question was not amused. Hollow-chested, with long, silver hair, the guy looked like Charles Manson. He sat low in his chair, his chin resting on one hand, and he didn't crack a smile.
The rest of the guys lost it. "Oh, shit!" one of them said, leaping up from his chair and shaking his hands as if he'd burned them. Others looked around anxiously, laughing and shouting as the tension skyrocketed.
Instantly, DeWees shifted into damage-control mode. "I meant no disrespect," he shouted over the uproar, leaving the stage area to step into the crowd. "I'm not gonna apologize, 'cause I wouldn't have fuckin' said it if I didn't mean it."
The guy he'd nearly called a bitch just sat there, expressionless, staring straight at DeWees. The crowd teetered closer to the edge of chaos. DeWees shifted tactics again.
"Come on, he's the coolest-looking fucking guy I ever saw," he said. "And if he's No. 1, that guy's No. 2." DeWees pointed to a man with a full, ruddy beard and buggy eyes. The crowd exploded again. But this time, No. 2 smiled.
DeWees returned to his guitar, but the energy in the room was still electric. He cut his song short again, pulled a brand-new Logger baseball cap from his duffle bag and handed it to the Charles Manson lookalike, who finally grinned.
One of the correctional officers whispered to another, "Make sure he gets an inventory slip for that," and the show went on.
This was DeWees' third Vermont prisons tour since 1999. Why does the 52-year-old performer keep doing it? Three reasons: He believes everyone deserves to laugh; he says the experience feeds his creativity; and he knows, ultimately, it's good for business.
"These folks are in there paying their dues. They're trying to better themselves, get out of there," DeWees said in a phone call a couple of weeks before the St. Johnsbury show. "To say, 'They did wrong, let's keep things that are bright and happy away from them,' that's the opposite of the point."
At the end of each prison show, DeWees plugs his annual holiday variety show. "If you're out," he tells the audience, come. If they're not, he asks them to tell their families about it. After a recent jail show, DeWees said, he got four Facebook messages from inmates' wives telling him how much their husbands loved it. Even in jail, he's building his fan base.
And, DeWees added, it's just plain fun. At the all-female Chittenden Regional Correctional Facility this spring, he ditched most of his prepared material and spent the hour flirting, shooting the shit and letting the inmates touch his muscles. "I was lucky to get out of there alive," he said. "In a good way."
On the day he performed in St. Johnsbury, I met DeWees beforehand at his immaculate house in Elmore, which is perched on a ridge with a breathtaking view. He gave a full tour of the place — including the sap-bucket sink in his indoor outhouse — and introduced his cat, Scarlet. He wore a thin, burnt-orange athletic jacket, half unzipped with nothing underneath, worn-in jeans and a pair of hiking boots, laces untied.
On the way to St. Johnsbury, we made a pit stop at Marty's First Stop in Danville so DeWees could buy a packet of Tiny Size Chiclets. "You can only get them at Marty's," he enthused, dumping what appeared to be the entire pack into his mouth at once.
We arrived at the Northeastern Correctional Complex about an hour before his first show was scheduled. The prison and the adjacent work camp house about 220 inmates, most of them Vermonters, with a few New York City guys incarcerated for gang-related crimes thrown into the mix.
Superintendent Al Cormier and coordinator of volunteer services Chris Cadorette welcomed us at the door, searched our bags and locked up our phones, wallets and keys in a small closet beneath a colorful Vermont landscape painting. On his extremely unscientific "jailiness" rating scale — in which A is the most jail-y (Rutland) and F is the least (Windsor) — DeWees gave this prison a B-minus.
Cadorette and corrections officer Ed Czuchrey led us into a small rec room half filled with 60 folding chairs. The place was bleak. Fluorescent lights buzzed over a blue concrete floor, white concrete walls, a bunch of gym equipment in the back and four small, square windows looking out on a hall.
A live standup performance is a rare treat for the inmates, whose entertainment usually includes watching TV and shooting hoops in the gym, Czuchrey said. "This is the kind of place where a $5 rec prize can cause a fight, and a pack of ramen noodles is a big deal," he added.
Most of the volunteers with whom Cadorette works come to the prison to host Alcoholics Anonymous or other educational workshops. Burlington's ME2/orchestra and a North Carolina traveling choir performed there recently, but shows like that are uncommon. "It's hard to find people who want to come in here," Cadorette said. Still, it can be invaluable for the inmates when they do. "Just because these guys did something wrong doesn't mean they don't deserve to be human," he said.
After dangling meditatively on a pull-up bar for a while, DeWees changed into his Logger costume — the same thing he's worn for the last 17 years of his act: a denim shirt with the sleeves torn off, shredded jeans and duct-taped boots that look like they've been through a war. Then he sat down and waited for the audience to arrive.
"You never know if it's going to work," he said. "These guys might not think it's funny."
Minutes later, after Cadorette announced the show on a loudspeaker, the men streamed in and quietly took their seats.
A bald, middle-aged man from Lowell sat in the front row and sang along as DeWees, down on one knee with a guitar on the other, warmed up with Johnny Cash's "Folsom Prison Blues."
DeWees opened his show by taking a long, dramatic swig of water from a gallon-size maple-syrup jug. His first big joke that day was about meeting a girl in the parking lot, a big Logger fan, who asks him to visit her grandma, also a fan. The punch line? "I've got anal glaucoma. That means: I can't see my ass doing that!"
The guys loved it. From there, DeWees joked about prostate exams; multihour Viagra boners; Gov. Shumlin's appetite for the ladies and cheap real estate; moose crossings; and the grooming habits of "health-food women." DeWees doesn't normally drop F-bombs in his shows, but here in the prison he let them fly.
The occasional punch line was lost when garbled announcements came in over the loudspeaker, or when Cadorette unlocked the door to let in medical staff, but DeWees usually recovered.
And from time to time he put his foot in his mouth — perhaps on purpose. After a joke about gay marriage, DeWees said, "I'm not antigay. I am pro anything you want to fuck." Then he paused for a moment, realizing the implications of what he'd just said to a bunch of inmates. "Well, not anything!" he said to raucous laughter.
When he performs at high schools or speaks at graduations, DeWees often gets motivational, talking about his substance-free lifestyle and stressing the importance of staying out of debt. "Treat everyone the same, especially old people," he usually advises. And when it comes to success, he likes to say, "It's not talent; it's will and discipline."
In the prison, DeWees addressed similar themes in the last 15 minutes of each show, telling the guys about his personal journey — how he grew up in Stowe before it was fancy, how his dad was a Greyhound bus driver, how in his twenties he pumped gas and performed in plays in Burlington, and how he turned down what could have been a lucrative UPS job to move to New York City and try acting.
"I knew if I sat in that seat, I'd be a UPS driver now — it's not a bad thing, but it's not in my heart," he told the inmates, who listened intently. "If you've got the love in your heart, you don't have to be good at anything. I'm a perfect example: I can't play this [guitar] for shit! Do you care? No."
In the downtime after the first show, we grabbed dinner at the prison cafeteria — mystery-meat Bolognese, a few lettuce leaves with ranch dressing, a thick slice of garlic bread (baked in house and surprisingly delicious) and a scoop of rainbow sherbet. DeWees doesn't eat before performances, but he chatted with the officers while they did.
He asked them about some of the inmates he'd interacted with during the last show. That guy he'd jokingly described as probably having 17 kids? "He's been here since I started in 1994," superintendent Cormier said, and added that the guy's son is now incarcerated in the facility, too. The officers talked fondly about the inmates, and it was no wonder. "I'm here almost as much as I am with my family," Cadorette said.
Cadorette, 30, has worked at the correctional facility for seven years. He has another job as a dorm parent at Lyndon Institute. The prison work, he said, "is one of those jobs that you never thought you'd end up in."
Czuchrey agreed. "It's not for everybody," he said. "Being a CO [corrections officer] was the only way I could make enough money to support my family." But the job can be stressful and intense, he added. "Like this room," Czuchrey said, gesturing at the concrete walls and fluorescent lights. "This room is a microcosm [of prison work] — it's all hard, it all echoes, it's all louder in here."
DeWees' final show that night — where he nearly incited the riot — took place in a huge rec room that looked more public high school than prison, complete with foosball table, flat-screen TV and prisoner-made artwork. "There's an unbelievable amount of talent in here," said Cadorette, indicating the paintings.
For the third time that night, DeWees led with the anal glaucoma joke, and it killed. After nearly eight hours with no food, his energy actually seemed to be rising.
This time, he even landed a talking-frog joke, which had fallen somewhat flat with the other two audiences. He told a mildly offensive joke about accidentally hitting a deaf kid with his car, and a young guy from Bennington went crazy, rocking back and forth in his seat, wiping away tears.
At one point, DeWees put his foot up on another baby-faced inmate's chair. "You don't know anything about prostate exams," he declared. "Let me tell you, fuzzcock."
While the guys lost their shit for the thousandth time that night, Cadorette leaned over and whispered, "I think he just gave that guy a new nickname."
DeWees wrapped up his prison tour with a rendition of the Merle Haggard tune he considers his theme song, "Ramblin' Fever":
My hat don't hang on the same nail too long;

my ears can't stand to hear the same old song,

and I don't leave the highway long enough

to bog down in the mud,

'cause I've got ramblin' fever in my blood.
And then it was time to hit the road.
The original print version of this article was headlined "Jailhouse Raunch"