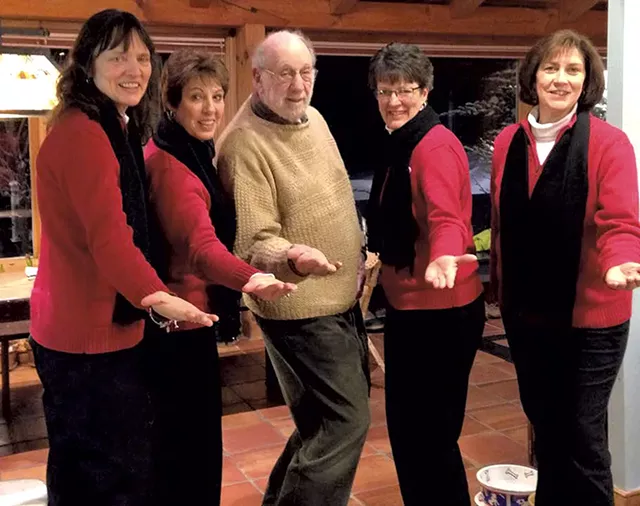 Courtesy Of Susan Klein
The Barre-Tones delivering a valentine to Leo Cohen
Every February 14, the internationally ranked Barre-Tones turn Cupid and visit workplaces, homes and senior living facilities to spread messages of love. The central Vermont-based group splits into quartets that deliver singing valentines to lucky recipients in Washington and Chittenden counties. Along with a song, the women deliver a rose or chocolates and a personalized message printed on a scroll, according to member Susan Klein.
"We also do telephoned valentines for people who live across the country or aren't here," Klein said. "We sing them a portion of a love song or a fun song and give that special person a message from across the miles."
Speaking of miles, Klein recalled one year when she put 430 of them on her car as her quartet made the rounds. Figuring out the day is a logistical puzzle, and it's likely too late to sign up for one this year, she said. There are openings for 2020.
So how does the group coordinate 20 to 50 singing valentines?
"I really run a mean spreadsheet, is what I do," Klein said with a chuckle.
The chorus has been meeting weekly since 1969, so this year is the group's 50th.
"We have members that are teenagers; we have members that are octogenarians," Klein said. "It's empowering women through music."
Some Barre-Tones are pretty well known. Vermont-based musician Ariel Zevon, daughter of late rocker Warren Zevon, spent a couple of years with the chorus before launching her own music career. "She told me specifically that it was singing with the Barre-Tones that really gave her that feeling of empowerment to go out on her own and have that confidence," Klein said. "So that was really cool."