Matthew Thorsen
Vermod home on display at Burlington's Innovation Center
The term "mobile home" is a serious misnomer. That they are homes is certain: Figures from the Champlain Valley Office of Economic Opportunity (CVOEO) suggest that tens of thousands of Vermonters reside full-time in these smallish, low-cost structures. But mobile they are not. Though technically attachable to a trailer for hauling, the great majority of mobile homes remain where they were originally sited. Few Vermont mobile-home owners relocate them to, say, Arizona when the winter winds begin to blow.
Despite their permanence, mobile homes are far more vulnerable to weather fluctuations than so-called "stick-built" houses. They're less well insulated and are typically propped up on concrete pillars rather than a true foundation. In short, mobile homes may be relatively inexpensive to purchase, but their owners can get slammed with energy costs.
Now the Vermont Housing & Conservation Board and Efficiency Vermont are collaborating to rewrite that energy equation. Embracing forward-thinking design and construction techniques, the Manufactured Housing Innovation Project (MHIP) aims to create mobile homes that are energy-efficient and reasonably affordable. A Wilder company called Vermod has the exclusive contract to build what it calls "high-performance manufactured homes for the 21st century." Vermod's structures are built to withstand Vermont winters and other rough weather.
Mobile homes' vulnerability to the elements was forcefully driven home to Vermonters in 2011, when Tropical Storm Irene slammed into the state and took an outsize toll on them. According to Peter Schneider, a senior consultant with the Vermont Energy Investment Corporation/Efficiency Vermont, 15 percent of the residences that qualified for post-Irene Federal Emergency Management Agency (FEMA) assistance were mobile homes — yet those homes constitute only about 7 percent of the state's total housing stock. (According to CVOEO, that translates to 22,490 housing units.)
Schneider says the devastation wrought by Irene was "the catalyst" that inspired the collaboration of Efficiency Vermont, the University of Vermont, the Vermont Housing & Conservation Board and the nonprofit High Meadows Fund. The goal was to design and build a mobile home that far exceeds the standards laid down by the U.S. Department of Housing and Urban Development (HUD), which have not been updated since 1976.
Sarah Woodward, director of the mobile-home program at CVOEO, helped MHIP gather feedback from owners about what they'd like to see in the next generation of such housing. She calls MHIP "an innovative group that's approaching this problem with a fresh mind." CVOEO's operating question, Woodward says, is "How can we find a safe design that's going to be affordable for people?" The project commenced in 2012, and the first homes were built the following year.
With Schneider as a guide, Seven Days took a tour of a Vermod mobile home last fall, when it was on display in the parking lot of Burlington's Innovation Center of Vermont. Schneider eagerly pointed out the home's many energy-efficient features. So far, he's overseen the placement of 16 Vermod homes in towns across the state.
Schneider started his tour by calling attention to an easily overlooked but important feature: roof overhangs. Many manufacturers omit them, since they occupy precious width in an interstate lane. "But they're almost critical to durability in our climate," he explained; the roof extensions allow ice and snow to drip down and away from exterior walls.
Another outdoor innovation: Vermod homes are set on true foundations. Mobile homes perched on blocks expose more surface area to cold and damp. Many owners invest in skirting that covers the gap cosmetically, but it remains uninsulated.
Inside the home, Schneider called attention to the energy-efficient kitchen appliances and washer/dryer, but the more powerful innovations are less visible. Each exterior wall is packed with 10 inches of insulation; the roof has 14 inches, the better to prevent ice damming. Standard ductwork has been eliminated in favor of a system that monitors and vents fresh air; it sits beside a quiet, pump-based, highly efficient water heater. The system "saves every BTU in the house," Schneider said, "stealing" heat from the air and putting it into the water heater, for example.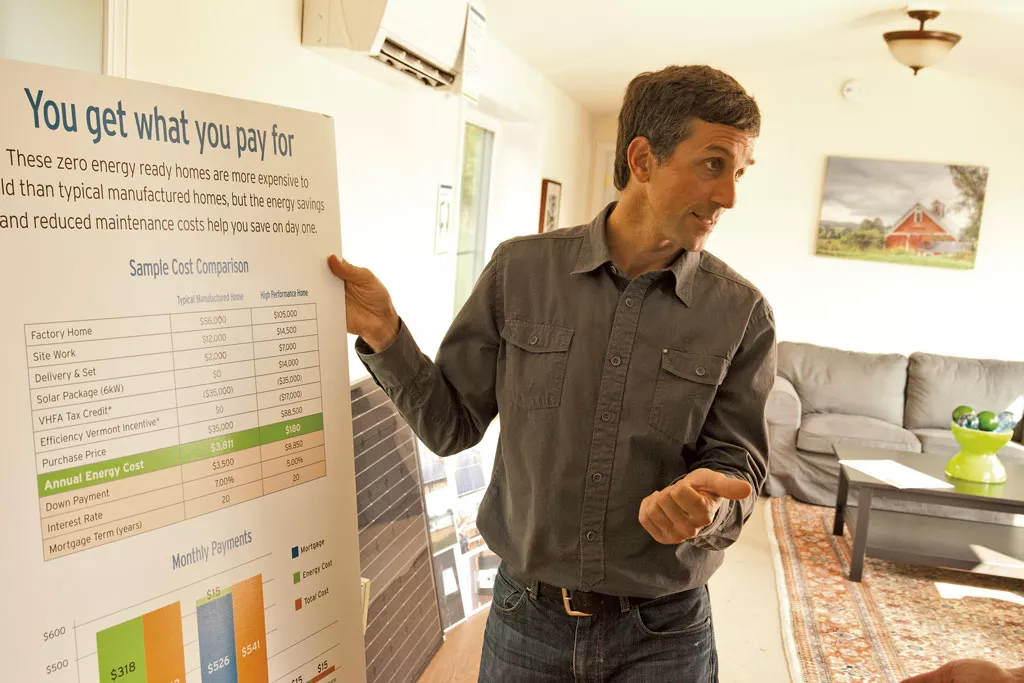 Matthew Thorsen
Peter Schneider gives a guided tour inside the Vermod home
On the roof, a Vermod home is outfitted with a 20-panel solar array that, according to Schneider, provides for the structure's entire energy needs. That array is one of the few features that must be installed on-site; its cost, like that of the flooring and appliances, is included in the sticker price. Each home's energy usage is carefully monitored, and an automated system can notify the homeowner of any anomalous energy consumption.
Equal effort went into designing the Vermod home's living space. The 14-by-70-foot model that Seven Days visited has two bedrooms, two full bathrooms, a good-size living room and kitchen, and several closets. At 980 square feet, the Vermod home is compact, yet it feels fairly spacious, owing in part to sloping ceilings and numerous windows.
All this innovation does come at a price. A Vermod home costs roughly twice as much as its conventional mobile-home equivalent. The two-bedroom model — the program's most expensive — is $105,800. For comparison, Brault Manufactured Homes in Colchester offers a new mobile home of approximately the same size and with similar appliances for about $50,000, including the costs of siting and utility hookups in Chittenden County.
If potential buyers take the long view, Schneider suggested, the energy-efficient mobile home is a better deal. MHIP's argument is this: The energy savings the home promises are so significant that, over the course of long-term ownership, it will cost less than a conventional model. MHIP estimates the annual energy expenditures of a traditional mobile home at more than $3,800, while the Vermod home's costs would run about $180.
In other words, the ideal buyer for a Vermod home is one who's willing to weigh long-term benefits against short-term expenditures — no easy task for home buyers on a budget. Furthermore, buyers presumably need the support of a mortgage lender who believes the home will retain its value and maybe even appreciate. That is not something traditional mobile homes do. In fact, most mortgage lenders classify them not as residences but as a type of possession, and commonly offer their potential buyers less favorable "chattel mortgages."
Jerry Laframboise is one buyer who's made the leap of faith. When he retired, he moved from his ranch-style house into a Vermod home in a Middlebury mobile-home park. To purchase it, Laframboise received grant assistance from the Addison County Community Trust in Vergennes, and took out a mortgage to cover the balance. It took him a while to adjust to the home's small size, but, he says, "other than that, I really love it."
Overall, Laframboise says, the home is "well thought out." He cites the foot-thick, leak-free walls; the high-quality windows; and the efficient heat-pump system. Though energy efficiency wasn't his first concern in purchasing the home, he says that earning credits with his utility company is most welcome.
"When the sun shines," Laframboise says, "I make more energy than I use." The energy credits he's stockpiled proved useful during a recent snowstorm that temporarily prevented his solar panels from producing. At times like that, his home literally pays for itself.
Jeff Smith is the director of credit administration in the South Burlington headquarters of NorthCountry Federal Credit Union; he oversees a portfolio that includes some 100 mobile-home loans that amount to nearly $6 million. According to Smith, many financial institutions are "gun shy" about financing mobile homes, viewing them as a "depreciating asset," he says. When a bank or credit union does finance a mobile home, it may require a significant down payment or aggressive payment terms.
Smith sees MHIP as "an excellent program," but he concedes that lenders may still find it a tough sell, for two reasons. First, the mobile-home mortgage market is "already depressed" and may not currently be robust enough to respond to a new wave of energy-efficient and sustainable structures. Second, simply "finding an appraiser to understand the value of what these homes are offering is a challenge," he says. Still, Smith notes that Vermod homes appear to retain their value longer, which could diminish lenders' reservations about them.
One of the biggest problems facing MHIP is more tangible, in the eyes of CVOEO's Woodward. For the program to catch on, she says, mobile-home owners — and potential buyers — need to embrace a "paradigm shift." That is, they must begin to view the homes not as depreciating assets but as durable, permanent residences that can yield long-term returns. Woodward worries that this mind-set shift may be too high a hurdle — at least for the immediate future.
"If you look at the audience that I serve day to day, I'm not necessarily seeing a matchup," she says. "If you're struggling to make ends meet ... you may not have the luxury of thinking long-term about your housing."
Schneider was more optimistic during our tour. The Vermod home, he asserted, is a smart housing option not just for mobile-home owners who want an upgrade but for first-time home buyers and for retirees looking to downsize. "We really hope that this home will help to end that cycle of poverty for our lower-income homeowners," he said.
MHIP has attracted the interest of HUD, and Schneider has participated in that agency's effort to rewrite the code that governs manufactured housing. "I consider the system to be broken at this point," he said. "Is there any reason that we shouldn't be meeting the same standards with modular construction that we do for stick-built? No. There's no reason at all."