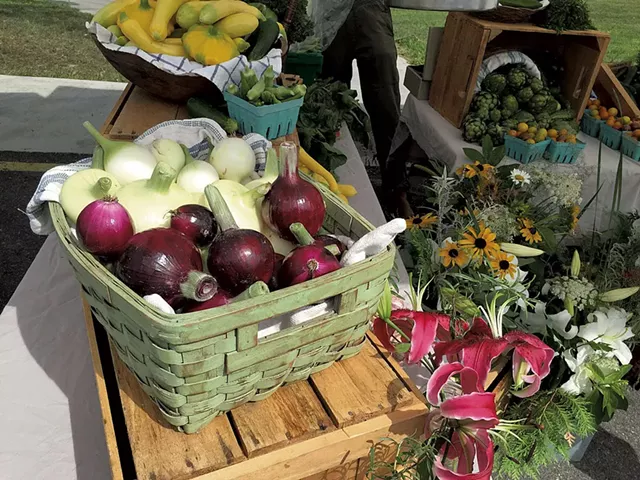 Courtesy Of Vergennes Farmers Market
Produce and flowers at Vergennes Farmers Market
This market season, as the Burlington Farmers Market relocated from City Hall Park to a parking lot on Pine Street, the Vergennes Farmers Market made a move in the opposite direction.
The Vergennes market decamped from the outskirts of town back to its longtime location on the city green. For two seasons, the Vergennes Farmers Market was located at the Kennedy Brothers parking lot, about three-quarters of a mile north of downtown. On June 13, the first market of 2019, it was back in the heart of the city.
Chris Reck, who manages the market with his wife, Sandy, said the city approached him about returning to the green. Market vendors unanimously supported the move, he said.
"We're happy to be back," Reck told Seven Days. "It's [the] prototypical Vermont community, and that's the center of life in Vergennes. We needed to be part of [that] life."
The farmers market had moved to Kennedy Brothers, a multiuse commercial space, because of lack of parking and bathrooms near the green, Reck said. "We're always looking for ways to make it better for people and inject some energy into it," he said. "Sales were decreasing when we were in the green before."
The site and people at Kennedy Brothers were wonderful, he added. But city officials, including city manager Matt Chabot, worked to make the green a viable location.
"The new leadership of the city solved the [parking and bathroom] problem in about five minutes," Reck said. "And it was great."
The city has reserved parking on Park Street for farmers market use all day on Thursdays, when the market operates from 3 to 6:30 p.m. Bathrooms are available in the Vergennes Opera House, where some city offices are located.
About half of the vendors at Vergennes Farmers Market represent farms and businesses selling prepared food. The other half sells crafts and other items, according to Reck. A musician performs every week, and the Bixby Memorial Free Library hosts a story group for kids.
"We're jam-packed with culture," said Reck, who's also president of Direct Design in Burlington.