Matthew Thorsen
3 Squares Cafe
Mom makes a mean French toast and some tasty sandwiches. But what if a top-flight chef were cooking the same homey classics? Matt Birong turns that rhetorical question into a delicious reality at 3 Squares Café.
141 Main St.
Middlebury Area
Vergennes, VT
802-877-2772
Soup 'n' Sandwich and American (New)
The New England Culinary Institute-trained Essex native honed his skills at New York's Rainbow Room and Boston's Aquitaine before he found himself in the kitchen at Burlington's greatly missed Waiting Room. In 2007, Birong left "fine dining" to open his own cozy café in the "smallest city in the USA" Since then, Vergennes has been lucky enough to have a chef cooking its breakfast, lunch and dinner.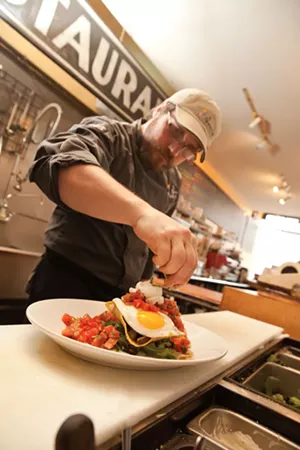 Matthew Thorsen
Matt Birong chef/co-owner of 3 Squares Cafe
The spoils for the small town include ideally executed, whimsical takes on standard American fare. Imagine a crusty French dip sandwich, complete with sweet caramelized onions and Gruyère. Then add shaved elk and elk jus.
Birong says that his wife, Danelle, who carries the title of "cheerleader and taster," is a big fan of his occasional special, Italian-inflected eggs Benedict. It starts with a chewy homemade English muffin that serves as a perfect pedestal for salty prosciutto di Parma, a poached egg and pesto-speckled hollandaise, all drizzled with a balsamic reduction. Oven-roasted tomatoes, topped with a shower of roughly chopped garlic, lend an acidic sweetness that illuminates the creamy, yolky proceedings like a klieg light.
Each spring during Vermont Restaurant Week, Birong pulls out all the stops with special dishes that hark back to the celebrated kitchens whence he came. Last year, a Parisian bistro dinner featured luscious cassoulet and a braised short rib that would have made French chef Auguste Escoffier proud. Another year, a lightly spiced Mexican-chocolate torte was a satisfying end to a meal that included ancho-rubbed pork tenderloin with plantain cakes and jicama-pepper slaw.
Bring Mom. She'll love it.