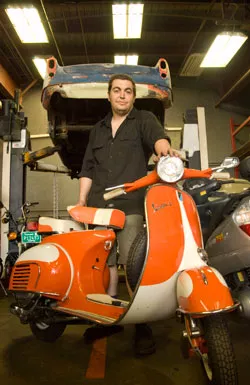 Matthew Thorsen
Mark Davidson
Mark Davidson can track his obsession with two-wheeled motorized vehicles back to one gateway motorcycle he bought when he was just 16. His first ride was a 1982 Suzuki GN 400 that had seen better days and desperately needed some TLC. Davidson was happy to give the bike the attention it needed. His parents were less than thrilled with their son's new hobby. "My parents were totally against the whole idea," Davidson says.
They can't really complain about their son's hobby anymore, especially since it has turned into his job. Davidson, 30, is the owner of The Daily Rider, a motorcycle and scooter repair shop and retail store on Sears Lane in Burlington's South End that opened earlier this year. After half a lifetime spent buying clunker motorcycles and scooters and fixing them up for fun, Davidson is now doing it for profit.
Motorcycle and scooter rehabilitation may seem like a career departure for Davidson, who has a degree in social work from the University of Vermont and until recently worked at theHowardCenter. But fixing people and fixing motorcycles aren't as different as they may seem. "Machines are like humans — they're running great and then they're not, and you have to figure out why," he says.
Davidson enjoyed his job as a social worker, but slowly his passion for motorcycles and scooters superceded it. And lucky for those Vermonters who collect vintage rides such as Triumphs and Vespas. His shop is one of the few dedicated to rehabbing those vehicles.
One can see how Davidson was suited to social work. He's mild-mannered and gentle, with sympathetic hazel eyes and rosy apple cheeks. His mouth is always curled in a partial smile, and he seems genuinely enthused about whatever he's discussing, be it his childhood in Boston or his newest salvaged scooter.
His shop, attached to the back of Noyes Tire & Auto Service, is full of motorcycles and scooters in various stages of repair, from rusted BMWs to glimmering, restored Vespas. A few shells of vintage British cars sit on lifts at the back, vestiges of Davidson's humble beginnings in vehicle restoration. He first began overhauling classic cars such as MGs and Austin Healeys, and "this progressed from there," he says.
He's equally passionate about motorcycles and scooters. But there's just something about restoring Vespas that makes Davidson smile. "The first time I fixed up an old Vespa, I loved it. I thought, Why wouldn't other people love these scooters?" he says. "And it turns out they did."
How could they not? Vespas are unapologetically cute. They inspire and convey a sense of fun as they zip down the street. Once Davidson has pounded out the dings, given them a fresh coat of paint and put them in good working order, it's hard not to want a whole fleet of them. Plus, they're cheap. Each of Davidson's fully restored 1960s two-stroke Vespas runs about $2500 and gets about 100 miles to the gallon.
Vespas first hit in the market in 1946, when the Tuscan aeronautical company Piaggio got out of the military airplane business and into mass transit. The Vespa — the word means "wasp" in Italian — was designed to allow city dwellers to get around with class. The large front fairing helped riders stay clean and dry, and the pass-through leg area meant that everyone, even women in skirts or dresses, could ride the vehicle comfortably.
The scooters became wildly popular in postwar Europe thanks to their clean lines, classic aesthetic and low cost of operation. In cities such as Rome and Paris, where parking is at a premium, Vespas were a natural fit. Between 1946 and 1965, the year company founder Enrico Piaggio died, some 3.3 million Vespas were manufactured in Italy — one for every five Italians.
Kevin Montanaro of the Vermont Scooter Association understands the draw of Vespas. He's ridden his 1967 Vespa Sprint for years and has become attached not just to the aesthetic of the scooter but to its place in history and culture. There is a "certain culture associated with riding a Vespa, and this scooter was viewed as something greater than just a mode of affordable transportation; it served as one part mobility tool and one part 'fashion accessory,'" Montanaro writes in an email. In short, vintage Vespas just look cool.
Davidson's scooter cache has been salvaged from dumps, rescued from barns and hauled out of the backs of garages. Sometimes the bikes come by way of bartering. Davidson will do the occasional motorcycle restoration in exchange for a classic Vespa or other moto. But, he says, he does have to eat. If he can't sell the restored vehicle for more than the repair job is worth, he'll have to decline the offer.
Unlike collectors, Davidson says, his obsession with motorcycles and scooters hasn't made him a hoarder. He only drives one vehicle right now: a red 1962 Vespa with a 150cc engine. He's able to let go of bikes as quickly as they come to him, he says: "Every dollar I had went to buying as many as I could, and then I found they were really easy to sell." There's only one motorcycle Davidson still pines for — a vintage BMW. Generally, he likes seeing the bikes leave his shop. "I have to get rid of them once they're restored," he says. "After that, they're just not new anymore."
So far, the Burlington man's business has been good and growing steadily. He hasn't needed a big marketing budget, he says, because "the Vespas are free advertising." Early on, Harold Kaplan of Rooftop Pottery in Burlington found Davidson's business. He wanted to restore a 1981 Yamaha XS650 given to him by a friend; the bike had sat for years in a barn and needed serious overhauling. "It was all kind of sketched out," Kaplan says. Davidson fixed the oil system and made the bike safe again. He even replaced the seat and lowered it a tad to accommodate Kaplan's shorter inseam.
During the restoration process, Kaplan recalls, he sometimes pestered Davidson for information on the Yamaha. He was never disappointed with the answers, and now says Davidson has "got an encyclopedic mind about it." When Davidson finally got the bike working, the two men high-fived. Kaplan says he was ecstatic, though "We're dudes, so we didn't hug," he notes.
While brisk business is exciting to Davidson, his real joy in The Daily Rider is putting broken things back together. In a way, Davidson recognizes, motorcycle and scooter restoration mirror his former career in social work.
"It's gratifying to take something that's not working and make it work," he says.