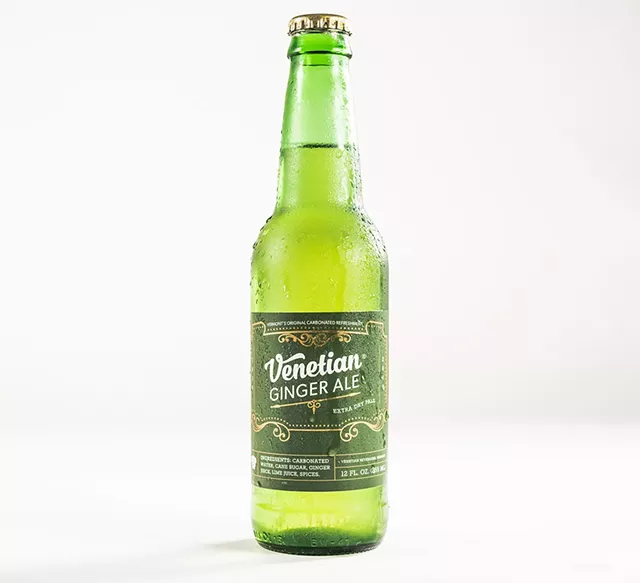 The inspiration for Venetian Beverages came from a basement. In 2015, Justin Bunnell, 35, was helping his grandfather move when he uncovered a trove of photos and documents from M. & F.C. Dorn Co., a soda plant that once stood on Burlington's Pine Street. Bunnell's great-great-grandfather, Michael C. Dorn, created the original Venetian Ginger Ale and set up shop in 1917 in the warehouse that now houses Conant Metal & Light.
"Venetian Beverages started as a conversation about reviving this old craft soda with a great story and history," said Ti Kawamoto, 33, Bunnell's business partner. The duo launched their crowdfunding campaign on March 1, exactly a century after the opening of M. & F.C. Dorn.
Kawamoto and Bunnell hope to open a craft-soda plant in Burlington or Williston, not far from Michael Dorn's old spot. The original Venetian Ginger Ale, said Kawamoto, got its name from the shop across from the plant, which produced Venetian blinds for the Empire State Building. Their version will stay close to great-grandfather Dorn's recipe: whole mashed ginger, warming spices and just enough cane sugar to balance a hearty dose of heat.
"Venetian Ginger Ale illustrates a part of Vermont history not often told," said Kawamoto — noting that, according to the Bunnell family, the company served as a bootlegging front during Prohibition. It's also "a testament to early Vermont ingenuity and industriousness."
Correction, March 10, 2016: An earlier version of this story misstated Bunnell's relationship to Michael C. Dorn. Dorn was, in fact, Bunnell's great-great-grandfather.