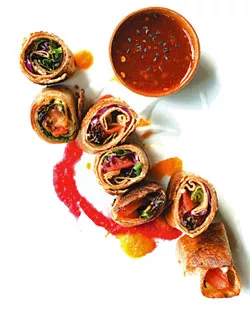 For years, Burlingtonians have bemoaned the lack of a fully vegetarian restaurant in the city. They'll finally get their wish in mid-July with the opening of Revolution Kitchen at 9 Center Street, most recently home to comedy club Levity.
Revolution Kitchen's owners, Debra and Peter Maisel, are selling their 17-year-old vegetarian restaurant, Luna 61, in Tivoli, N.Y., to relocate to Burlington. The couple noticed the void in Burlington's dining scene while their children were attending the University of Vermont. "Eight years coming here, we always said, 'How come there's not one complete vegetarian restaurant here?'" Debra Maisel remembers. When their daughter settled in Burlington after school, the family decided their restaurant concept should follow suit.
Peter Maisel, armed with a degree from the Natural Gourmet Institute, creates dishes that globe hop from the Himalayas to Jamaica. "When you come in and eat your food, we want you to say, 'Wow, there's no meat on this menu,'" says Debra, hoping the food will speak for itself to vegetarians and omnivores alike.
Though a bill of fare hasn't yet been finalized, the Maisels say a few popular items from Luna 61 will make it to Burlington. They include tofu-filled wontons, crispy scallion pancakes with sweet-chile dipping sauce and a Peter Maisel original known as the Galaxy Roll. It consists of a tortilla filled with portobello mushrooms, mock Canadian bacon, carrots and cabbage with a Thai-influenced sauce.
"We're known for our finger foods," Debra Maisel says. Based on their Luna 61 menu, diners can also expect dishes ranging from ravioli to seitan piccata to a sweet-potato enchilada to meat-free sloppy Joes.
Desserts are an important part of the package. A self-taught baker, Debra Maisel says many of her desserts are vegan, gluten free or sugar free. Her banana cream pie was her signature dessert at Luna 61.
When Revolution Kitchen opens its doors for dinner service, diners can expect a remade "industrial-modern" interior and outdoor tables. Lunch service will start once the owners have worked out all the kinks.
Debra Maisel hopes diners of all diets will try her food. "When you go to a Mexican restaurant, it's not because you're Mexican. When you go to a Japanese restaurant, it's not because you're Japanese," she says. "We're not trying to make anyone into a vegetarian."