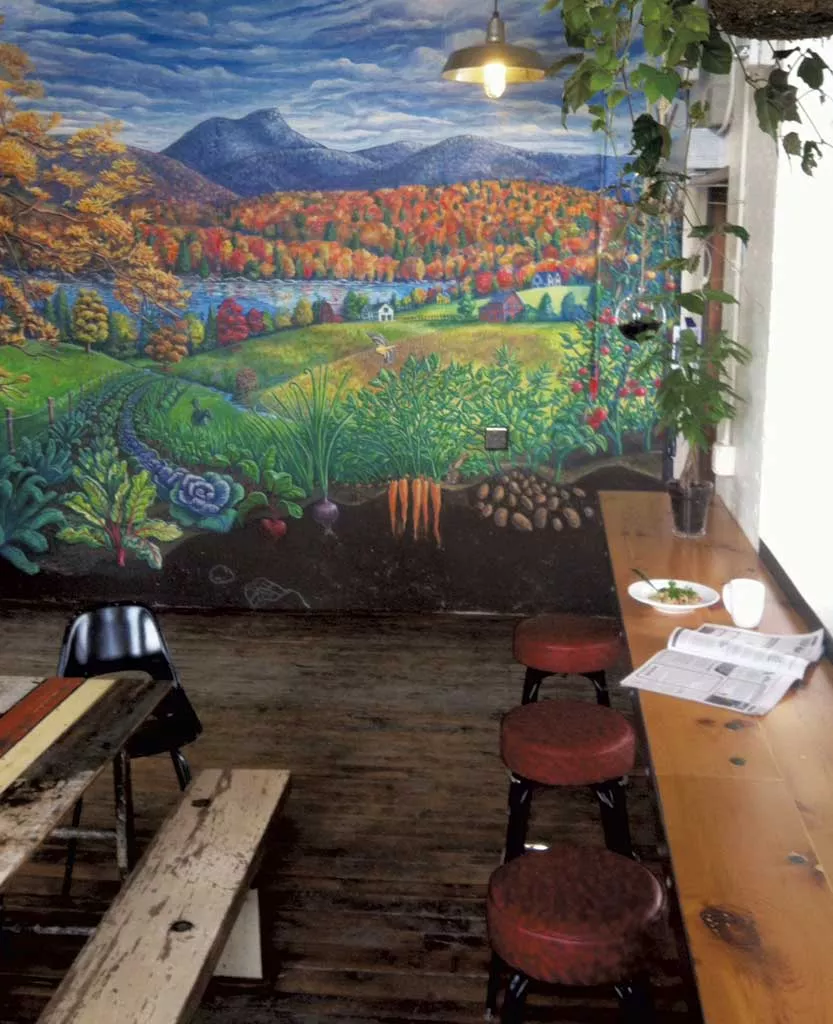 courtesy of Trevor Sullivan
Eggplant bacon, smoked-jackfruit sandwiches and gluten-free scones will show up in Burlington's Chace Mill this Saturday when Pingala Café & Eatery opens.
Owner Trevor Sullivan and chef Dave Unumb are putting their finishing touches on a vegan menu that features items such as marinated, maple-glazed tempeh patties and coffee smoothies in the morning, and veggie bánh mi and creamy spinach-artichoke dip in the afternoon.
"We're not trying to create anything that already exists in the nonvegan world," says Sullivan — although, to a reader of the menu, some of the dishes he and Unumb have come up with sound like dead ringers for their dairy- and meat-laden counterparts.
The 16-seat space facing the Winooski River is adorned with a wall-length mural painted by Sullivan and artist Tara Goreau, as well as refurbished floor boards, "old barn lighting," hanging plants and salvaged chairs. In summer, diners will be able to nosh sitting on riverside benches.
At breakfast, Pingala's staff will serve bowls of oatmeal with dried fruit, peanut butter, toasted pepitas and coconut flakes, and sandwiches such as Avocado Toast — avocado, tomatoes, "butter" and smoked paprika on toasted bread. Scones, brownies and muffins are among the pastries baked by Bhava Carr. "We asked that for everything she makes that has gluten, she also has to make something that doesn't have gluten," Sullivan says. "So our bakery selection will be 50-50. And anything [on the menu] can be made gluten-free."
That includes small plates such as spring rolls filled with crisped tofu, carrots, celery and romaine served with creamy dill dipping sauce, and avocado salsa fresca with millet-flax dipping chips.
Heftier dishes include sandwiches served on breads from nearby Barrio Bakery. They include a vegan BLT (with eggplant "bacon," onion jam and maple-Dijon aioli) and a "Middle-terranean" sandwich of roasted-chickpea salad with capers, sun-dried tomatoes, parsley and lemon-tahini sauce.
Liquid-wise, Pingala will pour single-origin coffees roasted in the Berkshires, fresh smoothies and juices. The Pick-Me-Up Smoothie combines iced coffee, banana, cacao, dates and nut milk. "The idea behind it was [to replicate] one of those super-naughty coffee Coolattas from Dunkin' Donuts," says Sullivan. Come summer, he hopes to serve beers brewed at his brother's Massachusetts microbrewery.
Located at One Mill Street in Burlington, Pingala will be open Monday through Saturday from 8 a.m to 6 p.m.