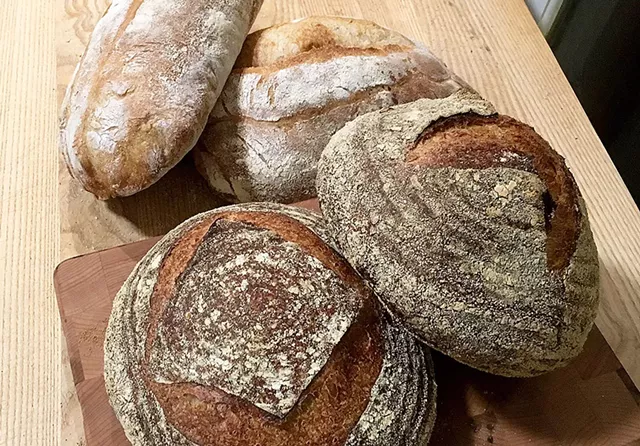 Courtesy of Knead Bakery
Knead Bakery bread
In January, when Knead Bakery opens at 294 North Winooski Avenue in Burlington's Old North End, the menu will feature breakfast and lunch fare such as challah French toast, tofu scram with seasonal veggies, and freshly made baguettes with a selection of cheeses.
But those cheeses won't be your ordinary cheddar and chèvre. Owner Robert Blum makes his own, and not from the milk of grazing animals but from nut milks, including cashew and pine nut. Nut cheese, Blum says, "is a fun and sometimes triggering thing for people," especially in a state defined by its dairy industry.
Blum, who used to work at Burlington's Pingala Café and has owned a wholesale bakery in New Mexico, is vegan. He's been experimenting with cheeses made from alternative milks, "[trying to] replicate what dairy does, which is provide a tasty fat to go along with your meals," he explained.
Those experiments weren't the café's only inspiration; as its name indicates, Blum also has a passion for baking artisanal bread and will turn out classic loaves such as baguettes, ciabatta, English muffins, challah, and olive and sage.
In addition to smearing his cheese creations on those breads, Blum plans to sell containers of cheese to go. He'll also offer a handful of other convenience foods, such as flavored seitan and fermented veggies. Diners who stick around and dine will find beer and wine on the menu.
Although some friends have advised Blum to offer animal products, he said, he plans to keep Knead vegan. "I cook the way that I like to eat," he said. "I imagine that making the food that I'm interested in and love to make is the best way to go."