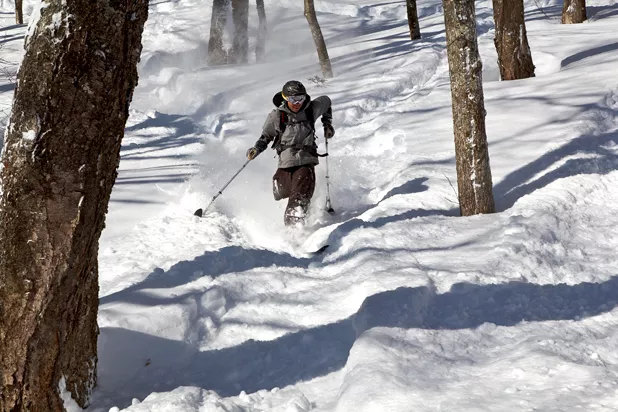 If I had read the description of Mt. Ellen's black-diamond Bravo run before venturing up, I might have been put off. "Nice and steep with a gnarly headwall at the third tower from top," the trail map reads. Instead, I'm already at the top, listening to Vasu Sojitra's recommendation for the best (safest?) way down. "I skied it yesterday and it was fine," he says. "Stick to the sides, and it should be pretty good. Maybe just don't follow me."
Then he lets it rip.
At age 22, Sojitra has much in common with his fellow 2013 grads: He's got a BS in mechanical engineering from the University of Vermont and a serious skiing addiction on the side. Chairlift voyeurs follow his every move as he carves down the slopes, catching air from moguls along the way. It's not until the powder settles that a defining feature beyond his skill becomes apparent: Sojitra skis on just one plank, supplemented by a pair of outriggers under his arms. The hem of his right ski pant is pinned up near his right hip. The thigh-high amputation was the result of a blood infection when he was 9 months old.
"I don't remember it at all," Sojitra says, as we ride the chairlift back up together. "I only started skiing in fifth grade, but I was always pretty active. I used to play soccer all the time growing up, but I also do longboard, skateboard, hockey — I've tried just about everything."
Sojitra uses crutches most of the time, but he skis with a pair of outriggers that he and his friends customized to fit his needs. Everything else he's using today was donated by major outdoor retailers, "mostly just because it's single, and companies can't use singles," he says, glancing down at the sole super-fat plank dangling below the chairlift.
We have time for one more run — another black diamond — before heading back to the lodge. Sojitra is skiing on company time today, as I've stolen him away from his first official day on the job at Vermont Adaptive Ski and Sports. He's an intern at the nonprofit organization that offers year-round sporting activities for athletes with disabilities, and today is "one of the craziest days of the season," according to Sugarbush Vermont Adaptive program coordinator Heather Timins.
At midday, the program's small room in a corner of the Mt. Ellen lodge is packed with volunteers and participants, as well as with all the equipment needed to help individuals with a wide range of physical, mental and developmental disabilities get out on the slopes. Sojitra worked as a Vermont Adaptive instructor for the large morning group, but now that the Vermont Special Olympics ski team has arrived, he's settling in to catch up on paperwork.
While he works, I tag along with Felicia Stefani, 21, an athlete on the Vermont Adaptive Alpine Race Team who is training for the 2014 Special Olympics Winter Games. Accompanied by volunteer Jackie Levine, we catch a few runs before meeting up with the rest of the team. Stefani skis confidently and chats easily about her love of speed and outstripping her family members on the slopes. Until asked, she humbly doesn't mention the medals — four gold, one silver and one bronze — she's earned in Vermont Special Olympics games.
Stefani is one of the success stories, according to longtime Vermont Adaptive volunteer Tony Egan. "Our goal is to teach people to, hopefully, ski independently so they're able to ski with family and friends," he says. "The majority of our customers are kids, so we want to teach them the discipline, control and safety, so they can ski with their families and don't need us anymore."
Now 77, Egan has been a volunteer for more than 20 years. He's watched the program evolve over its 27-year history, which started at Ascutney Mountain Resort in Brownsville in 1987. Back then, Vermont Adaptive was called the Vermont Handicap Ski Foundation and offered skiing instruction only. Today it offers snowboarding, kayaking, canoeing, sailing, cycling, hiking, rock climbing, tennis, horseback riding and other activities for people with disabilities.
The nonprofit utilizes more than 400 volunteers, who go through a rigorous training program that includes off-snow orientation, teaching instruction and workshops. Sojitra was one of those volunteers this summer, and he became an intern on January 2, just after arriving home from a trip out west.
It's not surprising that Sojitra is in great skiing condition. He and fellow UVM grad Tyler Wilkinson-Ray hit four states in three weeks in search of powder while promoting United We Ski, a documentary that Wilkinson-Ray and his brother, Elliot, made about small ski areas in Vermont. Next they hope to shoot a documentary about adaptive sports and Sojitra's quest to qualify for the Paralympics. A screening of United We Ski at Burlington's Outdoor Gear Exchange this Thursday will kick off a campaign to fund that project.
Vasu 7-days Video from T-Bar Films on Vimeo.
Sojitra says he's found a coach through Vermont Adaptive who's willing to train him for the Paralympics, and he skis as often as possible, both in and out of bounds. He frequently rises extremely early for "dawn patrol" with friends and gets in a few runs before work — and before the lifts open. Hauling yourself up a mountain using only detachable traction on the bottom of your skis is hard work for anyone, but for Sojitra, it means relying on arm strength.
"I had a lot of trouble with post-holing [sinking deep into the snow] when I first started backcountry skiing," he says, "but my friends and I modified my outriggers to give them more stability, and now they work great."
The support of friends has been a crucial component of Sojitra's development as a skier and an athlete, he says. He didn't take advantage of adaptive sports while growing up in Connecticut or during a five-year stint living in India; he preferred to figure out his own solutions.
"My brother definitely helped out a lot with trying new sports and stuff when we were younger," Sojitra says. "He and all my other friends were pretty much just like, 'Yeah, you're going to do this, so shut up about it.' And I'd be like, 'Yeah, OK, fine!'"
We stop talking for a minute to watch a skier below us surveying the Cliffs, a black diamond that today is marred by rocks poking through the snow and plenty of ice drop-offs. It looks like skier suicide to me, but Sojitra watches with an appraising eye as the skier takes the plunge.
"I hit that yesterday, and it really wasn't too bad," he says. "Well, at least I didn't tear up my ski, which was pretty good. I was happy with that."
United We Ski screening and fundraiser. Thursday, January 16, 7:30 p.m. at the Outdoor Gear Exchange in Burlington. $5. vermontadaptive.org, t-barfilms.com
The original print version of this article was headlined "Singular Sensation"