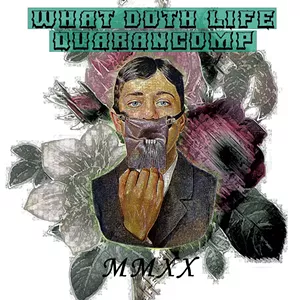 Various Artists, Quarancomp 2020
(What Doth Life, digital)
Has interest in music made during the quarantine diminished? Are people burnt out on the novelty of being stuck in their houses with nothing to do but create? Though it may be a little bit late to the party, Windsor collective What Doth Life's Quarancomp 2020 just arrived this month, and it's worth checking out.
The 18-track collection has a bunch of the usual suspects associated with the Upper Valley label and musician's co-op: Derek and the Demons, the Jobz, Carton, and the Pilgrims, to name a few. It also features some folks from the Upside Down, aka New Hampshire: punk group Chodus. But the record is largely the work of the folks at the core of What Doth Life — Kiel Alarcon, Brendan Dangelo, Ryan Hebert and Tim Knapp — in various combinations under similarly varied monikers. As Alarcon writes in an email, "We're all very incestuous down here."
That's likely why these selections fit so well together. The album runs the gamut of punk from acoustic to post, with an overall emphasis on heavy rock. But a few tracks dig into lo-fi indie, folk, alt '80s and even the experimental abyss.
As the comp's name suggests, most of the tracks were recorded during quarantine, but not exclusively. In fact, one of the best songs, "Business Minded" by Daggers and Crane, was written and tracked before the coronavirus upended life as we know it.
Daggers and Crane are actually the Pilgrims' keyboardist Davis McGraw and collaborator Parker Crane. The song, which the Pilgrims have already performed live, is pure left-of-center '80s magic. With its stabbing bass line, swishy drums, vox choir and sharply delivered lyrics, it's like Echo & the Bunnymen teamed up with the dBs. Though technically a demo, the song sounds perfect the way it is.
Several songs take stock of the pandemic in a literal sense, such as McAsh's "Oi (Dang)" and Steve Heim's "Wash the Hands." The former, a project of the four aforementioned What Doth Lifers, is a snarling punk banger; the latter a bite-size, back-porch acoustic ditty.
"Sandwich Exploration," by Dangelo and Rebecca Michaels as RNB Designs, is a seven-and-a-half-minute slide into the unknown. It's like a slow ride down an industrial conduit full of oscillating noise, metallic clangs, vibrating undercurrents and alien overtones.
Other standout tracks include "Boo Bah Bee," a buzzing slow jam from Fonding Throng; Grand Mandibles' "The Belly of the Beast," which recalls the decadent sadness of the Magnetic Fields; and the Jobz's meandering post-punk tune "19 Ninety Nineteen."
Quarancomp 2020 is the perfect primer for anyone looking to absorb the eclectic sounds of What Doth Life in about an hour. And if the virus has its way, more Quarancomps may follow.
What Doth Life's Quarancomp 2020 is available at whatdothlifevt.bandcamp.com.