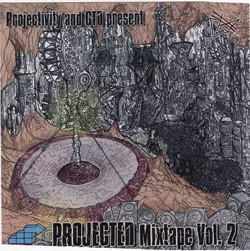 Various Artists, Projectivity & Gtd Present: Projected Mixtape Vol.2
(Self-released, CD)
Pardon the pun, but hip-hop music gets a bad rap. Perhaps it was the explosion of gangsta rap in the late 1980s and early '90s that fueled the negative stereotypes often associated with the genre and led to widespread and snobbish disapproval from mainstream America. Or perhaps, in our sex- and violence-obsessed culture, artists promoting malignant stereotypes have been deemed more commercially viable than those who choose to promote positive thinking. It's a sad commentary indeed. But hip-hop was born out of the need to create something good from a bad situation, and that ethic propels collectives such as New York's Projectivity and Burlington's GTD. Independently, both groups are beacons of higher consciousness within their respective communities. Combined, they are a force to be reckoned with, as evidenced by their latest collaboration, Projected Mixtape Vol. 2.
The CD is a remarkable collection of underground hip-hop talent, featuring acts from Burlington, NYC and beyond, such as Wu-Tang affiliate Remedy, Boston's Akrobatik and Staten Island's NYOil, who is soon to star in his own animated series on BET. Massachussett's The Problemaddicts set the comp's tone with the opening track "Hurting," enlisting legendary underground MC Masta Ace, long an outspoken critic of gangsta rap and commercial hip-hop.
But the star-studded mixtape is of particular local interest because it once again serves notice that Vermont hip-hop artists can more than hold their own alongside some of the region's finest. GTD's Burnt MD is showcased on no fewer than four of the disc's 25 cuts, including "Time Is Now," with frequent collaborator Network, whose own track "Be Somebody" is a standout.
Burlington heavyweights The Aztext weigh in with a cut from their excellent 2007 release The Sacred Document; "Lettin' You Know" features noted Michigan MC One Be Lo.
VT Union's Nastee makes a welcome appearance with "Go Away." The MC has been somewhat elusive since VT Union's Tha Mixtape was released last summer, splitting time between Burlington and NYC. But the tune is an apt reminder that Nastee's talents extend well beyond spinning club anthems at Red Square.
Perhaps the most impressive Vermont contribution comes from Northeast Kingdom duo Algorhythms, an offshoot of Wombaticus Rex. Playful but incisive, "Dreams of Lisbon" is emblematic of the compilation's overall spirit. "Everyone insists they spit doper than you / yeah, I play strip poker at the Smithsonian, too. / I'm over it, dude — all the games that I played are breaking like papier mâché and fading away," rhymes wordsmith Thirtyseven.
It's difficult to spread a positive message without sounding preachy, especially in hip-hop. But, by and large, the artists showcased on Projected: Vol. 2 do just that. Can I get an amen?