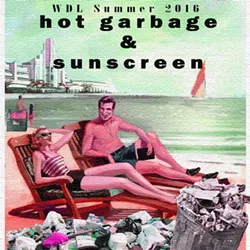 (What Doth Life, digital download)
What Doth Life is, in cofounder Brendan Dangelo's words, "a sorta support group for wayward song makers." Many of those wayward souls appear on the Upper Valley label/collective's new summer compilation, Hot Garbage & Sunscreen. Many are also intertwined. Strands spread out from WDL's home base in Windsor through the collective's connections across the country, stitching together the 20-song comp.
Everything submitted to the compilation was accepted. This results in a friendly mosh pit of styles ranging from junkyard punk and lo-fi indie to grindcore. It's an outsider art library of, according to Dangelo, "locally made rock and roll, acoustic rumblings, sound scraps and bedroom messes."
Near the top of the track list, Carton deliver clean and controlled guitar licks on "Fun," a nerdy indie-rock bopper. The local band's current lineup features WDL members Dangelo on bass and Kiel Alarcon on guitar. They released their third album, Total Modern Comfort, in February, earning a favorable Seven Days review.
Joining the indie-rock team is Nobles, a band based in Worcester, Mass., with Vermont connections. "Tropic Haunt" leans on a sock-hopping surf style and heavy Jonathan Richman vibes. Bellwire follow with "Time Out," a happy-go-lucky, freak-garage track with bold bass sound and mathematical composition.
"Wash Your Hands — fire stains VI" offers a poetic acoustic riot from Sara Jean Larsson Greenberg — a necessary female presence amid the comp's male monopoly. The song is an echoey, lo-fi recording of emotional anguish made physical. Later, Dangelo and Alarcon join Larsson Greenberg to form the improvisational group Bichael No. The trio offers a rootsy, outsider-folk campfire track titled "Impovertization Numero Uno."
Unapologetically pop-punk, Shy Husky present "Summer," which could have easily been written by Blink-182. It's a formulaic breakup song full of self-deprecation, female idolization and power chords. If your tastes run more classic, skip to hardcore and glam-punk tracks by Bike Fight, Derek and the Demons, and Evil Jesus.
At times Hot Garbage is challenging in its variety and range of thoughts and processes. It helps to think of it as a time capsule for small-town heroes and rural recluses. For example, Wood Coats offer innocent Americana on "Meltdown," while Gary Busey's Teeth transmit a tripped-out grindcore portal to the Black Lodge with "gluttonyandsinatra." Poor and Perfect's "Cursed" is like listening to a project recorded by a former grunge star in rehab.
Hot Garbage & Sunscreen is an archival look at artists that might otherwise vanish into the woods if it weren't for the existence of What Doth's "support group" — and, of course, the internet. The comp is available for free download at soundcloud.com, so you can grab it on a whim.