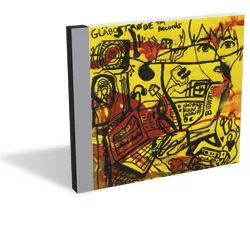 (GläbostrØbe Records, CD, digital download)
Jack Chicago is either batshit crazy or a misunderstood genius. And after spinning through Bidhitter, the debut sampler from the label he founded, Gläbostrøbe Records, I'll be damned if I can figure out which.
I first met Jack, whose given name is Derek Pinkham, one evening last winter at a Burlington watering hole. Jack approached me, hand outstretched, and introduced himself as "the Frank Zappa of 2012." Clearly, dude doesn't lack for confidence. He proceeded to fill me in on his backstory, which most notably includes a stint as a stock trader in the Windy City, before burning out post-economic collapse and returning to Vermont to pursue music — or, as he refers to it on the second track of Bidhitter, the "Buskin' Life."
Pinkham's time in the stock market is the central theme behind his frequently disjointed and occasionally nonsensical musings. It informs most aspects of his artistic being and is clearly his driving inspiration, his muse. On Bidhitter, on which he alternately appears as Jack Chicago, Derek Pinkham and Cave Fckr, he delivers intensely personal insights with unflinching and aggressive honesty. There is no shortage of passion here, that's for sure. But that's about the only certainty one can draw from these 10 cuts.
The opening track, "Bidhitter Intro," overtly apes classic Zappa freak-outs, complete with Jack Chicago adopting Frank's cavernous bass speaking voice. It's certainly freaky, which is presumably the point. But it feels disingenuous, a weak and unhinged approximation of an idea that's been done far more effectively before.
Even though he invited the comparison, it's not fair to judge Jack Chicago by Zappa's standards — he was as singular an artist as there can be. Fortunately, Jack mostly ditches the hero worship for the remainder of the disc, and it's in those moments that we really get a sense of who he/they is/are as an artist. And the reveal is a little surprising.
Chicago/Pinkham/Fckr could never be called a nuanced writer. He relies far more heavily on blunt prose and unchecked passion anchored in a comparatively straightforward singer-songwriter aesthetic. But behind his manic bluster, there is a curious art at work. There is a wounded sensitivity in these songs, a notion that Jack Chicago still isn't sure how to process Derek Pinkham — or perhaps vice versa. And that confusion is ably reflected throughout Bidhitter. It's not always a joy to listen to. In fact, it's occasionally painful. But it is, in moments, also queerly compelling, Zappa be damned.
Jack Chicago plays the Burgundy Thursday series at 1/2 Lounge in Burlington this Thursday, June 21. Bidhitter is available at Burlington Records and online at glabostrobe.com.