Lee Krohn
Will "Kasso" Condry
When Khalil Munir attended the University of Vermont in 1970, he was one of 13 African American students on a campus of 8,000. "It was a cultural and ethnic wasteland," he said.
Since then, things at his alma mater have improved, Munir noted. About 11 percent of the current undergraduate cohort is from multicultural backgrounds, and the campus has a greater appreciation for diversity.
On Saturday evening, Munir, now a policy analyst based in Washington, D.C., was among 200 people who attended the Soul Food Social in UVM's Grand Maple Ballroom. The annual event typically takes place over Homecoming Weekend. Organized by the Black Student Union, it's an opportunity for students of color to gather, share a meal and feel welcome on campus, said BSU publicist Daneil Whyte. "It can get lonely walking around this campus [when] you don't see someone who looks like you."
This year's Soul Food Social had the theme "Reclaiming Our Time," a reference to U.S. Rep. Maxine Waters' (D-Calif.) viral response to Treasury Secretary Steve Mnuchin. The gathering started off with a networking session to help students and alumni such as Munir connect.
"I've gained an appreciation for what this event is, the work and the spirit that the students throw into preparing a meal," said Munir, who sits on the board of the university's alumni association.
Bernard Palmer, a fellow board member from the class of 1975, agreed. When he was at UVM, he said, "We didn't even have this kind of event, because there wasn't a lot of us here."
Why soul food? "A lot of people come from New York, Chicago or somewhere far away, and they don't have the food [here]," explained Whyte, a second-year student. "So, even though we can't bring you back home, we bring a little piece of home to you."
The students took two days to whip up a hearty meal of traditional soul food such as fried chicken, macaroni and cheese, and corn bread — plus less traditional offerings such as vegetable curry, tossed salad and flan. Having budgeted, shopped and cooked for the event, they were on hand to serve the food, too.
"They told me one drumstick per person," one student server apologetically told a guest.
"It's like in the Bronx," exclaimed a student to a friend as they headed back to their table, each with a brimming plate.
Amid the sea of guests dressed in slacks and sweaters, bare-back dresses, head wraps and dark suits, campus police officers stuck out as they patrolled the ballroom and hallways.
Days before the Soul Food Social, campus police had cited a student for disorderly conduct. Wesley Richter was allegedly overheard on campus using "explicitly racist and threatening language directed toward African Americans," said the university in a statement.
Some campus community members see Richter's action as backlash against a protest march on September 25, they said. On that date, student groups went to UVM president Tom Sullivan's office to press the administration to address diversity issues.
While the BSU did request additional security for the Soul Food Social after the incident with Richter, Whyte, said that canceling the event never crossed anyone's mind.
"Even though we're all scared individually, when we come together, we can all be safe," she said.
For Briana Martin, the presence of campus police was "a little weird" and "unnerving." Martin, who graduated in 2011 and now works at UVM, had been out of state and returned just in time for the event, which she described as one of the highlights of the year.
Martin had fond memories of cooking for the social when she was a member of the BSU. She pointed out a group of Champlain College students, seated on the other side of the room, as evidence of the event's appeal.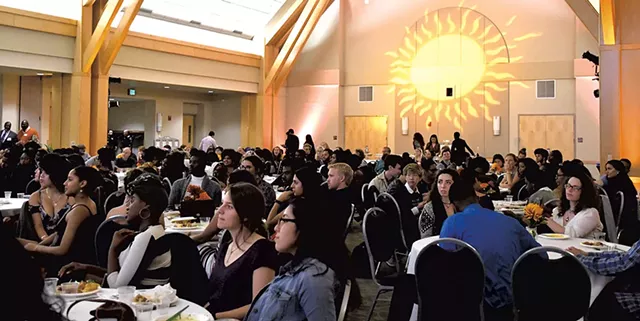 Lee Krohn
Soul Food Social at the University of Vermont
"We're here to show our support," said Champlain student Nyjah Strange. Her college doesn't have a black student union, though it does have an office of diversity and inclusion, which the senior described as a "safe space."
Saturday's event was her second Soul Food Social, Strange said. The food, she added, was "nothing as good as my mother and grandmother's cooking, but it's almost there."
Kofi Mensah, a 2011 graduate, said he hadn't been back for Homecoming Weekend in three years. "I love UVM," said Mensah, who was president of the Student Government Association in his senior year. "UVM helped shape me a lot into the person I am today."
Still, commenting on the recent campus incidents, Mensah said latent bias at the school is nothing new. "My four years here, there was always just a lot of underlying racism and ... a lot of undertones that we heard from students in class, even some professors." The students' push for more conversations about inclusion and racism is a "great thing," Mensah continued. "It's just going to make the campus that much better overall."
Mensah, who now divides his time between London and New York City, noted that Saturday's event was more diverse than the ones he attended as a student. While the Soul Food Social was always seen as an event geared toward students of color, he added, "we really wanted it as a way to bring more diversity, even within the community of color."
South Korean engineering student Eric Kim said he attended the social to learn about new cultures. Two weeks ago, he was at a dinner organized by the UVM Muslim Student Association.
"Everything is new to me," said Kim, who cut a striking figure with his all-black attire and gelled-back hair with blond streaks. The master's student arrived in Vermont last year, and he has always wanted to join BSU meetings, which typically attract about 40 students. Attending different cultural celebrations is also a way for him to take a break from his studies, he said.
As chatter and the sound of clanking utensils filled the room, a silent-auction slide show played on a large projector screen. The student MC urged guests to bid on colorful prints created by Carib Ibis, a black-owned company. Proceeds from their sale would be donated to Three Little Flowers Center, an organization that helps a Haitian school damaged by last year's Hurricane Matthew.
That school wasn't the night's only beneficiary. Halfway through the evening, street artist Will "Kasso" Condry got onstage to finish a painting for an auction to benefit Black Lives Matter Vermont. The Middlebury-based artist, who was born in Trenton, N.J., and is best known for his murals, was painting a monochromatic portrait of singer and activist Nina Simone.
As he worked, Kasso talked about his craft and his experience as a black artist in "a very white art world." Arguably his most controversial mural depicts Michael Brown, the unarmed teenager who was shot by a police officer in Ferguson, Mo. That mural of Brown in Trenton, Kasso said, got him international attention.
"Being an artist of color in this country is a political act itself," he told an enraptured audience. "Let's be honest, there wouldn't be anything cool in this country if it wasn't for black folks," he added.
Kymelya Sari
Daneil Whyte
"Wow," exclaimed Wyatt Suich after 15 minutes, when Kasso revealed his finished artwork. The UVM freshman from Vershire was at the Soul Food Social with his mother, Carol. The pair was tired from attending other homecoming events, they said, but they still stayed for the whole evening and bid successfully on a Carib Ibis print.
In addition to Kasso, licensed clinical mental health counselor and racial justice leader Vicki Garrison and spoken-word artist Rajnii Eddins took the stage to speak about issues such as self-care, self-love and institutionalized racism. Audience members cheered and intermittently snapped their fingers — a tradition at poetry readings — as each spoke.
Interviewed before his performance, Eddins said he was honored to be there. "It's an opportunity to connect with folks who mirror and reflect your experience, break bread, and share common fellowship," the poet said.
That fellowship included professional networking. Throughout the evening, alumni Munir and Palmer gave out their business cards to students. "Email me, and then we'll talk," said Palmer, who works for the New York City Department of Education, to a student who hopes to be a school psychologist.
"We have connections ... in terms of getting jobs, putting them in contact with other people, letting them know they're not here by themselves," said Palmer.
Munir noted that he and his peers didn't have such role models when they were students at UVM. "Now, there's a critical mass of ethnic, social and cultural minorities who matriculated to UVM, who graduated and go on to have illustrious careers," he said. "We are trying to give something back."