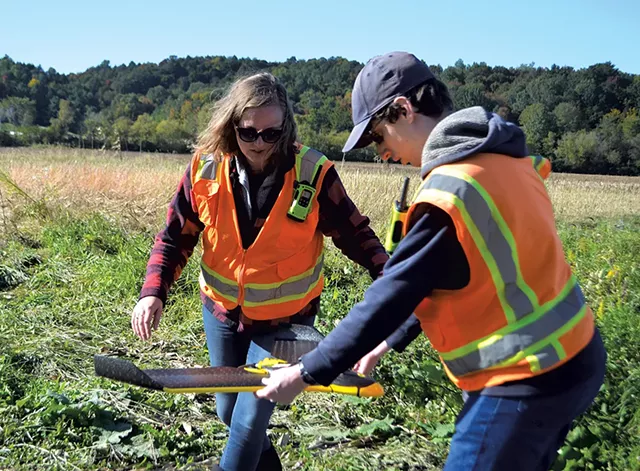 Katie Jickling
Emma Estabrook and Ben Greenberg
University of Vermont drone pilot Emma Estabrook crouched over her aircraft in a newly cut Williston cornfield, preparing to launch the black-plastic-and-Styrofoam device on its latest research mission. At her side, senior Ben Greenberg rattled off the preflight checklist: Radio tracker? Camera? SD card? Ground sensor? Flight area?
Greenberg and Estabrook were familiar with the protocols, which that October afternoon were part of a study looking at how farmers can improve soil and water quality to help mitigate climate change.
It was roughly the 40th drone flight UVM's Spatial Analysis Lab has flown in this field — and one of more than 1,200 aerial forays the lab has carried out for clients across the country.
Under the direction of Jarlath O'Neil-Dunne, the lab has been a groundbreaker in the world of drone-assisted research, exploring new uses of drones and working to create an "ecosystem" for drone-related businesses and projects across Vermont.
"They've been on the cutting edge ... for years," said Chris McGinty, executive director of AmericaView, a nonprofit that works with American universities to promote the use of remote-sensing technology, including satellites and drones.
UVM's fleet of drones carry high-resolution still and video cameras as well as infrared and heat-sensing equipment to survey a landscape. Back at the lab, the data can be used for maps, infrastructure analysis, or 3D models of a landscape for use by researchers or engineers.
Since its founding in 2013, the school's drone program has studied bridges for transportation departments around the country; surveyed the movement of woody debris on a Vermont river to improve the design of downstream bridges; portrayed the topography of a coffee farm in Hawaii to help the farm manage and store rainwater; and mapped leaf-peeper cars for a traffic study on New Hampshire's Kancamagus Highway.
In the process, the Spatial Analysis Lab, part of UVM's Rubenstein School of Environment and Natural Resources, trains students in the use of drones and conducts drone-assisted academic research in real-life scenarios, O'Neil-Dunne said.
"We're trying to lay the foundation for successful drone applications in the state of Vermont," he said, noting that the projects provide a low-risk opportunity to experiment with new applications of drone technology that save taxpayer dollars by collecting information more quickly and effectively. For example, his drones have been monitoring the road construction around Brandon to ensure that the state-employed contractors are meeting their targets.
"We're not trying to sell you a service; we're trying to help you figure out whether drones are the best tool," he said of the firm's public and private clients.
The idea for a "drone team" came to O'Neil-Dunne in 2011, after Tropical Storm Irene. Washed-out bridges and collapsed roads made it difficult to assess the extent of the destruction.
"Traditional methods of acquiring overhead data ... just didn't cut it in these disaster situations," O'Neil-Dunne said. He had seen drones at work during the Iraq War when he did spatial mapping in the U.S. Marine Corps. He knew the small, unmanned planes could reach hard-to-see places.
In 2012, he received a $750,000, three-year research grant from the U.S. Department of Transportation to look at how the state could employ technology, including satellites and drones, in future disasters. He went to work, using drones to create 3D maps that would predict how much gravel fill would be needed to rebuild Route 100 if it were badly damaged in a future storm.
A subsequent federal grant allowed the lab to explore the use of drones for other transportation projects.
In 2015, the UVM team became the first to use drones to analyze a train crash, O'Neil-Dunne said, after an Amtrak train derailed in Northfield. Within hours, drones had been deployed over the site, collecting data to help coordinate an emergency response and to provide documentation for a future investigation. By day's end, the drone team had stitched together a 3D map using the photos.
Katie Jickling
Lindsay Barbieri
Those early projects were "definitely super innovative at the time," said Jon Budreski, director of business development for AirShark, a private drone company based in New Hampshire. O'Neil-Dunne was "four to five years before a lot of other adopters" of drone technology, he said.
This year, the Vermont Department of Environmental Conservation hired the drone team to survey the southern Lake Champlain basin for invasive water chestnut. The plant, which resembles a water lily, can spread across the surface of a lake or swamp, preventing the growth of native species and hampering navigation.
Previously, the surveying job had to be done by staff or volunteers in kayaks, a time-intensive process, according to Josh Mulhollem, aquatic invasive species management coordinator for the state.
The UVM team deployed drones over the area, shooting photos that allowed managers to map and quantify infestations of the nuisance species — a more efficient, less expensive way to identify problem areas, Mulhollem said. He could then prioritize locations for volunteers and staff to paddle out in kayaks and pull the plants.
Drones "can fly acres in a relatively short period of time and give you all the information you'd ever want about that area very quickly," Mulhollem said. He said he hoped to use the drones again and called the technology a "burgeoning field of natural resource management and environmental science."
As business opportunities expand, the UVM lab has accumulated a dozen drones, ranging from a $400 remote-control model that staff use for demonstrations and camps for kids to a $30,000 fixed-wing drone with advanced photo and sensing technology.
In the Williston cornfield in early October, Estabrook, who leads the lab's drone team, was operating an eBee model drone, a fixed-wing craft with a three-foot wingspan. It's an "autonomous" drone, one that is computer-controlled — which accounted for its $10,000 price tag in 2013, Estabrook said.
Estabrook, who wore mud boots and a highlighter-orange visibility vest, monitored the flight on a laptop in the back of a mud-spattered pickup truck. She checked the wind speed — less than one knot — and the flight path on the computer, which sent signals to the drone through a tripod-mounted modem.
Under the piercingly blue sky, the 2016 UVM graduate was in her element. She affectionately noted the "happy noise" the drone made when she turned it on and launched into a spiel about the pros and cons of various models of unmanned aerial vehicles. She's a minority in her field — less than 5 percent of Federal Aviation Administration-certified drone pilots are female.
After the preflight checks, Estabrook revved the drone's propeller and tossed it skyward. The craft zoomed upward on a preprogrammed path and circled, hardly distinct from a flock of crows that wheeled above the yellow and orange foliage along the field's edge.
Greenberg, Estabrook's partner on the mission, served as a "visual observer," making sure the drone stayed within sight and didn't pose a safety hazard. As he tracked the device across the sky, he said that after watching hundreds of flights, the little planes had lost their "mystique factor" for him — but he acknowledged they had led him to his current career path. In the two years he has worked for the drone team, Greenberg has earned his FAA pilot's license and racked up valuable job experience. He said he plans to seek a job in the field when he graduates next year.
As he watched, the craft began to run long, parallel passes over the field. The attached camera — which photographs multiple spectrums of light — snapped pictures of the ground about every second. The infrared shots would show the health of the crop by drawing out the particular shades of green associated with certain nutrients, said Lindsay Barbieri, a PhD student at UVM's Rubenstein School. She'll use the images to help her calculate the field's productivity, by measuring the volume of the corn planted there.
After the drone coasted down into a patch of goldenrod, Greenberg and Estabrook launched a second drone along the same flight path, this time taking high-resolution photographs of the cornfield in the visible light spectrum.
In the lab, other workers would use computers to overlay the photos on top of one another to create a 3D image of the cornfield. The data Barbieri gleans should help farmers determine the best way to manage their fields while minimizing greenhouse gas emissions and harmful runoff into nearby streams, she said.
In the hands of O'Neil-Dunne and his team, it's a relatively new application of an evolving technology.
Since the lab's genesis in 2013, drones have become ubiquitous, buzzing over concerts and sporting events. Prices for simple models have plummeted; Amazon sells a small quadcopter, a remote-controlled drone with four propellers, for as little as $20.
This proliferation has prompted new regulations. Since 2014, U.S. drone pilots are required to be screened by the Transportation Security Administration. In O'Neil-Dunne's lab — which has eight employees and 15 student workers — six drone pilots are FAA-licensed. Half of them are women.
Other restrictions: Flights can't climb higher than 400 feet and may operate only during daylight hours, within eyesight of the pilots and not above places where people are present, among other rules.
Comparatively, though, Vermont has put up few barriers or limitations on drone use, said O'Neil-Dunne. Whenever he's needed access to private land, property owners have been almost universally accommodating. He's heard few concerns about privacy, he said.
"In other states, there's a very antagonistic fear of drones because no one took the time to lay the foundation," O'Neil-Dunne said.
McGinty, the executive director of AmericaView, credited O'Neil-Dunne for the generally positive public reception. He also noted that O'Neil-Dunne serves on AmericaView's board. "They've done a lot of work to support and further education opportunities and the development of the commercial drone market in the Northeast," he said of the UVM team. "They really took the long view for what is needed down the road."
Last week, O'Neil-Dunne spoke at a national transportation conference, helping states understand and adopt drones. The Vermont Agency of Transportation recently bought its own drone and is hiring its first manager to oversee its use, rail and aviation program director Dan Delabruere said.
That's fine with O'Neil-Dunne, even if it means his program gets fewer local contracts. "Our goal was never to corner the drone market in Vermont," he said. Instead he's educating: Last summer he conducted workshops for adults and kids. He's partnered with AirShark to make webinars about how to use drone data and troubleshoot for technology challenges. When Gov. Phil Scott visited Chittenden County on his Capital for a Day tour earlier this month, he heard a presentation from O'Neil-Dunne on the lab's work.
The biggest challenge on the horizon?
"Once you have all these flying toys, how do you ensure these investments are paying off?" O'Neil-Dunne said, ticking off some of the issues related to drones: storing and sharing data, developing a workforce, and breaking down barriers that prevent those who want to from flying.
"Because of our years of experience, I think we're going to have a really important role to play," he said.