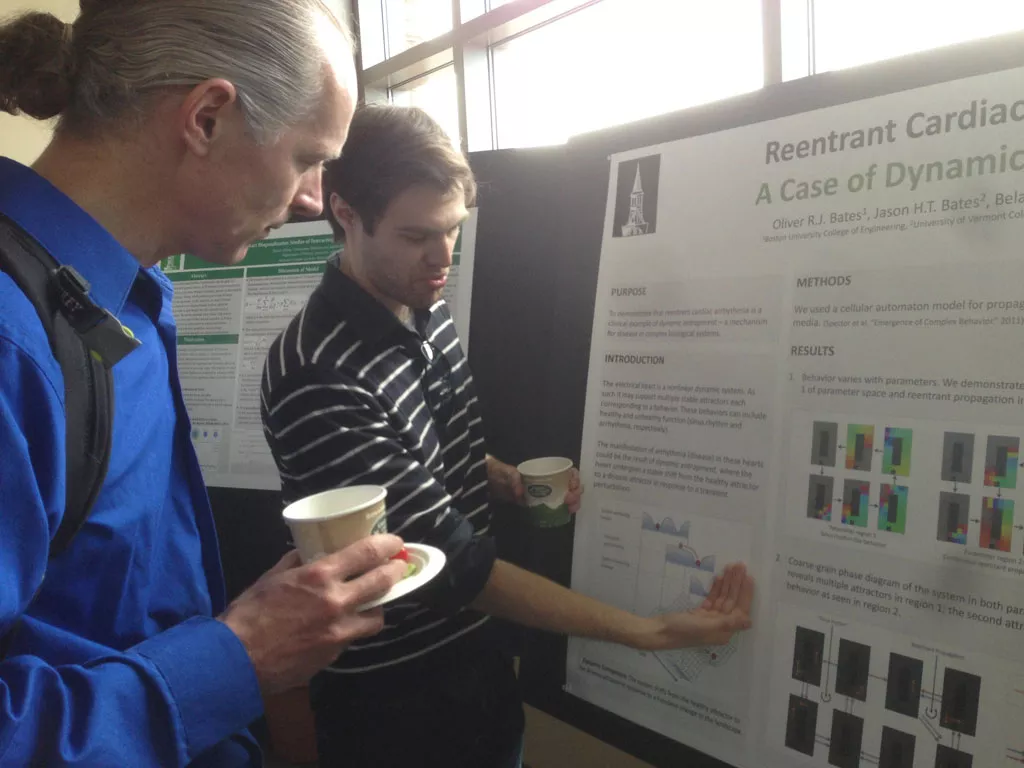 Courtesy Of Cathy Resmer
Grad student Oliver Bates explains his research to entrepreneur Uwe Heiss
We're living in a data-rich world. Many of the devices and tools we use daily collect information about us — think smartphones, Fitbits and web browsers. And we're sharing our data with each other at an unprecedented rate. Twitter users alone generate more than 50 million tweets per day.
This information explosion — aka Big Data — is creating all kinds of new opportunities to study and predict behavior, and the University of Vermont is taking advantage of them.
That was one takeaway from "Prediction: The Next Big Thing," an event last Monday at UVM's Davis Center that investigated prediction science in the age of Big Data. The conference drew about 250 students, faculty and community members curious about how researchers are putting this new wealth of data to use. The presentations and projects spanned a dizzying array of fields — from biology to social science, natural resources to robotics. Three hours was barely enough time to digest even a few of the big ideas on display.
"Only one university is approaching Big Data the way we are," Provost David Rosowsky said when he addressed the crowd in the Grand Maple Ballroom. UVM, he boasted, is "at the forefront" of this new field. "Big Data is the big buzz."
Rosowsky was talking, in part, about the school's Complex Systems Center, which hosted the event. Established in 2009, the interdisciplinary program aims to study the patterns common to complex systems, be they physical, biological, social or synthetic. Courses include "Chaos, Fractals and Dynamical Systems," "Evolutionary Robotics" and "Thermal and Statistical Physics."
The center's "roboctopus" logo depicts an octopus wearing a robot suit. Its tentacles have a remarkable reach.
MIT Media Lab director César A. Hidalgo was among the presenters, along with Neil Johnson, a physicist from the University of Miami. Johnson spoke about his work predicting social unrest using Facebook.
During the symposium's self-guided "poster session," sort of like an elaborate science fair, I wandered into the Livak Ballroom to peruse some of the dozens of student projects on display. There I met Alex Berger, who created a website that can predict how much money you have in your bank account.
At first glance, Berger's senior project, called "Using Crowdsourcing to Discover Correlational Relationships," was nearly impenetrable to this English major. But after several minutes of rapid-fire questioning, I was able to grasp what he was telling me.
The computer science and information systems major set out to build a web platform that can help researchers identify variables with a strong correlation to their object of interest. To test it, he invited people to use his website to complete a personal savings research survey. It started by asking them to reveal how much they money they had in their bank accounts. Then he asked for their answers to a series of questions, such as "What is your net worth?" and "How many years have you been saving for retirement?"
Participants were also able to add questions to the survey that they thought might help him make the bank-account prediction more accurate; one helpful participant contributed 34 additional questions. This crowd-sourced data helped him refine his survey. Every hour during the monthlong experiment, his site retrieved and analyzed the data and generated a new equation that predicted the respondent's answer to the bank- account question. The site's predictions became increasingly accurate over time.
According to Berger's adviser, Complex Systems Center associate director Josh Bongard, more than 3,000 people participated in Berger's project. Analyzing their responses allowed the undergrad to determine all sorts of things, from which questions correlate most closely to the bank-account answer to how many questions people were likely to contribute.
Berger is a fan of crowdsourcing. He noted its crime-fighting potential — crowd-sourced intelligence gathering helped police find the Boston Marathon bombers — and he mentioned the success of Wikipedia, the web's crowdsourced encyclopedia.
Why did he choose the bank-account question? "It's numerical," he explained, which makes the data easier to analyze. And, he said, it's something people usually know. He ran another experiment asking how much energy people use, and discovered that the most likely predictors of energy use are factors such as how many bedrooms people have and how often they do laundry.
It's not hard to see how this survey tool could be useful for researchers, policymakers and corporations, such as his future employer; after graduation, Berger is taking a job as a software developer for J.P. Morgan.
Berger's project poster board was set up next to one describing cardiac arrhythmia as an example of disease in a complex system. As I spoke with Berger, PhD student Oliver Bates was explaining his project to Uwe Heiss, a health care entrepreneur about to launch a new start-up called Zeebo.
Not everyone in the room was an established or budding scientist or businessperson.
Before I returned to the other ballroom for the second round of presentations, I ran into Bronwen Hudson, '14 — I stopped to talk with her because I overheard her say, "All of these people are so cool!"
Hudson, a pink-haired, European-studies major who's double minoring in English and Latin, is not part of the Complex Systems Center. But she's a fan: Her honors thesis, "Poetry as a Complex System," draws parallels between poetry and mathematics.
"I've had a crush on theoretical mathematics since early high school," she admitted. Hudson, whose parents live in Williston, plans to move to New Zealand after graduation. She's on the hunt for a graduate program in "digital humanities."
"It's like library science on steroids," she explained.
Soon she may be able to pursue a graduate degree in complex systems at UVM. After the conference was over, Complex Systems Center director Peter Dodds told me that the university is developing a PhD-level program in computational science.
"We're trying to train people to be able to do the technical things," he said. "There are lots of places that need people who are great with data." m