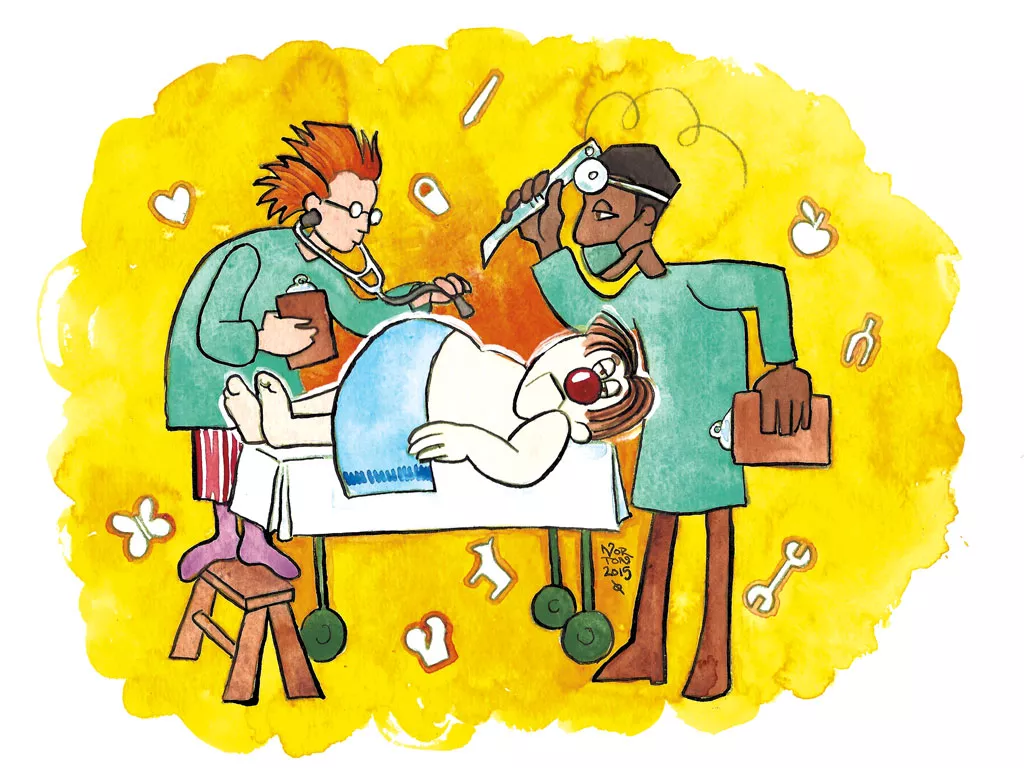 The very phrase "dengue fever" conjures up grim visions of sweat-soaked safari suits and merciless mosquitoes. Though rarely fatal, dengue fever is a major issue in global health, infecting as many as half a billion people every year. This incurable viral disease, also called "breakbone fever" for the severe aches it causes in sufferers, typically strikes in equatorial climates. But the war against it is being waged on many fronts — including chilly Vermont.
The Office of Clinical Trials Research at the University of Vermont Medical Center carries out studies on cancer treatment, smoking cessation methods, low-birth-weight infants and a variety of medical devices, among many others. Currently, the office is engaged in 1,350 clinical trials in the name of medical research.
Kim Luebbers has been at UVM Medical Center (formerly Fletcher Allen Health Care) for more than 25 years, and holds multiple supervisory positions in the Office of Clinical Trials, including that of assistant dean for clinical research. In a phone conversation, she explains that medical research companies and government agencies sponsor some trials; UVM researchers initiate others. Luebbers notes that the office's mission is explicitly educational, and its researchers can effectively be "hired" by any part of the hospital or medical school.
Like all clinical studies, those at UVM must abide by medical and ethical guidelines established by the federal government. The university's Institutional Review Board administer such matters of protocol. Numerous interviewees for this article stress the importance of receiving "informed consent" from every single volunteer.
Within the realm of infectious-disease research at the University of Vermont, the Vaccine Testing Center is currently conducting a trial designed to develop a vaccine for dengue fever, and another on the immunologically similar West Nile virus. Both ailments are classified within the genus Flavivirus, which also includes pathogens linked to tropical diseases such as yellow fever and St. Louis encephalitis.
The study of such illnesses in northern climes is not as unusual as it might seem. For one thing, UVM Medical Center is a comprehensive medical research facility, by far the largest and most advanced in the state. For another, cases of dengue fever and West Nile virus have actually been recorded in Vermont, though in small numbers. The Atlanta-based Centers for Disease Control and Prevention reports four cases of dengue in Vermont in 2014; West Nile virus infected no humans in the state last year, but two Vermonters tested positive for it in 2013.
Those are tiny figures compared with those of California or Texas (780 and 345 cases of West Nile, respectively, in 2014), but diseases know few boundaries. As several doctors and clinicians point out, many of the participants in these trials are thinking globally and acting locally.
Volunteers may sign up for any number of reasons, including monetary compensation. Participants in the dengue fever study, for instance, can receive up to $2,030. That decent chunk of change may seem less chunky when applicants learn that the study lasts a full year and requires regular medical exams. Other, shorter-term trials require fewer visits and offer smaller recompense.
Participating in clinical trials, then, is no shortcut to financial independence. No one Seven Days interviewed at UVM recalls encountering "professional lab rats" — people who enlist in multiple clinical trials to earn a paycheck. More common are everyday citizens who want to "give back" or contribute in some small, anonymous way to the greater good of medical research.
One such participant is UVM administrator Barbara Drapelick, who signed up for the West Nile virus study in May 2014. Though she was previously unfamiliar with the phrase "citizen science," Drapelick says her reasons for participating in the study align perfectly with those of that burgeoning grassroots movement. "I know how important [clinical trials] are for drug and treatment development for disease," she says. "I wanted to be able to contribute to that. Not being a medical professional myself, this was really the best way for me to contribute."
Over the course of the yearlong trial, Drapelick and other participants must submit to frequent medical tests. For the two weeks immediately after her immunization, Drapelick received "mini physical exams" three times a week; as time goes on, the frequency of required visits drops. After her February checkup, she won't report to the lab again until May.
If and when she fulfills all of the study's requirements, Drapelick will earn $2,300. "I'd do it again in a heartbeat," she says. Then, dropping her voice to a faux-conspiratorial tone, she adds, "I would probably do it even if they didn't pay me."
Whatever their reasons, willing and responsible participants are essential to any successful clinical trial — so much so that Kristen Pierce refers to the trials as "partnerships" between clinicians and participants. Pierce, a professor of medicine and director of UVM's Infectious Disease Fellowship program, is a lead investigator on the dengue fever and West Nile virus clinical trials. She's clearly passionate about her research, but she's equally pleased to collaborate with citizen scientists. Pierce repeatedly refers to the network of volunteers and clinicians as "a community."
"I'm not the scientist who made the vaccine," Pierce says, "but I am helping to get volunteers and gather information about immune response. And I feel like I am making a difference. But I don't see my role as any more important than that of the volunteer. And I do get a sense from volunteers that they are very invested in being in the study."
UVM doctors and researchers supervise the hundreds of trials and the data they yield, but the volunteers are the heart of the program — sometimes literally. Harold Dauerman is a cardiologist who's served as professor of medicine at UVM Medical Center since 2001. For more than 20 years, he's been involved in clinical trials for cardiac devices, and he was instrumental in the local trial of a potential game changer.
The transcatheter aortic valve replacement, or TAVR, is a minimally invasive procedure that wedges a machine-made heart valve inside a patient's own damaged valve, which need not undergo surgery to accommodate the device. Until recently, such a procedure would have required open-heart surgery, but a TAVR device can be implanted arterially, via a small incision in either the chest or groin. Patients who undergo the procedure may be able to leave the hospital in as few as three days.
In the argot of clinical trials, the "end point" of a study like UVM's TAVR trials, says Dauerman, is nothing less than life or death. The most important metric in the first phase of that trial was whether TAVR patients were still alive one year after the procedure. In this way, device trials differ strongly from studies that investigate vaccines or other drugs, which typically require and recruit healthy volunteers. The TAVR study, by contrast, was conducted on patients whose lives were at stake.
The TAVR device and procedure received approval from the federal Food and Drug Administration in July 2014, a greenlighting granted only on the basis of successful clinical trials. Researchers like Dauerman and his colleagues Ed Terrien, Frank Ittleman and Joseph Schmoker initially tested TAVR on elderly patients whose heart-valve blockages put them at high or extreme risk of disease. Now that the procedure has received federal approval and achieved a high success rate, the trial has moved on to its next phase: testing on lower-risk patients.
"It's become routine," Dauerman says, and notes that his 15-person team now performs TAVR procedures two or three times a week.
Though Dauerman is quick to point out that his team was one of many around the country that conducted TAVR research, the UVM trials had the immediate, local benefit of improving the quality of the lives of about 150 Vermonters. Local clinical trials meant that patients could receive cutting-edge treatment near their own homes, rather than traveling to regional medical hubs such as Boston or Albany. "Without some of these trials," Dauerman says, "patients in our region would have had to wait years for access to this new technology."
Not all clinical trials are success stories, but Dauerman points out that, from a scientific standpoint, failed efforts are just as worthy. A few years ago, he participated on a surgical team that burned certain nerves within patients' kidneys, on the grounds that "renal enervation" might lower high blood pressure. The procedure was unsuccessful. Six months later, patients' blood pressures were unaffected.
"Even though [the results] were negative," Dauerman says, "I think it was very important, because there were many people who have trouble controlling their blood pressure who were seeking that therapy. We now know that it's going to be challenging to fix that."
A trial's success, in other words, may be measured not by the ailments that it cures but by the data it generates. Anyone who has the time and interest — and who meets a trial's particular health prerequisites — can, in the name of science, contribute to that ever-growing data set. While trial participants won't get vaccines named after them, as researchers sometimes do, they'll have the satisfaction of knowing they assisted in the slaughter of pernicious microbes — perhaps even in the eventual eradication of a global scourge.
Correction 1/15/15: An earlier version of this story incorrectly identified the type of disease caused by Flavivirus. In fact, it is St. Louis encephalitis. Additionally, vaccine trials are not carried out by the Office of Clinical Trials Research, but by the Vaccine Testing Center.
The original print version of this article was headlined "Study Hall"