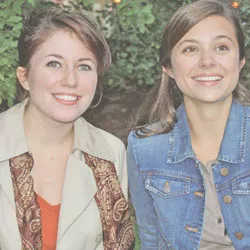 In friendships today, emotional investment can fall on a sliding scale. Which is to say that friendships are nothing like full-on, committed, romantic relationships — until, of course, that's what they become.
In the University of Vermont production of playwright Diana Son's acclaimed Stop Kiss, the depiction of a friendship between two young women in the big, bad Big Apple illuminates an intimacy that transcends such labels as "friend," "girlfriend" and "lover." That these two women, who don't identify as lesbians, find themselves sexually attracted to each other complicates their relationship so poignantly that the play, like them, defies easy categorizing.
Yes, it's a drama — never more so than when an act of harrowing brutality brings the fledgling romance between traffic reporter Callie and elementary school teacher Sara crashing to Earth. But Stop Kiss is also, at times, as effervescent and funny as a romantic comedy. These contrasting tones earned the show critical praise when it debuted in 1998. The UVM production, directed by Gregory Ramos, embraces this central complexity and presents it effectively through lead actors Kari Buckley, as Callie, and Rachel Warren, as Sara.
It's not spoiling the play to disclose that its flash of violence coincides with Callie and Sara's public display of affection. A mark of this play's excellence is Son's choice to structure events out of linear sequence, avoiding the conventional buildup to a tragic high point. Instead, each scene — 23 in all — invites the audience to witness a new development in Callie and Sara's relationship. In the process, the play becomes about something much deeper than gay bashing. The prospect of missing out on necessary human intimacy comes to seem even more dangerous than a homophobe's fist.
For Ramos, a professor of theater at UVM with a particular interest in bringing diversity to the stage, Stop Kiss sounds a warning against becoming "complacent," as he puts it, in the face of civil rights gains. "We tend to go through the day," he says, "especially in places like Burlington, Vt., thinking that everything is really good: 'It's all good now, because gay people and lesbian people can be married.' But, in fact, we live in a society where there are still daily biased incidences and violence perpetrated against people based on sexual orientation."
Yet Stop Kiss, like the relationship at its center, transcends the "gay play" label. Ramos calls it a coming-of-age story in its depiction of two people discovering who they are in a city rich with possibility. It's also, he says, "a story about love and human intimacy, and how surprising and complex we are as human beings."
He notes that the play stands apart in dramatizing an intimate relationship between two women.
Stop Kiss offers Ramos' UVM cast and crew the advantages of a simple set — the bulk of the action takes place in Callie's apartment — and characters close in age to the student actors. Buckley and Warren are well cast. They achieve a credible chemistry from beat to beat, clinging confidently to their characters across varied emotional terrain and evoking the vulnerability that their director says he watched for during auditions.
To be "in the moment" so consistently is a daunting challenge, given the play's unconventional structure, with its dizzying temporal shifts. The actors hardly face that challenge alone. Costume designer and UVM professor Martin Thaler counts 22 costume changes — some on stage, some off — for which he and his team are responsible. "The costume is the strongest visual statement for who a character is and what they stand for," Thaler says. He points out the irony inherent in this truism: "Our job is to make the clothes disappear."
And, in some cases, reappear — like the pair of shoes Thaler says must be moved from place to place at least three times backstage for different entrances. He praises his student assistants, Mia Haiman and Grace Trapnell, for executing their duties with an air of competence and calm they can transfer to actors who have less than a minute before their next entrance. To help his crew prepare for these lightning-quick changes, Thaler initiated dress rehearsals four days ahead of a typical schedule.
That emphasis on preparedness, Thaler says, is one approach he shares with Ramos, with whom he worked on the Euro-romp La Ronde in 2007. In Stop Kiss, dressing the characters while covering the costumer's tracks will be crucial to telling the story clearly and inviting the audience into the experience.
"I want people to see themselves in these characters," Thaler says. "[This production] is about a group of people creating something together and then giving it away. I think this play and production is such a beautiful gift to give."