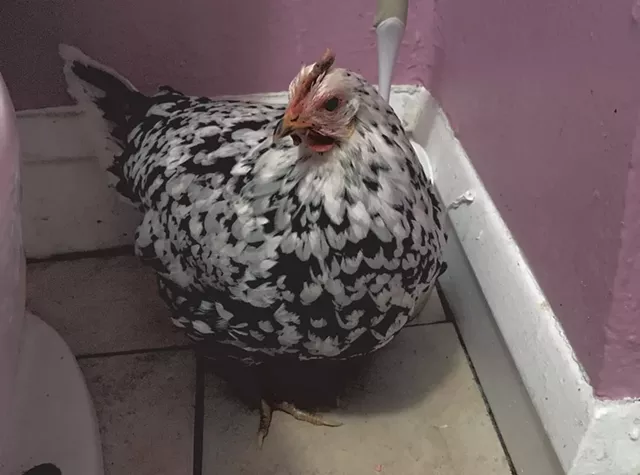 Courtesy Of Alex Bennett
Penny the chicken after her rescue
Two University of Vermont students helped save a black-and-white-speckled hen from freezing to death in Burlington over the weekend.
Alex Bennett and his girlfriend, Meaghan Lawrence, found the chilled chicken sitting in a snowbank on South Willard Street around 9 a.m. Sunday after a subzero night.
The quick-thinking couple brought the sturdy clucker to Lawrence's nearby apartment.
"She let her roommates know that there was a chicken in the bathroom," Bennett said. "They were fine with it."
Bennett, a 20-year-old junior from New Jersey, relied on experience he had caring for the animals as a former member of the Alpha Gamma Rho fraternity, which kept a brood. He gave the hen some oats and a bowl of water. Lawrence brought home brunch leftovers, and they named the chicken Penny after the spot where they'd eaten: Penny Cluse Café.
The hen "just spent most of the day hanging out in the bathroom, staying warm and eating fruit," Bennett said.
The couple posted a note about the found fowl on Black Market-U, a Facebook group with nearly 17,000 members. Bennett included a photo of the hen huddled behind a toilet.
The comments streamed in. A woman on Saturday had posted on Front Porch Forum that her chicken, Jane, had left her yard on Archibald Street. Bennett gave the woman a call, but that bird was white — not speckled.
Among the jokes and notes of concern was a message from someone who knew Penny's owner. By 4:30 p.m. Sunday, the bird was headed home.
She'd been missing since Friday after wandering from the owner's College Street property, according to Bennett.
The owner was "super happy we found his chicken," Bennett said. "He was like, 'They're resilient birds!'"
Guess so.