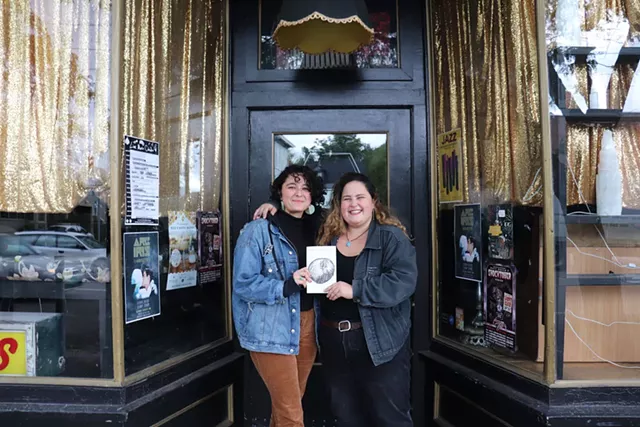 Margaret Grayson
G Cenedella (left) and Mack Baker
University of Vermont students launched the literary magazine Crossroads, but its roots can be traced off-campus to Burlington's Light Club Lamp Shop. There, every Monday evening, poets and other writers meet to share their work open-mic style. That's where the Crossroads founders cemented their love of poetry, met future contributors and collaborators, and, most importantly, found a community they thought could be served by a new publication devoted to verse.
Alexander Ellis and Jack Wheaton started Crossroads in 2017 after one of those readings. Production involved a fair amount of furtive feeding of card stock into printers at the UVM library and late-night stapling sessions. That first issue, Ellis said with a laugh, was "really crappy." But to them, it was exciting just to see their words in print.
Since then, Crossroads has come out on a more or less quarterly schedule. The magazine's 10th issue was printed in September and is available for free at Burlington's Crow Bookshop, Radio Bean, Pure Pop Records, Uncommon Grounds and Muddy Waters — even though neither Ellis nor Wheaton lives in Burlington anymore. When the two graduated in spring 2018, they passed the magazine along to poet Mack Baker.
Baker, who uses they and them pronouns, agreed that Burlington poets needed more avenues for publishing. "It's important to me to have that experience with the actual pages. I'll read poetry online, and I'm just easily distracted when I'm on my phone," they said. "When I'm opening a chapbook of poetry, it's intentional. I sit down and I am with the piece. And I'm enjoying myself, and I'm having a conversation."
Literary magazines at UVM have a long history. They came and went throughout the 20th century under a variety of names — Winnowings From the Mill, Vermont Literary Magazine, Centaur, Departure, Windfall and the Burlington Review. Since 2002, the university has been home to Vantage Point, which was renamed the Gist in 2018.
"I think Crossroads fits into the continuum of literary magazines at UVM in a unique way," said Ellis, who wrote his history master's thesis on student publications. "It's unique because it was funded by students who said, 'I would rather have less money this month to pay my bills and X, Y and Z [in order] to see this magazine.'"
Crossroads is entirely self-funded: The editors pitch in to cover the cost — about a dollar apiece — of printing 100 to 120 copies.
Nobody at Crossroads has anything against the Gist, which is the university's official literary and arts journal. Both Ellis and Wheaton said it was the first place their writing was ever published. But they wanted a publication that could include writers from outside the university and be printed more than once a semester.
Also, they think fostering the literary community is a rising-tide-lifts-all-boats kind of endeavor, as Wheaton put it. Crossroads also invites visual artists to submit work for the cover, and a few pages in the middle are left blank for readers to jot notes or poetry of their own.
"We all write as a means to work through our feelings and our thoughts, and I think we would all probably agree that the more people doing that on a serious level, or at least serious to them ... is a good thing," Wheaton said.
The Crossroads team tried to get funding from the English Department but were met with little interest, they said. The Student Government Association was another possible funding source, but Ellis and Wheaton were disenchanted with the "red tape" they'd encountered there in the past.
In the end, Wheaton said, the lack of official sponsorship turned out to be a blessing. Without oversight from any institution, they have to rely on their own networks and stay in touch with the local poetry community. Plus, they can publish whatever they want.
"It's allowed us to remain very true to the original intent," Wheaton said. "It's something greater than just the sum of the parts. It's about the whole community."
Baker, who joined the Crossroads staff in time for the fourth issue, now does the lion's share of editing and layout, along with G Cenedella, another former UVM student who recently joined the team. None of the editors, past or present, have been English majors. But all write poetry and regularly contribute to Crossroads. Ellis, who also still contributes (as does Wheaton), said the journal helped him stay in touch with Burlington friends and the literary scene after he moved away.
Crossroads will remain free, and anyone can submit at any time. Though Baker and Cenedella are somewhat selective about which work they print, they don't want to act as gatekeepers, they said. If they can be someone's first publisher or draw in a reader who might not have spent money on a book of poetry, they have accomplished something.
"Poetry can be really, unfortunately, unapproachable to a lot of people," Baker said. "You get, like, hit over the head with William Shakespeare when you're in high school, and then you just never want to touch it again. And that's a really unfortunate thing."