File: Oliver Parini
Arash Ghalehgolabbehbahani
Three years ago, Steve Leach was looking for a way to supplement his family's income and learn a new trade that he could eventually continue into retirement. So when the Swanton engineer, who works full time at Husky Injection Molding Systems in Milton, heard that University of Vermont researchers were trying to demonstrate the local viability of growing saffron, Leach made a leap. He invested in 10,000 corms, or bulbs, of the spice-producing crocus and planted them in a newly built 2,000-square-foot greenhouse.
Leach, who was 40 at the time, had no previous experience in farming, he admitted. He didn't even have a backyard vegetable garden.
Despite his dearth of expertise, by last summer Leach was selling his saffron at the Burlington Farmers Market for $20 per gram. "No one balked at that," he said. In fact, Leach's product, which he markets under the Swanton-based brand Red Thread Farmstead, sold so quickly that he worried he'd run out before summer's end. He began offering a blended option, combining his Vermont-grown spice with imported saffron, and is exploring other products to sell at the outdoor market this summer.
"Instead of being a farmer and adding [saffron] to my portfolio of crops," he explained, "I figured I'd start with saffron and design the farm around that produce, expand from there and see how it goes."
Leach isn't the only one with a blossoming interest in the fall-blooming Crocus sativus. In the past two years, the North American Center for Saffron Research & Development, based at UVM, has seen an explosion of interest in the crop, which farmers in other countries have raised for centuries as a culinary spice, coloring agent and medicinal herb. The center's email network, Saffronnet, was originally developed for Vermont-based saffron growers but now has more than 500 members worldwide.
This week, Leach and some of those members will be in Burlington for UVM's third annual saffron workshop. The daylong event, titled "Saffron: Production Progress & Market Promise," will be held on Friday, March 15, at UVM. It brings together producers and researchers from around the world to discuss ways to grow, process and use the exotic spice.
Visitors from Italy, Morocco, Nigeria, Canada, the Netherlands and the United States will present topics including pest management, the latest research on saffron's medicinal and therapeutic properties, and how to use the crop to supplement farmers' income. More than 100 people have signed up to attend, including people from 21 other U.S. states.
Much of the credit for Vermont's burgeoning interest and expertise in saffron belongs to Arash Ghalehgolabbehbahani, a postdoctoral researcher at UVM who hails from northeastern Iran, the world's highest-volume saffron-producing region. As Seven Days chronicled in a 2016 story, Ghalehgolabbehbahani had wondered back in 2012 why no one was growing saffron in Vermont, an otherwise agriculturally diverse state. When he was told that Vermont's winters were too harsh for the plant to survive, he set out to prove the naysayers wrong.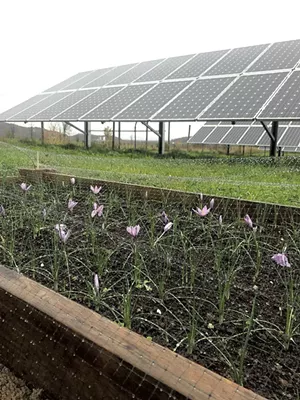 Courtesy Of Arash Ghalehgolabbehbahani
Saffron flowers (in foreground) growing near a solar array
Since 2015, Ghalehgolabbehbahani has established that not only can saffron grow well inside Vermont's high tunnels and hoop houses, but it can also thrive outdoors in raised beds or directly in the ground. In fact, UVM researchers have harvested yields surpassing those found in traditional saffron-producing regions of the world, including southern Europe and western Asia.
Naturally, much of the budding interest in this crop is financially driven. Some growers in the U.S. and Canada are now selling saffron for as much as $100 per gram. Yet, as Ghalehgolabbehbahani pointed out, the U.S. still imports most of the saffron it consumes annually — 46 tons in 2016, according to United Nations Comtrade data — and the quality and purity of that product vary widely.
Often the source is impossible to pin down. Iran produces 90 percent of the world's saffron, but its problematic relationship with the U.S. and other western countries makes it illegal to import the product directly. Spain, Ghalehgolabbehbahani pointed out, exports twice as much saffron as it grows, which means that at least half of it comes from elsewhere.
"Maybe it's Iranian, maybe it's not. We don't know," he said.
The source, potency and purity of saffron entering the U.S. are critically important to medical researchers such as Hassan Ashktorab, a professor in the department of medicine at the Howard University Cancer Center in Washington, D.C.
Ashktorab, who spoke to Seven Days by phone last week about his upcoming presentation at UVM, studies gastrointestinal disorders such as ulcerative colitis, irritable bowel syndrome and colon cancer. Researching the use of saffron as an alternative or complement to conventional drugs, he spent last summer in Italy comparing 62 varieties. Colitis, he explained, is on the rise in the U.S., where it affects about 30 million people and has an annual economic impact in excess of $140 billion.
At the workshop, Ashktorab will discuss some of his preliminary results showing that people who consume saffron regularly have healthier gastrointestinal tracts. His work has revealed that consuming saffron can inhibit the effects of mild colitis, improving the gut's microbiome and reducing anxiety, which aggravates the disease. Among other recently published studies he'll review is one that found that saffron was just as effective as a conventional pharmaceutical medicine in treating irritable bowel syndrome, but with a much lower level of toxicity.
Ashktorab will also touch on saffron's potential uses in treating age-related macular degeneration, which causes irreversible vision loss in older people. He cited one study finding that consumption of saffron for just eight weeks inhibited progression of the disease.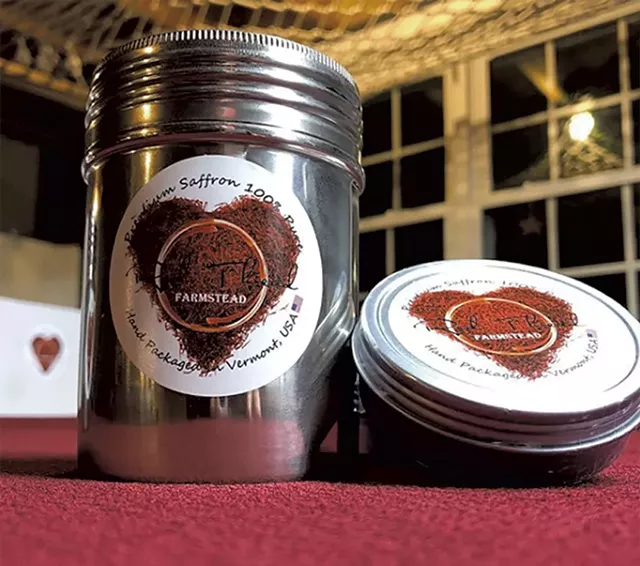 Courtesy Of Red Thread Farmstead
Red Thread Farmstand Saffron
Other presenters at the saffron workshop will focus on the financial health of growers, including those who have set aside acreage for solar-driven production. Ghalehgolabbehbahani will give a presentation with Steve Yates, director of projects for Peck Solar of South Burlington, on the potential for growing saffron amid solar arrays.
Yates has his own reasons to be interested in saffron. As he explained in a recent interview, Vermont's new net-metering rules have made it far more difficult to build large solar arrays on land that was traditionally used for raising crops or livestock. According to Yates, the state adopted those rules based on the assumption that solar projects erected on farmland took it out of agricultural production. Not so, Yates argues. He set out to demonstrate that agriculture and solar energy can peacefully coexist, with saffron as exhibit A.
Last year, Yates and Ghalehgolabbehbahani tried to determine whether saffron could thrive in front of, underneath or behind solar panels. They planted test plots of raised beds on a one-acre, 150-kilowatt solar array in New Haven to see which growing method worked best.
Their theory was that, because saffron matures later in the growing season and blooms in the fall, planting it under the solar panels would yield the best results. The panels would provide shade during the heat of summer, preventing the plants from withering or drying out, while also protecting them from excessive rainfall. Then, as the sun dipped lower in the fall, the light would stimulate the plants' growth right before they flowered.
Sure enough, saffron plants grown beneath the solar array were healthier and had more plant material than those grown in front of or behind the panels. Still to be measured is how reduced snow cover under the panels affects the plants; as Ghalehgolabbehbahani explained, snow acts as a helpful blanket, shielding plants from hard freezes.
Looking at the bigger picture, Yates believes that experiments like this one demonstrate that solar energy and agriculture aren't mutually exclusive but rather a win-win. In his view, fenced-off solar projects can boost farmers' per-acre profits and help keep their land in production: They offer places to raise bees, grow plants for pollinators, graze livestock and cultivate specialty crops, such as saffron.
"If we want to make our renewable energy goals [as a state], we need projects like this," Yates said, "where we basically multi-crop a piece of land that is still in agriculture."
Courtesy Of Red Thread Farmstead
Jars of Saffron
Margaret Skinner, a research professor in UVM's Department of Plant and Soil Science, concurs. As she explained, one of the many benefits of raising saffron in Vermont is that, except for its brief, labor-intensive harvesting season, it requires no more work than growing vegetables. The pests that pose the greatest threat to saffron crops in Vermont are rabbits, voles and other rodents, which Skinner said are fairly easy to control. More benefits of saffron, in her view, are that the crop is low maintenance and easy to grow organically, and it requires less space than other specialty crops, such as hops.
Skinner estimates that about 150 to 200 Vermont growers are now trying their hand at saffron. Considering how much of the spice is currently imported, as well as Vermonters' preference for locally grown products, she doesn't expect that more growers getting into the game will drive down the market price. In fact, she's been impressed by their level of cooperation, which she likened to that of Vermont's maple sugar makers.
One final fact about saffron has surprised Skinner: the high level of interest that UVM's inquiry into local cultivation has generated around the world. Ghalehgolabbehbahani said not a week goes by when he doesn't receive an email from someone in Africa, Europe or Asia asking him questions about saffron.
"I'm still a little bit amazed ... that they're turning to us," Skinner said. "We're little old Vermont! And yet we've been able to stimulate all this interest."