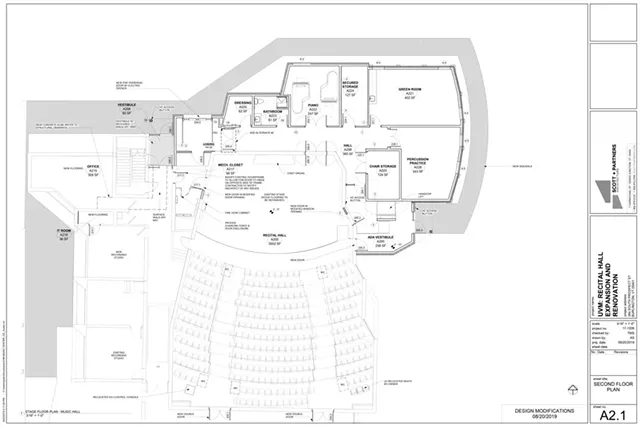 Courtesy Of Scott + Partners Architecture
UVM Recital Hall, proposed second-floor plan
Have you ever sat at a concert in the University of Vermont Recital Hall and been distracted by the sight of people passing outside the stage-left window? Come this time next year, that window will be gone. In its place will be a door that leads to an addition behind the stage.
Thanks to anonymous donors, Burlington's 300-seat performance space is not just increasing in behind-the-scenes square footage but getting an interior makeover, as well — its first since the building was completed in 1974.
Back when architectural firm Burlington Associates designed the hall — partner Charles J. Hubbard III signed the drawings — it was considered one of the most acoustically advanced buildings in the state. Twelve-inch-thick concrete walls, a 22-foot ceiling, built-in wood sound panels and strategically placed drapes were designed to enhance sound.
Architecturally, it was a "funny amalgam of styles," says Tyler Scott, of Scott + Partners Architecture in Essex Junction, who is the lead architect on the renovation/addition project. While the lobby has curvilinear elements, he says, the recital hall has sculptural ones. "The shape [of the hall] was for the acoustics: Each side was asymmetrical from the others, for a diversity of sound," Scott notes.
But the art of acoustics has progressed. Says Natalie Neuert, a music department lecturer who directs the university's resident Lane Series, "The hall has a lot of reverb. We need to deaden it without losing the liveliness you need for classical music."
Other improvements are needed, too. The building was designed with no green room, where performers can prepare or rest; no stage left entrance; nowhere to put the hall's two nine-foot pianos (both sit onstage); and no storage. "Risers, chairs, music stands now have to be schlepped from all corners of the building," Neuert says.
Scott is solving all these puzzles in a rather short time. Renovations and additions will be completed between this season's final Lane Series concert in April and the beginning of next year's. The work is not expected to interrupt the Green Mountain Chamber Music Festival, a one-month camp for emerging string players, in June.
Scott is partnering with New York City-based sound specialists DLR Group to improve acoustics with new, electrically powered drapes. The seats will be re-cushioned and upholstered by the same man who did the existing upholstery in 1974: now 85-year-old Guy Cote, a Vermont consultant with Michigan-based Irwin Seating Company. ("Isn't that so Vermont?" comments Neuert.)
Cote has also been responsible for new seating in the McCarthy Arts Center at Saint Michael's College, UVM's Royall Tyler Theatre, the Paramount Theatre in Rutland and other performance spaces around the state.
The Recital Hall will also get state-of-the-art stage and house lighting, better ADA access, an upgraded sound system and a projection system that will make screenings and supertitles possible for the first time. Added blackout curtains will screen the remaining windows.
Meanwhile, the two-story addition will improve instructional space for the music department — the Recital Hall's most frequent user. The stage-level floor will have a room for storing the pianos that will double as a classroom, as well as storage spaces and the much-needed green room with kitchen, bathroom and showers. The second floor will offer two big rehearsal rooms.
Scott's firm — responsible for designing Dealer.com's Burlington headquarters and Jay Peak's indoor climbing center and theater, among other Vermont sites — is currently completing renovations on another arts building on campus: Michele and Martin Cohen Hall for the Integrative Creative Arts on South Williams Street. A former elementary school owned by the City of Burlington, it has been leased long-term by UVM to accommodate art, dance, music, theater, and film and television programs.
As with the Recital Hall, Cohen Hall's renovations were made possible by donors. That helps explain why, despite a decade of budgetary shortfalls and teaching-staff reductions as enrollment has declined, the university continues to build and renovate its physical structures.
As Kelley Helmstutler Di Dio, associate dean of the College of Arts and Sciences, points out, "Donors tend to give money for buildings, not for faculty positions."
Di Dio is nevertheless thrilled about the Recital Hall, as is Neuert. It "has stayed in very good shape — it was built to last," notes the director, but the update "will make our lives a lot easier in terms of production."