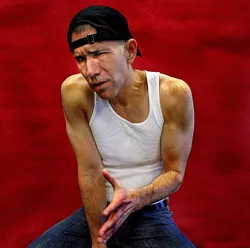 The Canadian border is frequently in the news these days, thanks to new ID rules from Homeland Security and the enhanced buying power of the loonie. Most Vermonters probably fret more about inconvenient lines and lost revenue than about terrorists and illegal immigrants. But at the Mexican border, seemingly a world away, it's a caballo of a different color. Hey, we're not building a fence to keep out the Québecois, right?
Arbitrary lines on a map may separate people politically, but such cultural artifacts as gender identity and religion can be even more divisive, regardless of geography. Gregory Ramos, assistant professor of theater at the University of Vermont, examines these subjects in his play Border Stories, which he'll perform this Friday as a benefit for Vermont CARES.
Written while he was teaching at the University of Texas at El Paso, Border Stories explores life — particularly gay life — near the U.S.-Mexican border through 20 distinct characters. They include Manny, a 78-year-old Hispanic widower; Kelly, 32, an Anglo lesbian minister of a gay church; Frederick, a 28-year-old receptionist who had an abusive childhood; and Jorge, 25, a Mexican-American drag queen.
"In El Paso as a gay man, I was interested in finding out what the community was like," Ramos says. "It was very different from what I was used to [in Los Angeles]. Apparently that proximity to Mexico, the culture, the Catholicism, weighed on people's lives," he adds. "The way they managed their public and private lives was very different."
Still, you could substitute French-Canadian names and many of the issues would be the same. "Gregory's play explores racism, homophobia, HIV status, religion, family dynamics, as well as the border and immigration," says Peter Jacobsen, executive director of Vermont CARES. "I was pretty close to sobbing the first time I saw it."
Jacobsen notes that this theatrical fundraiser puts "a human face" on his nonprofit, the state's oldest and largest AIDS-service organization. "What I love about Border Stories is that it begins to weave together some of the issues we deal with every day that are hard to talk about in the community," he says. "People imagine us to be all about HIV, but the politics and economics are so nuanced that it's really lovely to have a play that tells some of this story."
Though Ramos, 47, has directed other actors in Border Stories, he has also acted all the parts himself, as he will — twice — Friday night at the FlynnSpace. Extensive face time with more than 50 people around El Paso informed the development of his characters. "I'd been inspired in recent years by work done with interviews," Ramos explains, and thought "it would be interesting to use that model to explore the intersection of cultural and sexual identity."
Ramos has been teaching directing and theater diversity at UVM for a year and a half now, and in that time has become familiar with the northern U.S. border. After a colleague introduced him to Peter Jacobsen, he recognized an opportunity for his play "to speak to people here," he suggests. "In our psychological landscape, we have a sense of what that border is, and how it serves as a metaphor."