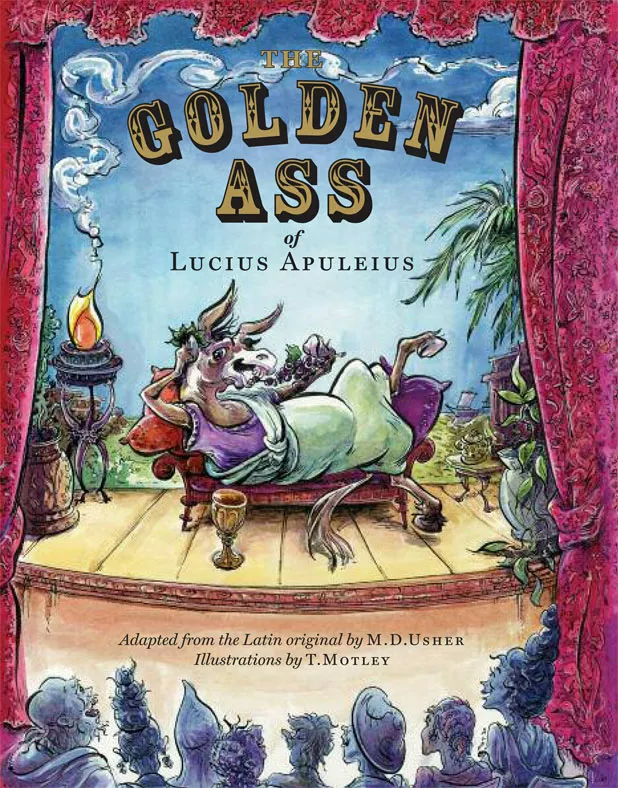 The epithet "one of the greatest comic novels in the history of literature" might bring to mind The Adventure's of Huckleberry Finn; The Life and Opinions of Tristram Shandy, Gentleman; or Don Quixote. For University of Vermont classics professor M.D. Usher, however, that phrase describes The Golden Ass, written by Lucius Apuleius in Latin around 150 AD.
The story of a young man whose curiosity leads him to accidentally turn himself into a donkey, The Golden Ass is a ribald adventure tale full of sharp social commentary on second-century Roman life. It influenced storytelling from Boccaccio through Pinocchio and beyond. Literature students usually encounter the book in college, but Usher thought it entertaining and important enough to warrant a new adaptation that could engage "young readers of all ages."
Usher's The Golden Ass of Lucius Apuleius cuts out much of the bawdiness of the original tale and turns the main character, whom Apuleius named after himself, into an 11-year-old boy named Prudentius. With cleverly allusive pen-and-ink illustrations by T. Motley and an easy chapter format, the book is a gift to the preadolescent set: great literature disguised as a rollicking tale.
"A lot of adults could read this with profit," Usher admits by phone from his Shoreham home, where he also operates the Works and Days Farm, "but everyone between the ages of 8 and 12 will love the ass jokes."
The classics department chair clarifies that "being an ass" meant the same in Roman times as it does now: "It's the lowest being of the animal kingdom you could be transformed into." Usher took his cue for the ass jokes from Apuleius, who often chose phrases in Latin — his third language, after Punic, his native North African tongue, and Greek — to pun on the sounds of a donkey braying. When Prudentius quips, "I've since learned the truth about the word ASSUME: it only makes an ASS out of U and ME," he's adhering to the spirit, if not the letter, of the original.
Making Greek and Roman classics accessible to young minds is a hobby for Usher, whose own three sons are older — his youngest is 16. He wrote two picture books, Diogenes and Wise Guy: The Life and Philosophy of Socrates, to help children understand those giants of Western philosophy. Usher can also do serious and adult; he has written an opera libretto in Latin, Voces Vergilianae, for which a Portland, Ore., composer wrote the music, and is currently collaborating with that composer on another opera, about the emperor Nero. But Usher finds comedy to be a perfect teaching tool.
"I think the comic approach tends to be more honest, [and] there's something about that that kids like," he says. "It helps them to feel safe to laugh about serious things like sexuality."
But it wasn't just the entertainment value of The Golden Ass that Usher wanted to convey through his new adaptation. Apuleius' novel is essentially a "story of redemption," he declares. As a donkey, the hapless Prudentius is enslaved by a greedy millstone owner, forced by eunuch priests to haul a stone icon around for alms and dressed up as Pegasus in skits devised by an entrepreneur-turned-artist, among other adventures, before he can return to humanity.
The story's comedy "enhances it," says Usher, "because along the way, you've seen all the misdemeanors and foibles of society, and you're not above all that. You come out thinking, OK, I've suffered, learned my lesson and turned into something better — or at least turned into a human again. Which is enough, in my mind."
"The Golden Ass of Lucius Apuleius," adapted from the Latin original by M.D. Usher, illustrations by T. Motley, David R. Godine, 85 pages. $17.95.