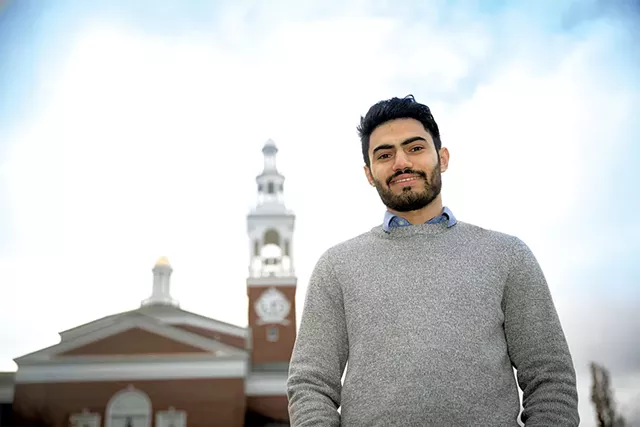 James Buck
Ahmad El-Achwah
Donald Trump's election was a "nightmare" for Ahmad El-Achwah. "I woke up the next day, and it felt like doomsday, literally," the University of Vermont graduate student said last week.
"I'm still not over it," he added with a sigh.
As a Muslim who grew up in the Middle East, El-Achwah was offended by Trump's suggestion during the presidential campaign that people of that faith should be barred from entering the United States. Trump's loud and repeated pledge to build a wall on the U.S.-Mexican border also telegraphed anti-immigrant sentiment, El-Achwah said.
As UVM strives to recruit more international students, officers at the hilltop campus overlooking Burlington are wondering: Will Trump's xenophobic remarks discourage prospective students from coming to school in the U.S.?
One million international students study in the United States, and many colleges, including those in Vermont, have been eager to grow foreign student populations that bring in billions in revenue. International students don't qualify for federal loans, and many pay full tuition. That makes them an asset as UVM faces intense competition for out-of-state students — who have long subsidized local ones — while the total number of college-age Vermont students is declining. This year, the tuition rate for Vermonters is $15,096. Those from elsewhere pay $38,160.
UVM officials say they have seen no impact on international recruiting so far.
"It's way too early in the process to be seeing any kinds of trends," said Beth Wiser, director of admissions. "We're still collecting applications, and things seem to be on track."
UVM president Tom Sullivan made international recruitment a priority when he arrived at the college four years ago. During an interview last Thursday, Wiser pointed to a chart in her office showing steady growth in the number of international students since then.
In fact, UVM was late to the overseas admissions game. Sullivan came from the University of Minnesota, which for at least 10 years has recruited abroad to bring global perspective — and dollars — to the Minneapolis campus. Almost a quarter of the grad students at the school are foreigners.
Comparatively, most of the backpack-laden students trudging along South Prospect Street on a cold December day hail from towns in Vermont and neighboring New England states — to which they'll return in a week or two. A relative few will spend the "holidays" in distant cities such as Beijing and New Delhi.
UVM officials want students from far-flung places to keep coming, despite looming uncertainty about Trump's plans for immigration. That has prompted new discussions about international recruiting, according to Cynthia Forehand, dean of the UVM graduate college.
"We don't live in a bubble," she said.
UVM employs a London-based company called the Study Group to recruit applicants from around the globe. In the past month, the company produced a postelection admissions promo video featuring many of its U.S. college clients. Smiling students from more than a dozen American campuses proclaim, "You are welcome here," in the two-and-a-half-minute spot on YouTube. UVM gets more airtime than most, and four of its six spokespeople are women of color.
The Study Group has played a key role in boosting the number of international students at UVM to 820, up from last year's 739. They represent 5 percent of undergrads, up from 1 percent in 2013; the administration's goal is 8 percent. UVM officials also want to increase international grad students from the current 10 percent mark to 15 percent by 2020.
UVM students come from more than 20 foreign countries, with China, Canada and Nigeria supplying the largest numbers. Wiser said UVM is ratcheting up recruiting in India, Vietnam, Indonesia and Hong Kong, as well as European capitals, such as Paris and London, that have large international populations. It's also hoping to enlist new students from Central and South America.
UVM's own recruiters travel for weeks at a time. They attend college fairs at high schools and visit with international alums to promote the Catamount brand. But much of the university's recruiting is outsourced to the Study Group, especially in China, where parents with new wealth are eager to give their children every advantage, including U.S. higher education. Wiser said American college degrees are internationally recognized as an asset — and long have been, despite changes in the political landscape. University officials are banking on that enduring prestige.
UVM refused to divulge how much it pays the Study Group and redacted financial information from documents Seven Days accessed using Vermont's public records law. But the university's contract with the company shows that the Study Group gets a cut of tuition and fees for each student it recruits to an intensive English-language prep program that generally lasts for two semesters. The company gets more money when those students make enough academic progress to matriculate as degree-seeking students. It earns bonuses for exceeding enrollment goals.
Many international students want degrees in math, engineering, accounting and business — and their tuition helps pay for initiatives designed to keep UVM competitive in those areas. The $104 million Science, Technology, Engineering and Math Complex currently under construction and major investments in UVM business programs closely align with the global recruiting effort.
"We don't see a lot of English majors coming over," said Forehand.
Case in point: El-Achwah is on track to complete his graduate degree in mechanical engineering in May. The son of a dentist and the grandson of Palestinian refugees was born in a squalid refugee camp in Lebanon. But he excelled at school.
"I was a huge nerd since I was a kid," El-Achwah said. He came to the U.S. five years ago with a scholarship from the Hope Fund, which offers aid to Palestinian students. He attended Bridgewater College in Virginia and graduated in 2015 with a degree in physics. He applied to grad schools and secured a slot at UVM that came with a teaching assistant job that covers his full tuition — a deal he couldn't pass up.
El-Achwah said Trump's election will not deter him from finishing his studies. He doesn't think it will prompt other international students to go home, either. Many of them overcame significant challenges to get to the U.S., he said.
"We can't just abandon what we spent years building," El-Achwah said.
The election results could shape his decisions going forward, though. "My original plan was to stick around here to get some sort of experience in my field," he said. "I'm kind of iffy about it now."
El-Achwah predicts that many students, especially from developing nations, will still want to get degrees in the U.S. He said he has not experienced discrimination in Vermont. But postelection, he suggested, some international students might prefer to be in large urban centers with lots of ethnic and racial diversity, where they are less likely to stand out.
Many immigrant and refugee groups nationwide have expressed worry since Trump was elected. In response to local concerns, city councils in Burlington and Winooski passed resolutions to become "sanctuary cities" in which law enforcement officers don't ask people about their citizenship status. Also in Vermont, the presidents of 25 colleges joined Gov. Peter Shumlin and governor-elect Phil Scott in issuing a statement that welcomes people of all backgrounds to the Green Mountain State and condemns any acts of discrimination based on national origin.
UVM won't stop its efforts to vigorously recruit students around the world, said Wiser.
Neither will Vermont's Norwich University, according to its assistant vice president for international education. Thy Yang said the Northfield school, which has 2,400 students, wants to increase the number of foreign undergrads from 3 to 5 percent.
So far, she said, the results of the presidential election have not had an impact on recruitment. "I haven't seen anybody contact me to say, 'I'm no longer interested because you elected Trump.'"
Yang was 1 when she came to the U.S. with her family as a Hmong refugee from Thailand. Like El-Achwah, she noted that international students are accustomed to surmounting obstacles.
"I guess that's part of my outlook — that we overcome quite a bit, so this is just another thing for us to overcome," Yang said.
Higher education officials will be watching carefully for possible changes to the student visa process once Trump is sworn in. Large numbers of international students obtain visas from the U.S. government, but many applicants are also denied, Yang said.
U.S. Customs even turns back some visa holders when they arrive at ports of entry, she added.
Norwich is spinning its location as a positive, Yang said. "We're in Vermont," she said, "which has a reputation for being quite safe, quite hospitable."