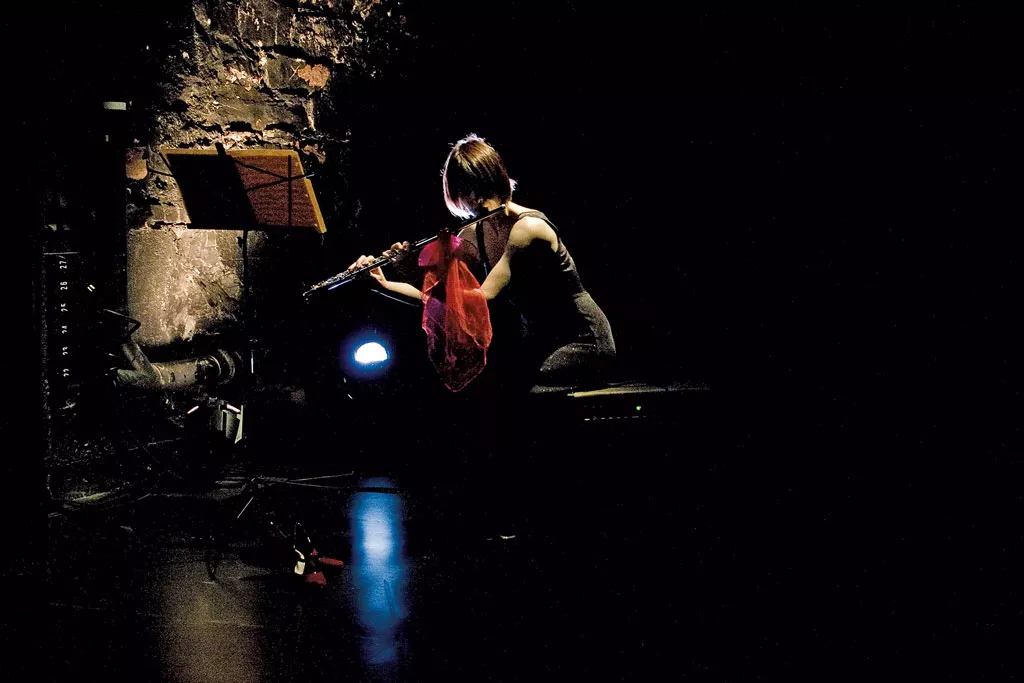 Courtesy of University of Vermont
UVM music professor Patricia Julien
This weekend, the Solo Workshop, an experimental performance project dreamed up by University of Vermont dance professor Paul Besaw, will give its fourth annual performance — and the first one at UVM's Recital Hall. Titled Assigned Allies, the production teams five composers on the music faculty with five members of the dance faculty. The result? An evening of five contemporary dances choreographed to original compositions on solo instruments: tuba, flute, harp, piano and guitar.
This year's show, Besaw says, is the biggest yet. Aside from dancers and the instrumentalists, each piece has set, costume and theatrical elements. Several of the dancers also sing. And, yes, the artists know the project's name is a misnomer.
In fact, the Solo Workshop has always been a collaborative pursuit. It began when Besaw, frustrated by his attempts to create an actual solo dance, invited four fellow performers to meet regularly and give one another feedback as they developed their own pieces. He soon began inviting artists and UVM colleagues working in a variety of art forms, including music, film, theater, visual art, poetry and even bookmaking.
"The whole premise of this was me wanting to do a dance solo, but really not wanting to do a solo," Besaw admits with a laugh. "And now it's like, I'm over it. I want to drag everyone else into this quagmire.
"When you hear 'solo,' usually you're talking about one piece," Besaw continues. "There's lots of solo stuff in there, but the pairs kind of defied that right away."
Assigned Allies opens with "Malacarne," in which dancer Paula Higa and composer Yutaka Kono team up with Burlington visual artist Winnie Looby for a dramatic piece inspired by the life of sculptor Camille Claudel. Looby created branches swathed in white cloth that the performers carry, and Kono plays tuba against an electronic soundtrack he composed.
Next, Besaw and harpist Heidi Soons present "A thousand times together," an abstract contemporary dance that transforms the stage into a "mini-apartment" with tables, chairs and food. The pair alternates between highly abstract, dreamlike sequences and stylized pedestrian passages in which they eat, drink and wait. Besaw even strums the harp.
In Paul Asbell and Clare Byrne's "Side-Slippin' and Backslidin'" piece, audience members are treated to "bluesy, juke-joint" music that "evokes dark, Southern-tinged themes of spirit possession and tent revivals," accord to a press statement. (The description also — be warned — alludes to audience involvement.) That's followed by an airy piece with jazz flute music composed by Patricia Julien and dance by Lynn Ellen Schimoler that "explore[s] beginnings and moments that are intimate yet formalized," the statement says. Finally, composer/pianist Tom Cleary and dancer Lois Trombley present "I Didn't Know It Was Time," a lively, theatrical piece about "the solo/accompanist dynamic" and the conflicts that can arise in collaborative work.
Besides yielding an evening of eclectic performance, Assigned Allies has been a meeting of minds for faculty in UVM's music and dance departments. The show features exclusively artists who are affiliated with the university and, for the first time, is copresented by the Lane Series.
The Solo Workshop, says Lane Series director Natalie Neuert, "brings this great chance for Lane Series audiences to see music and dance that's being created collaboratively in our community." Plus, she adds, it's a rare opportunity for her series' regulars to see 10 highly talented artists in a single night.
"They're getting a lot of different, stimulating work in one evening of performance," Neuert notes.
This year marks the first performance of the Solo Workshop outside FlynnSpace in downtown Burlington. Besaw and Julien say it feels like a homecoming.
"We wanted to make this something of a UVM family event, because we are all on the same faculty together, and a lot of us have not crossed paths," Julien says.
"It's been an opportunity to look at how music and dance work together and to experiment with that," Besaw says. "My dance colleagues and plenty of the music faculty are just really interested in seeing the ways that music and dance can come together."