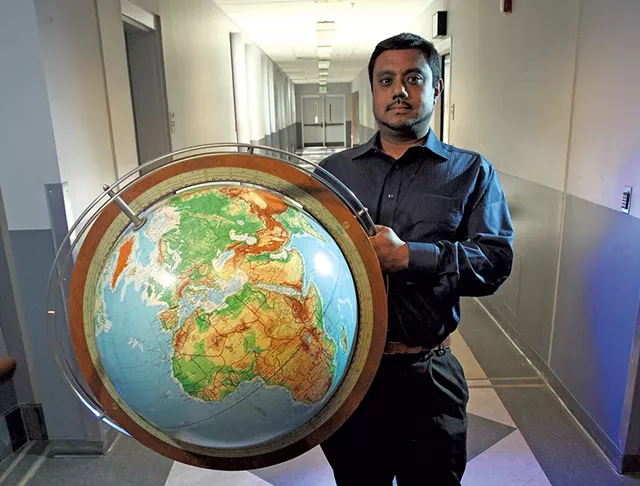 Matthew Thorsen
Pablo Bose
At his office in the University of Vermont's Old Mill building, Pablo Bose joked that he isn't much of an interior designer. His young daughter's drawings were scattered about the room. A poster of Harry Potter above the door was starting to yellow. A framed single-page art print from Jules Verne's Around the World in Eighty Days — a gift from a student — lay on the floor. Bose had taken it down to put up a whiteboard.
Bookshelves held DVDs of films such as Slumdog Millionaire, V for Vendetta, Wag the Dog and Shrek 2. Tucked in Bose's desk drawer were diaries written by his grandfather, the Islamic scholar M.L. Roy Choudhury, as he traveled through the Middle East in the 1930s through '50s. "One day, when I actually have time, I plan to write about him," said Bose, who was born in India but grew up in Canada.
If the office décor spoke of a mélange of cultures, so does Bose's academic work. Since January, the associate professor of geography has been on travels of his own: across the United States to examine refugee resettlement in small cities for a project funded by the National Science Foundation. Bose has also been studying resettlement policies and practices in Canada for a project funded by a UVM REACH grant. Among other cities, his travels have taken him to Bowling Green, Ky., which presidential counselor Kellyanne Conway famously — and falsely — described as the site of a massacre by "radicalized" Iraqi refugees.
Conway used that claim to justify President Donald Trump's executive order restricting travel and immigration, placing refugee resettlement under scrutiny. In the context of rising tensions over the role of newcomers in the U.S., Seven Days asked Bose what he has learned from his interviews with resettlement agencies and state coordinators. Bose also shared the results of the Vermonter Poll, an annual survey of about 650 households across the state conducted by the UVM Center for Rural Studies.
SEVEN DAYS: What sparked your interest in refugee studies?
PABLO BOSE: One of the reasons I've been interested in refugee issues for a long time is because my family, in 1946, were refugees coming from what is today Bangladesh. My family is a Hindu family, a large number of whom were killed during a massacre at the family compound. The rest came and were officially refugees in Calcutta, in India. The Partition of India plays a big role in my family history. When I was in college, I got interested in refugee issues, but a different kind of refugees. That is, people who were displaced not by a conflict but development projects.
SD: What did you find out when you visited Bowling Green?
PB: It's a town that has undergone a massive demographic change since 1990. About 0.5 percent of their demographic was foreign-born back then. By 2000, it was 5 percent. By 2010, it was 10 percent. By 2015, it was 15 percent. Only a small minority of those people are refugees. A larger proportion is Latino labor migrants and other individuals who are drawn to the town because it has jobs and more affordable housing. I met a couple of African families from Vermont. They moved there not because they were unhappy but because of housing.
Bowling Green is in a red state, where there were vocal opponents of resettlement. But within the town, there was a great deal of support for the refugees. There was a really interesting leadership academy that was focused on immigrants and refugees. It was focused on: How do you not simply recruit people into organizations, but how do you retain them? The city has done very good work with its local police and fire departments on things around recruitment and cultural competency training.
SD: Migration isn't new to the U.S. So, why is it perceived so differently in recent times?
PB: There was a lot of tension over earlier groups of immigrants, such as the Irish and Italians. But one of the big differences is that a lot of those groups were able to become white and become part of the mainstream. A majority of refugees today look different. And they will always look different because of race or ethnicity, and perhaps religion.
SD: How might integration in smaller communities such as Vermont differ from that in gateway cities such as New York and Chicago?
PB: In a lot of these smaller communities, you haven't had the same infrastructure and services geared toward immigrants that you have in larger cities, where immigration booms were in the late 19th century. In a smaller community, you have to have a car or transportation arranged by the employer. You will not find a large group of people who are similar to you. There is not the ethnic enclave in a lot of these smaller communities.
On the flip side, it might help you with integration. When you can sort of disappear into an ethnic enclave, sometimes there isn't the same kind of pressure to try and learn English, or adapt. But you can also feel very isolated and very visible in a way that you may not want to.
SD: What have you found out about the impact of refugee resettlement on small communities?
PB: Time and time again, across this country, as I've been doing these interviews, for a lot of these small communities, refugees are an absolute boon. They're bringing in skills. They're bringing in diversity, in the best sense of that word. They're, for the most part, young. So they represent, for a lot of communities that are aging, new businesses and new workers. If you're a region in decline, how do you get people to come to your city?
Refugees become, in a lot of ways across the country, a really good source of immigrants to places where immigrants would otherwise perhaps not go.
SD: Are Europe and the U.S. really taking in the bulk of refugees?
PB: Europe has faced a serious migration crisis and challenge, but not as much as Lebanon, Jordan, Turkey, Kenya and Uganda. The vast majority of refugees go to the neighboring countries. What we're talking about in the U.S. is 75,000 refugees [admitted per year]. It's a tiny drop in the bucket — an important drop, but it's a very small number of people.
Refugee resettlement has always been a very small part of immigration in the U.S. It has always flown under the radar. It's been highly scrutinized and regulated from its outset. Congress has always been very invested in knowing who comes here, why they're coming here. Maybe a little less so about what happens to their integration outcomes.
SD: Since 2015, you've added refugee-related questions to the Vermonter Poll. What are they?
PB: I wanted to get a sense of what the average Vermonter thinks of the refugee program. And I wanted to understand if they were supportive of people being brought in and at what numbers. I wanted to know where they thought refugees should go. My third question was, "Who do you think should be most responsible for successful integration of refugees?" My last question was, "What do you think is the most important element of [integration]?"
SD: What do the results show, and were you surprised?
PB: Support for refugee resettlement actually increased and general rejection of the program decreased significantly from 2015, when I first held the poll, to this year. I was surprised, both because of the national rhetoric and [because], locally, you have the controversy about [Syrian refugees in] Rutland.
SD: To what extent do you think the poll is an accurate assessment of local sentiments about refugee resettlement?
PB: This has been proven to be a fairly accurate poll over time. It has, I believe, a sampling margin of error of plus and minus four. I tend to look at other things. It's interesting that the night after the [presidential] election, I believe, the Vermont Refugee Resettlement Program had an orientation, and 150 people showed up. I do think there's pretty strong support in general.
SD: How well is Vermont doing in resettling refugees and helping them integrate?
PB: One of the challenges of being in a smaller place is that, once you get used to a group who has been coming in big numbers, that group might not be coming anymore. You might have set up all kinds of things that serve that group. For example, there have been a lot of interesting programs set up to serve the Bhutanese [in Burlington] in the last couple of years. The Bhutanese resettlement is essentially over. And you're pivoting back to the Congolese.
That's a challenge — how do you remain flexible in a place where you have limited resources? I think there have been real challenges in things like the schools, partly because the schools themselves are so overburdened.
This is not just in Vermont but across the country. We don't address directly the role that race plays in resettlement and integration. You've seen refugee students themselves come out and really criticize their treatment and things like that.
SD: What is the future of refugee resettlement under the Trump administration?
PB: I think it's hard for everyone to plan. Part of that is the uncertainty of the courts. And it's really hard with the uncertainty from the federal government. What I'm hearing from most people is, the basic understanding is that there will be 50,000 people let in next year. My own personal guess is that it will primarily be people from the Democratic Republic of Congo. You will not have a significant number of refugees coming from Muslim-majority nations.