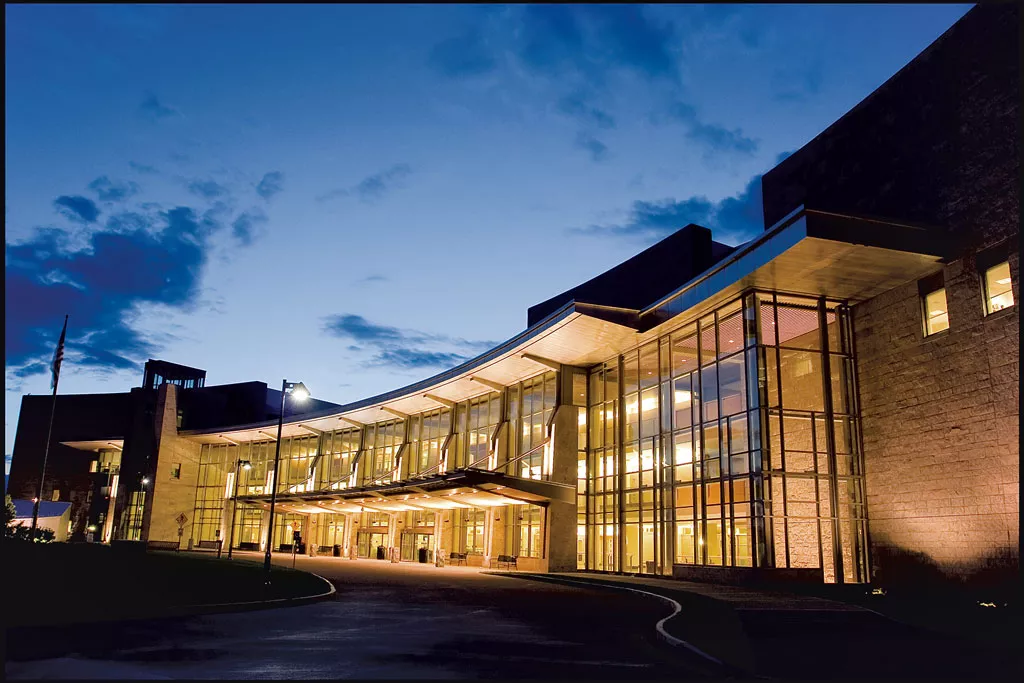 Courtesy of University of Vermont Medical Center
It started as a three-story brick manor on 35 open acres overlooking downtown Burlington. With a $400,000 inheritance from her parents, Queen City resident Mary Martha Fletcher financed construction of the original hospital on the hill in 1879.
The medical center has since mushroomed into a dense building complex. It has gobbled up other area hospitals — the nearby Bishop DeGoesbriand Memorial and Fanny Allen in Colchester — and sprouted satellite operations across the region that deliver health care to patients from Vermont and upstate New York. Three times the name has changed, from Mary Fletcher Hospital to Medical Center Hospital of Vermont in 1967, then to Fletcher Allen Health Care in 1995, and in November to University of Vermont Medical Center.
Now Vermont's largest employer with 7,360 staff, including 1,660 nurses and more than 500 physicians and dentists, the nonprofit hospital's annual budget tops $1 billion. And it is still growing.
After a recent $5.7 million "rebranding," the UVM Medical Center wants to add a new patient tower to its congested campus. The seven-story addition, which required a change in the city of Burlington's height restriction, would increase the number of private rooms in the hospital, from 30 percent to between 85 and 90 percent. Total inpatient bed count would stay the same at 447.
Price tag: $187 million.
Ambitious future plans are not limited to the main campus. Hospital officials would like to purchase four commercial buildings and 100 acres in a business park visible from Interstate 89 in South Burlington, a $52.6 million deal that could greatly expand outpatient facilities there into an expansive campus.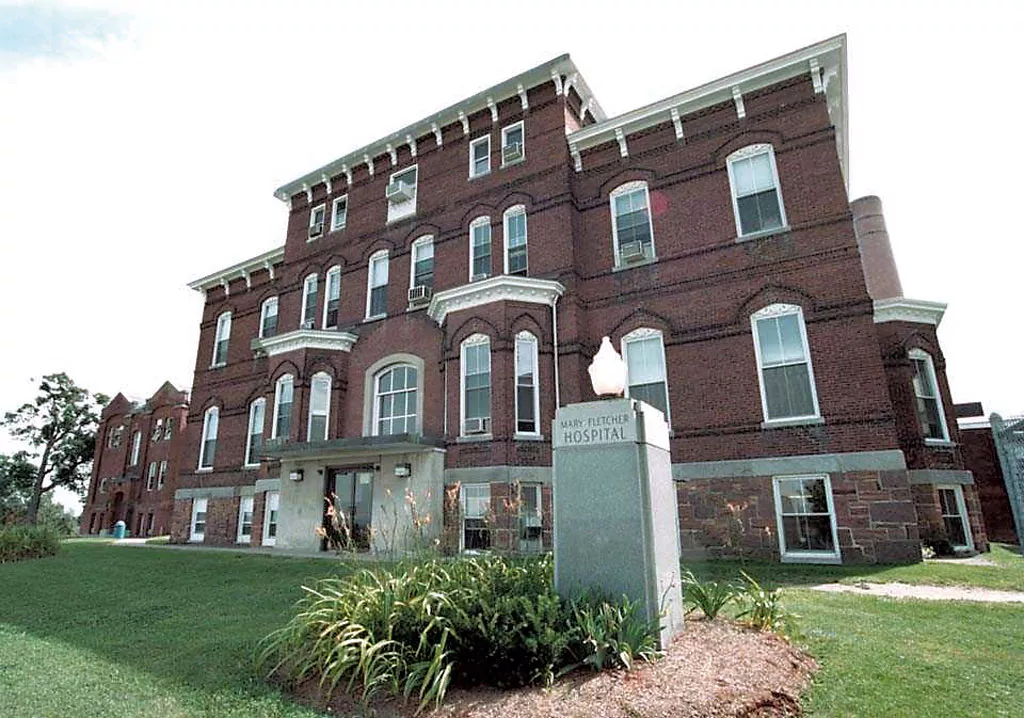 Courtesy Of University Of Vermont Medical Center
Mary Fletcher Hospital
Further, UVM Medical Center now partners with one Vermont and two New York hospitals — a relationship that merges their debt, budget, planning and clinical services with UVM Medical Center's. That network currently includes about 1,200 beds and nearly 1,100 physicians.
UVM Medical Center president and CEO Dr. John Brumsted says all the recent initiatives — the network, the patient tower and the South Burlington expansion — are about "gaining scale" to better position the hospital to respond to the ever-changing health care landscape.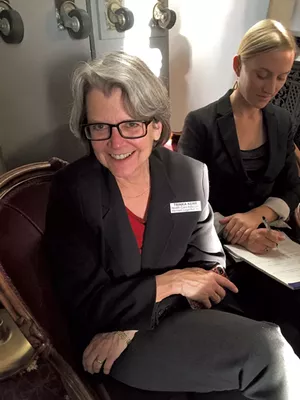 Nancy Remsen
Trinka Kerr
But there are second opinions. They range from the union's — nurses are worried about the labor impacts of the proposed patient tower — to that of Vermont's official state health advocate, Trinka Kerr, whose job is to look out for the public's interest.
"We are concerned," Kerr said of the hospital's proposed land purchase in South Burlington. "It's a lot of money."
Rep. Chris Pearson (P-Burlington), a hospital neighbor and vice chairman of the House Health Care Committee, was more specific about his skepticism.
"I don't see it meaning a lot to families and patients," he said. "And I don't see this working to control costs."
Pearson worries that the focus on hospital partnerships and physical plant expansion is diverting attention and resources from what he considers a more important priority: universal health care. "I would like to see us cover every single Vermonter before we build bells and whistles."
For now, however, consolidation and growth appear to be UVM Medical Center's treatment of choice.
Seven Stories High
It took Martha Lang two trips to haul in her poster board maps and notebooks to an Act 250 hearing in Essex Junction on January 9. The sole challenger to a UVM Medical Center proposal to build a seven-story tower, the Burlington resident made her case in a room filled with consultants for the medical center and the University of Vermont.
The project would house 128 single-occupancy rooms for patients, allowing the medical center to replace outdated double-occupancy rooms elsewhere in the complex.
"I'm not opposed to Fletcher Allen building," Lang told the three members of the District 4 Environmental Commission, using the medical center's old name. "But I'm opposed to any damage to my properties."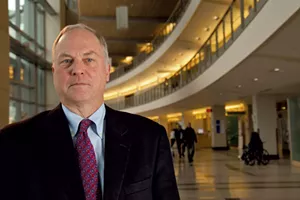 Matthew Thorsen
Dr. John Brumsted
Lang owns six buildings on Colchester Avenue, across from and below the medical center. One is her home, and the others are rental properties. "I'm concerned about runoff," she told the environmental panel. "It has gotten continually worse with every construction project." She also worries about increased traffic during construction and after it is completed in the fall of 2018.
She has pitted herself against a massive endeavor.
If built, the 180,000-square-foot building would be attached to an ambulatory care crescent that was constructed in 2005 and connected by a glass-enclosed bridge to the McClure Building that faces Colchester Avenue. The arcing building would look as if it were built on stilts. That's because the lower two floors would be open to allow access to the existing emergency department. The third through sixth floors would each house 32 patient rooms. The seventh level would contain mechanical equipment.
Additional floors could be added in the future, according to the "certificate of need" the hospital pitched to the Green Mountain Care Board, which regulates such health care expenditures in Vermont.
Courtesy of University of Vermont Medical Center
Northwest view of inpatientbed replacement project
UVM has agreed to demolish three nearby dormitories to make space for the hospital tower, which abuts its campus. It would also sell the hospital an acre of land to create parking for the new building.
The 128 new private patient rooms would replace the oldest inpatient space at the medical center — the double occupancy rooms in the two Shepardson buildings, which hospital officials say can't be renovated to meet current standards. Each of the new rooms would have a bathroom and seating for visitors and be set up to allow for intensive patient monitoring and modern procedures.
Hospital leaders propose that donations could cover $30 million of the project's $187 million cost and note in the certificate of need application that $11 million has already been raised. They anticipate bonding for $100 million and predict the project will require an extra $16.1 million in operating expenses once the building is in use. Utility costs and additional staff account for the increase.
The project has to clear multiple regulatory hurdles if construction is to begin this spring as scheduled. Some are local permits. The medical center has already completed the required municipal reviews, but Lang appealed the city's approval of the adjustment of a boundary line between the hospital campus and the University of Vermont.
Getting the Green Mountain Care Board to sign off on the certificate of need could be more complicated. Opponents can ask for "interested-party status," which allows them to participate in the process. If it's granted, they can raise issues that the hospital has to address. They can also appeal any decision, potentially slowing down or derailing the project.
Others besides Lang are questioning the hospital's proposed "inpatient bed replacement project." The Vermont Federation of Nurses & Health Professionals, the union representing nearly 2,000 workers at the medical center, has requested interested-party status in the certificate of need proceeding. Union leaders argue its members will be affected by the design of the new space and were left out of the planning process.
They also question the medical center's ability to finance the project and how that might impact workers' pay, citing potential liabilities associated with "interest rate swap agreements" that the medical center has entered into since 2008.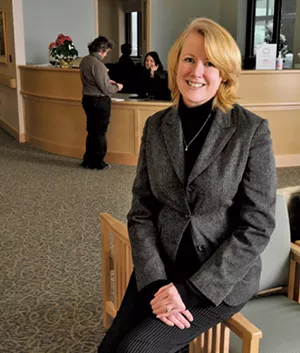 File: Jeb Wallace-Brodeur
Judy Tartaglia
"We want to make sure there are still adequate amounts of dollars and other financial supports going into direct patient care," said Mari Cordes, a vascular access nurse at the hospital and union vice president. The union agrees there is a need to replace double-occupancy rooms with state-of-the-art single rooms, Cordes said. Members simply want answers to their questions before the project gets the go-ahead from the Green Mountain Care Board.
In a written response, Spencer Knapp, general counsel for the medical center, disputed the contention that the project might impact worker pay. Knapp also argued hospital staff had "ample opportunity to weigh in on the project's design." Knapp opposes granting the union interested-party status on the certificate of need proceeding.
Similarly, hospital officials opposed Martha Lang's request for interested-party status in the Act 250 process, but the panel granted her request. Said Lang: "I'm not saying they can't build. They just can't build at my expense."
Brumsted hopes to persuade all the various regulatory panels of the big-picture benefits of the new building. "I'm confident that this new facility will help us provide a better healing environment for our patients and ensure appropriate regional bed capacity for our four-hospital network."
A $1.6 Billion Budget
Judy Tartaglia planted the seed for the partnership between her hospital — Central Vermont Medical Center, in Berlin — and the state's largest hospital over lunch with former Fletcher Allen CEO Melinda Estes.
"We talked about creating a system of care," recalled Tartaglia, president and CEO of CVMC since 2007. Having previously run Maine's Miles Health Care, which included a hospital, a nursing home, two residential facilities, a physician practice and a home health service, she said, "I was accustomed to working in a system."
That 2009 luncheon seed blossomed into the University of Vermont Health Network.
Today it is a partnership of four hospitals: the two in Vermont that launched the network in 2011, and two in upstate New York that joined in 2013 — Champlain Valley Physicians Hospital in Plattsburgh and Elizabethtown Community Hospital.
The four hospitals have consolidated their debt. They develop their combined $1.5 billion in budgets jointly, share business and planning operations and are beginning to integrate clinical services.
Why would the chief administrator of an 80-bed hospital invite a partnership with a medical center more than five times as big?
Tartaglia acknowledges that some of her staff worried the 447-bed hospital in Burlington would swallow up their community institution. "If you were to ask people their concern, it was loss of their culture," she said, pointing out the first-name friendliness on display in the halls of Central Vermont Medical Center.
Still, she plowed ahead because she saw it as the best way to maintain, even enhance, the medical services her staff wanted to offer.
For a decade beginning in the late 1990s, Central Vermont had been part of a 10-hospital network with Fletcher Allen's chief competitor — the Dartmouth-Hitchcock Alliance. "It was mostly a business support system," Tartaglia said. "What the Dartmouth Alliance didn't do is provide us any clinical services and resources."
Courtesy of University of Vermont Medical Center
University of Vermont Medical Center main campus
When the alliance dissolved to restructure, Tartaglia said, Central Vermont took time to weigh whether to partner again. The eventual decision was yes.
Since partnering in 2011 with Fletcher Allen — now rebranded as UVM Medical Center — Central Vermont has been able to integrate several of its medical specialties with counterparts in Burlington, and more are in the works. "Many of our physician groups are two or three doctors. If you lose a specialist out of a small group, you don't have the coverage. You have no bench strength to rely on," Tartaglia said.
For radiology, pathology and anesthesiology, Tartaglia said, "Now there is somebody in Burlington ready and willing to fill in," meaning doctors can pinch-hit where needed.
Tartaglia touts another benefit of the UVM network: greater efficiency in responding to reforms required by state and federal policymakers. "You can pool your resources," she said. Plus there is a greater sense of political clout. Being part of a bigger entity means that "I'm part of the change and I don't feel like I'm being pulled down the health care reform road."
Brumsted described the network as "one company with different stores." While acknowledging concerns about loss of independence and local control when partnering, he argues, "Organizations need to lose a little autonomy to gain value."
The Burlington teaching hospital and its network partners recently changed their names to showcase the academic affiliation with UVM's College of Medicine.
"It is not empire building," stressed the man in charge of the biggest organization in the network. Rather, Brumsted said, it is about "appropriately gaining scale" to ensure access to health care that is both high quality and affordable.
Matthew Thorsen
Mari Cordes
The network ensures the smaller hospitals have the resources and staffing to focus on the basics while the medical center specializes in the most complex medical care. It makes it easy for patients to go back and forth between health care facilities for treatment.
The looser alliances of the last decade are obsolete, Brumsted said. "If you don't have a tight relationship, you don't get the most efficient model."
Nationally, the increase in hospital mergers and partnerships has given rise to worries that super-size medical facilities will dictate prices to insurance companies and increase costs for patients.
Brumsted dismisses that theory.
"You have two of the most highly regulated health care markets in the country in Vermont and New York," he said. Vermont hospital budgets and health insurance rates are reviewed annually and adjusted if necessary by the Green Mountain Care Board. In September, the board held hospitals to an average 3.1 percent budget increase and scaled back health insurance rate increases for products sold on the new online marketplace.
Brumsted also suggested there is "an embedded culture" of service at the medical center. "We really want to be affordable," he said, so that the state becomes more attractive for new business.
He challenged the contention that competition drives down health care costs. "In a rural environment, I believe you can make a great case that competition drives up the cost and dilutes the quality."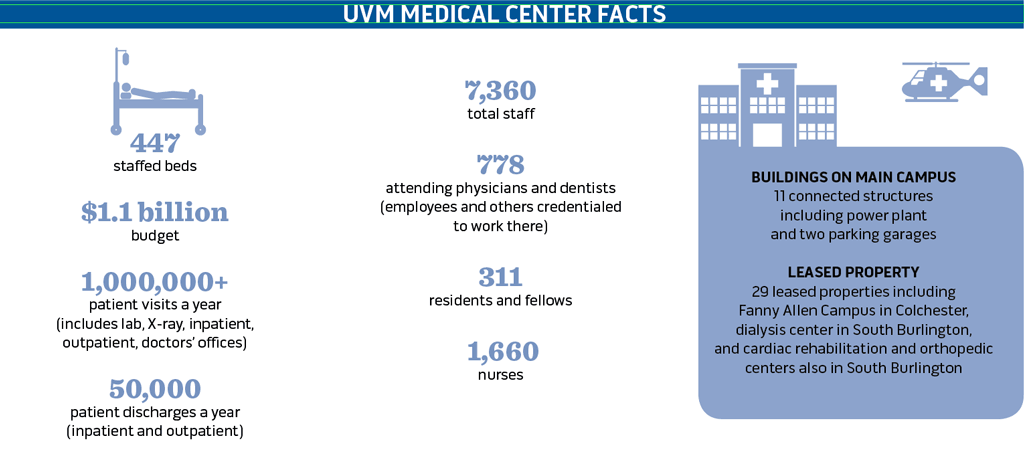 He offered an example. "Champlain Valley Physicians Hospital and Fletcher Allen were locked in a decade-long cardiology competition," Brumsted said. "That was not good for the patients."
Champlain Valley had small numbers of open-heart patients, making it expensive and challenging to maintain surgical expertise. Now all open-heart surgery takes place at UVM Medical Center while New York patients needing angioplasty, a more common heart procedure, are referred to the Plattsburgh hospital.
"We decided collaboration and coordination was much better for our patients than competition," said Stephens Mundy, CEO of Champlain Valley since 2002.
He cited other benefits of the collaboration for his hospital, which has two-thirds of the bed capacity of UVM Medical Center. "On the purchasing side, we have been able to save almost a million dollars because we are in a larger system," he said. Also, the medical center is helping Champlain Valley set up a family-care residency as a way to attract more primary care physicians to northern New York. Sixty percent of doctors end up practicing within 100 miles of where they train, Mundy said.
Champlain Valley chose to partner with UVM Medical Center rather than the 734-bed Albany Medical Center because Burlington was closer and gave the Plattsburgh hospital a voice in decisions affecting its former competitor, Mundy said. Representatives from the two New York hospitals sit on the network board and vote on the medical center matters, including the budget.
Tartaglia credits Brumsted with empowering the smaller hospitals. "He really listens," she said. "He is very accessible. He makes you feel like you are a partner, not a pawn."
Outpatients In
Closer to home, Fanny Allen Campus in Colchester is too small and would need significant upgrades to meet the long-term needs of the programs located there. One solution would be to relocate its outpatient services to South Burlington's Mountain View Business Park, where the UVM Medical Center already operates its orthopedic specialty programs, the spine institute, endocrinology, cardiology and a cardiac rehab program on Tilley Drive.
That's one reason the Burlington hospital proposed spending $52.6 million last year to buy four buildings and 61 acres in the business park — which stretches along I-89 near the whale sculptures — plus an adjacent 39-acre farm. Most, but not all, of the businesses that occupy the five Lego-block-like brick buildings are already health-related; not all are affiliated with the hospital.
Medical center consultants say the South Burlington property is the only site reasonably close to the hospital with enough open space to meet future outpatient needs. The acreage in the office park could host three or four buildings while the adjacent farm could support up to 200,000 square feet of development, plus parking.
The medical center's certificate of need application hints, but doesn't spell out, which clinics might be moved there.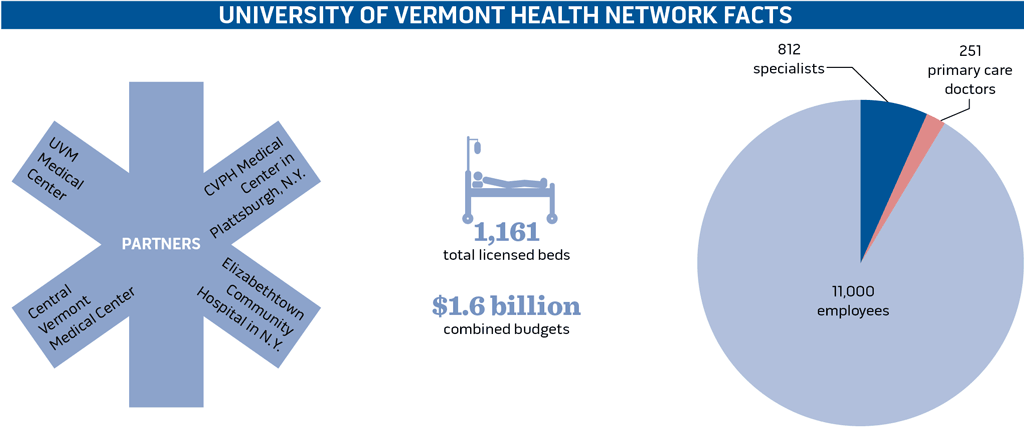 Hospital officials argue the time is right to buy — even though development of an outpatient campus might be years in the future. The hospital currently spends $5.8 million on rent for 29 leased properties and has options to buy the properties that expire in the next few years. More space is needed for clinics such as ophthalmology and vascular surgery. Others, such as the breast cancer clinic, are nearing capacity.
"This really isn't predicated in expansion," CEO Brumsted said, noting the medical center would save money by owning rather than renting. "It is to be proud stewards of our resources."
Health advocate Kerr, whose job is funded through Vermont Legal Aid, has filed for interested-party status with the state board reviewing the proposed purchase. "What does it mean for the cost and care and the quality of care?" she asked during an interview at her office in Burlington.
The nurses' union, the Howard Center and the City of Burlington have also raised questions about the deal.
As with the new building, the Vermont Federation of Nurses & Health Professionals is focused on the medical center's financial health. Can it afford to spend $180 million on an addition it wants to build now while also investing $52 million in land and buildings it would develop in the future?
The South Burlington location is another issue: Hospital officials suggest that consolidating outpatient services there would be more convenient for patients than keeping them at scattered locations — the medical center, Fanny Allen in Colchester and the University Health Center in Burlington.
But Kerr, the City of Burlington and the Howard Center question how easy it is for patients to get to the business park off Route 116. Those without cars would face challenges because of limited bus service, noted Kimberlee Sturtevant, assistant city attorney in Burlington. Kerr said transportation has been a concern since the medical center first located outpatient cardiology and orthopedic services on Tilley Drive.
Medical center staff note that a shuttle service operates by appointment, picking up patients who have taken public transportation to the University Mall and transporting them to Tilley Drive. Hospital officials said they would assess transportation needs as development progressed at the site.
Brumsted summarizes the futuristic focus of the purchase.
"As the academic medical center partner of a four-hospital network, we must ensure we have the resources and flexibility to meet evolving patient care needs," he said when the certificate of need application was filed last spring. "Purchasing these properties would give us the opportunity to expand our campus in South Burlington to meet growing demand for outpatient services (a national trend), invest in a smart buy-versus-lease strategy, and preserve space on the medical center campus for the most acute care needs."
What's next?
In November, the medical center put the South Burlington purchase proposal on hold, telling the Green Mountain Care Board it would prefer to focus on the certificate of need for the patient tower project. The board agreed to the switch.
Earlier this month, the board sent the medical center a letter with 27 requests for more information about the tower. More queries could follow because the board reported it was still reviewing the financial and architectural submissions.
Hospital administrators hoped to start construction in May, but there's no guarantee. That depends not only on receiving a certificate of need, but on the University of Vermont receiving approval to demolish the three buildings adjacent to the hospital project.
Construction — whenever it starts — will take three years.
Meanwhile, the hospital network could get bigger.
Brumsted confirmed that "several other organizations are on a direct pathway to become partners," adding that those hospitals are in both New York and Vermont.
Fitch Ratings, which upgraded the bond rating for the medical center and its network partners last summer, noted that the options in Vermont are limited. The medical center already draws patients from the northern half of the state and is unlikely to unseat Dartmouth-Hitchcock from its dominance in the state's three southern counties. New York, on the other hand, offers the medical center a potential market outside its traditional service area, Fitch suggested.
Mary Fletcher never would have thought of that.
Correction: This story and an accompanying graphic image were updated on 1/29/15 to reflect accurate staff figures for the University of Vermont Medical Center. Staff totaled 7,360 as of the prior week, including more than 500 doctors and dentists. That figure was 778 when additional ones credentialed to practice at the hospital's facilities were counted.
The original print version of this article was headlined "Single Provider?"