Working concept from the rebranding campaign for UVM
They've helped sell Nikes and Ferraris. Now professional marketers at the Philadelphia-based agency 160over90 are rebranding the University of Vermont to increase the school's applicant base and attract more students with tip-top academic credentials. UVM leaders say the campaign is a necessary investment to keep the institution competitive, but not everyone on campus is convinced.
UVM is paying the firm $1.58 million to produce videos for its website, a glossy hard-copy "view book" for prospective students and other marketing materials with an overarching message defining the school. That message is still being shaped, but members of 160over90 have spent months meeting with students and faculty and presented their ideas in a series of campus sessions last month.
In the materials they shared, the company cast UVM as an "academic ecosystem" where students and faculty have an intimate connection to the environment and a dedication to using academia to better the world. Images show professors and students skiing and rock climbing on one page and doing research on the next. A long mountain view is captioned, "Pretty Pictures Don't Save the World," while next to that, the words "People Do" are displayed over a photo of a student rally.
That's a long way from UVM's party-school image, and one that more accurately describes the institution, according to university leaders.
The interim dean of the College of Arts and Sciences, William Falls, is impressed with the emerging campaign. "I'm amazed at how well I think they captured who we are. They nailed it."
His interpretation of the firm's message about UVM: "You embrace individuality, but yet you act collectively."
The lofty taglines about UVM's "academic ecosystem" are designed to do more than inspire. They're intended to help the state university pay the bills, long term. Faced with a decline in the number of high school graduates in Vermont and the Northeast, as well as intense competition from peer institutions, school leaders say that UVM needs new recruitment strategies for both in-state and out-of-state students.
"I think it is the right time and the right thing to do," said Stacey Kostell, UVM vice president for enrollment management.
160over90 and UVM have two signed contracts. The first paid $99,160 plus expenses for three months of research from May through July last year. The second promises $1.485 million plus expenses for marketing and branding work from October 2015 to September 2018. Seven Days obtained copies of the agreements through a public records request.
(Read copies of these documents here.)
160over90 has a sizable list of high-profile clients, from colleges to the sports clothing brand Under Armour and the Philadelphia Eagles football team. The firm's name, a reference to elevated blood pressure, underscores its belief that the most powerful advertising triggers a strong reaction.
Some clients have reacted strongly, too. The University of Oregon recently canceled a three-year, $3.4 million contract with 160over90 after critics said it was too expensive. Some UO faculty called the campaign "inane and insulting" and a waste of resources that should be spent addressing the university's real problems, the website Inside Higher Ed reported.
Meanwhile, the company has deftly positioned the University of California at Los Angeles, the University of Florida and other schools with cinematic videos and succinct pitches on billboards, bus ads and the web. Its campaign for UCLA promised, "329 days of sunshine a year isn't a forecast, it's an outlook." For Florida, the campaign advised: "There are more than seven billion people on this earth. But it takes a special something to be a Gator."
Similarly, the mock-ups of the UVM campaign include a "brand concept rationale" that emphasizes Vermont's good views and the university's contribution to the larger social good. "From Mount Mansfield's summit to Old Mill's storied halls to Lake Champlain's depths exists the most amazing classroom in the world," the sample copy reads. "Here, everything is vibrantly alive — from our natural surroundings, to our world-changing ideas and innovation. And the work we do here is impacting humanity in real time."
Many universities and colleges are spending millions on outside marketing experts to refine their message to high school students who, in the age of the online Common Application, are applying to multiple schools with a few clicks of a mouse. For some students, the process is more like speed dating than a steady courtship, which makes the first-impression statistical profiles of colleges available at collegeboard.org and other websites crucially important.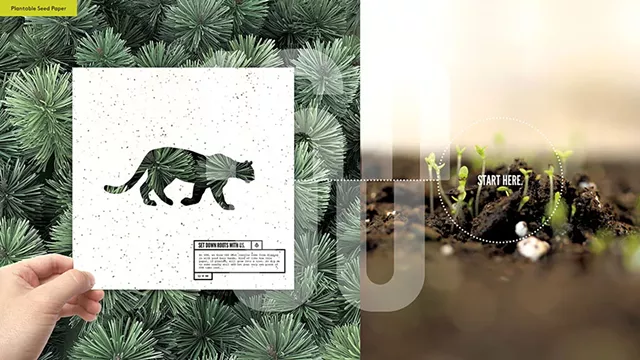 Working concept from the rebranding campaign for UVM
This sketch-by-the-numbers shows that the University of Vermont has median combined SAT scores of 1,200 for this year's first-year students and an admit rate of 71 percent. That's more selective than some state schools, but much less so than many of the top private colleges, whose tuition is on par with UVM's out-of-state rates. This year, tuition, room, board and fees for out-of-state students at UVM total $53,864.
The in-state cost is much lower — $31,000 — but still higher than the amount it would cost for some Vermonters to attend public schools in nearby states. And those colleges want them. A few months ago, the University of Maine announced that it would offer in-state tuition for out-of-state students from Vermont and five other nearby states who have at least a 3.0 average and combined math and verbal SAT scores of 1050 or higher.
A graying population and low birth rate are driving the aggressive recruitment strategy in Maine. Vermont is experiencing the same demographic trends.
This year, only 20 percent of UVM's freshmen are from Vermont, the lowest percentage in the school's history. Because some Vermont students transfer to UVM, the overall percentage among the school's 10,000 undergraduates is higher, about 30 percent.
UVM officials say they're trying to attract Vermonters, and their admissions decisions bear that out. UVM accepted 64 percent of the 2,221 Vermonters who applied this year. Of the 1,421 prospective in-state students, 480 enrolled — just one in three.
One goal of the new branding initiative is to convince Vermonters who are accepted to UVM that they can grow intellectually and socially in their own backyard — a not-so-easy sell to young people eager to see the world. So in addition to reminding Vermont students that UVM is a research university with a world-class faculty, vice president Kostell said, the campaign should let Vermont students know that their classmates will come from all parts of the country. "Those are the stories we need to tell."
The campaign is also aimed at broadening UVM's reputation beyond the Northeast.
"Good branding distinguishes you from the 4,140 universities in the U.S.," the firm states in draft campaign materials. Good branding makes a school memorable, unique and makes your audience "actively want you, not simply choose you by default."
That logic resonated with Rep. Bill Botzow (D-Bennington), one of the trustees on campus last week for a three-day meeting at the Dudley H. Davis Center. "The bottom line: You have to compete for talent, and we have to put our best foot forward and not just expect it to show up," he told Seven Days. "Everything ultimately comes down to the competition for human talent." The expense is justified, he said.
In another sign of the times, UVM provost David Rosowsky had just reaffirmed the university's commitment to a highly controversial reorganization called incentive-based budgeting. The new model, instituted fully this school year, is a market-driven departure from traditional academic budgeting. Degree programs and departments that attract students stand to get more money; ones that run courses with lots of empty chairs could get less. Some faculty members have objected, saying it's a popularity-contest approach that could make the university's intellectual range less expansive.
In the context of this controversy, spending precious dollars on rebranding doesn't sit well with all faculty members. Felicia Kornbluh, president of United Academics, the union representing 800 UVM faculty members, wrote in an email: "If the $1.5 million figure is accurate, that certainly raises questions. United Academics includes faculty members who in recent years have had our workloads increased, our staff and teaching assistant support diminished, our income lowered, even our teaching careers brought to an end," said Kornbluh, who is associate professor of history and gender, sexuality and women's studies. "Faculty know that the best way to attract and retain students at UVM is to invest in their education. UVM isn't a brand; it's a university."
As trustees circulated on the top floor of the Davis Center last Friday, many of the students in the building appeared to be unfamiliar with the rebranding effort. But they have ideas about how UVM is perceived and why they chose the school.
In a café by the campus bookstore, Matt Fink offered his perspective. The junior, a neuroscience major who grew up in Pittsburgh, Pa., went to highly selective Williams College for a year, then left to work and pursue other interests. Now 30, he chose UVM when he returned to school because he wanted a biggish research university, and he likes Burlington.
He's been pleasantly surprised with the number of research opportunities available for an undergraduate and was pleased to learn the new UVM marketing campaign will play that up.
He also said the quality of the faculty should be emphasized. He said UVM has professors who could teach at more prestigious schools but relish Vermont's quality of life: "My experience is, the faculty is really good because they want to be here."
Madeline Murray-Clasen, 20, was in the top 10 percent of her class at Montpelier High School and was admitted to McGill University, Northeastern University and other selective colleges. She said UVM's party-school rep initially turned her off, and she didn't like the idea of going to school so close to home.
Being admitted to the honors college program, which offers housing in a designated dorm, seminar-style classes and other perks, convinced her to enroll. Now she's an environmental studies major. There's a real push for academic excellence, she said, and UVM's rebranding should "create this image that we are an academic university first."
Branding and Marketing Request for Proposals
160over90 Research Contract, 2015
160over90 Services Contract, 2015-2018