Luke Awtry
Wanda Heading-Grant
Wanda Heading-Grant was 18 years old in the fall of 1983 when, as an incoming first-year student at the University of Vermont, she walked across the Burlington campus to visit a friend she'd made that summer. By the time she reached the friend's dorm, Heading-Grant recalled, tears were streaming down her face.
An African American first-generation college student from Trenton, N.J., Heading-Grant saw no one else on campus who looked like her. When she knocked on her friend's door and he wasn't home, she was despondent. She remembered thinking, What have I done coming here?
Heading-Grant returned to her own dorm, where she was too embarrassed to explain to her suite mates, all of whom were white native Vermonters, why she was so upset. Though she'd been one of the smartest girls in her high school, Heading-Grant recalled, she lacked the vocabulary to express her feeling of cultural isolation.
"I used to say my time here [as a student] was bittersweet," Heading-Grant said during a recent interview in her office in UVM's Waterman Building. "I don't say that anymore."
Heading-Grant is UVM's vice president for human resources, diversity and multicultural affairs. When she walks across campus today, she said, she sees more students, faculty and staff who look like her. She also sees an institution that — though still more than 85 percent white — has made considerable progress in opening up to people of color, the LGBTQ community and individuals with disabilities.
Heading-Grant has spent much of the past three decades at the forefront of effecting those changes at UVM, an achievement for which she's been recognized nationally as a leader in her field. In June, she was one of 166 winners of the 18th annual Women Worth Watching Award, chosen by Profiles in Diversity Journal. It was only the latest in a string of accolades for the 54-year-old administrator, whose mouthful of a job title doesn't do justice to her myriad duties and responsibilities.
"When people ask me, 'What do you do?' I say, 'I'm in everybody's business!'" Heading-Grant said, only partly in jest. "Because, if I'm in your business, usually I am doing something good around you, for you or with you. And if you did something wrong, I'm still ... doing something good, because I'm watching the university's back and the community's back."
Heading-Grant has one of the toughest jobs on campus. At a time in American history when any discussion of race, religion, ethnicity or gender orientation can quickly ignite white-hot emotions, she's charged with helping UVM's 12,000-plus students and some 2,000 faculty and staff navigate those difficult conversations. And she must do so in a way that doesn't anger or alienate her audience.
Luke Awtry
Among Heading-Grant's proudest achievements was the creation of the Andrew Harris Commons. Dedicated in October 2018, the Commons honors Andrew Harris, UVM's first African American graduate. At his commencement ceremony in 1838, none of his white classmates would walk across the stage with him. After leaving Burlington, Harris went on to become a Presbyterian minister and abolitionist, respected by black and white clergymen. The Commons, situated between the Howe Library and the Davis Center, is the first outdoor space on campus named for a person of color.
The challenge may be enormous, but Heading-Grant is consistently described as someone who gets things done while leaving people feeling valued, respected and heard.
"Wanda is a warm and engaging person with a great sense of humor and is modest and self-deprecating," said John Bramley, who served as UVM's interim president in 2011 and 2012. He worked alongside Heading-Grant for nearly 30 years. "I would say it's almost impossible to dislike her or not be excited by her enthusiasm and commitment," he added.
"Wanda knows everyone, and everyone knows Wanda," said Sherwood Smith, UVM's senior executive director for engagement and professional development and director of the Center for Cultural Pluralism. "She works really hard to meet people where they are and engage them in a positive, welcoming way."
Indeed, of the programs and policies that UVM has adopted in recent years to make its campus more diverse and inclusive, many were either initiated by Heading-Grant or owe their existence to her championing of causes spearheaded by others.
Heading-Grant is credited with transforming the university's annual recognition of Martin Luther King Jr. from a single-day event into a weeklong celebration. She's been instrumental in hiring and retaining more women, LGBTQ faculty and staff, and people of color at the highest levels. The last category includes Dr. Suresh Garimella, UVM's new president. He is the first person of color, and the first person born outside the U.S., to occupy that position; Heading-Grant was on the search committee that selected him.
When she became associate provost in November 2007, she implemented a university-wide, six-credit diversity-training requirement that all students must complete to graduate. Previous diversity training had been scattershot, differing widely from college to college within the university.
In recent years, Heading-Grant took up the cause of UVM's transgender students to mandate gender-neutral restrooms in all campus buildings. She helped the university reframe its policies around the use of preferred names and pronouns. Earlier this year, the national nonprofit group Campus Pride ranked UVM among the Northeast's top schools for LGBTQ students.
"Wanda is very relational," said Kate Jerman, director of UVM's Prism Center, formerly the LGBTQ Center. "It's very important for her to know what's important to the people she's working with, and for them to know what's important to her."
In 2016, a Black Lives Matter flag was stolen from a UVM flagpole. In response, student protesters, many affiliated with the group NoNames for Justice, occupied the Waterman Building with a dozen demands, which included the renaming of the Bailey/Howe Library.
Then, in February 2018, UVM's assistant director of the Office of Student & Community Relations, John Mejia, went on a nearly weeklong hunger strike with a list of demands for the administration related to racial equity. That same week, more than 100 demonstrators marching in solidarity with Mejia blocked rush-hour traffic on Main Street for almost three hours. Among their demands were the permanent flying of a Black Lives Matter flag on campus, increased funding for anti-racism training and events, and more staff and funding for the Mosaic Center for Students of Color.
Heading-Grant recalled that those experiences touched off a potent mix of emotions for her as an African American woman, a former UVM student, and a teacher and mentor to some of the student activists involved.
"I was happy and proud that we had a community of students who felt that they could express themselves," she said. "Did I always agree with how they expressed themselves? No, not necessarily. But I knew that ... sometimes changes occur when emotions are at their highest."
Heading-Grant worked to ensure that the administration not only heard the protesters but acted on their concerns. Within two years, the Bailey/Howe Library was renamed to remove the name of a longtime UVM eugenics advocate.
Although the hunger strike and the civil disobedience didn't get all the activists' demands met, Heading-Grant pointed to almost a dozen changes that have been implemented in the past year alone. They include the appointment of a new faculty fellow for diversity and inclusion, who is helping develop and implement a new curriculum for ongoing racial equity training and education on campus.
The university also streamlined its bias response program and redesigned its new employee "onboarding program" to increase the focus on diversity and inclusion. It added more counselors to and funding for the Mosaic Center for Students of Color and the Prism Center.
Heading-Grant's influence extends well beyond the UVM campus. She's perhaps best known for an annual event she founded: the Blackboard Jungle Symposium, now entering its 13th year. Borrowing its name from the 1955 film about an interracial inner-city school, starring Sidney Poitier and Glenn Ford, Blackboard Jungle began as a professional development program for UVM faculty. It's since evolved to include UVM students and staff, as well as K-12 educators from all over Vermont.
Last spring's Blackboard Jungle featured such speakers of national prominence as Tarana Burke, founder of the #MeToo movement, and transgender author and activist Kate Bornstein. The event drew more than 600 registrants from all over the state for two days of trainings and workshops on diversity and inclusion.
"Even though it's an annual event, Wanda sees [Blackboard Jungle] as something that can continue throughout the year," said Cynthia Reyes, an associate professor in the College of Education and Social Services whose specialties include refugees and immigrant populations. "It's not this tourist approach ... as though it's the only day of the year when we can talk about race."
Heading-Grant pointed out that UVM doesn't exist in an impermeable bubble. Whenever there's a shooting or other disturbing incident in the U.S., especially one targeting a specific population, UVM students, faculty and staff feel it, too.
"These are hard times, especially for people who do the work I do," she said. "You can be right smack-dab in the middle of it all the time. It can be sad and depressing."
Though her responsibilities range from budgeting to compliance with federal labor regulations, Heading-Grant said she focuses much of her energy on helping the university create an environment that feels welcoming and inviting to everyone.
She noted the work being done to that end by UVM's five student-oriented identity centers, which she brought together under one bureaucratic framework: the Mosaic Center, for students of color; the Prism Center, for LGBTQ students; the Interfaith Center, for students of all religions; the Women's Center; and the Center for Cultural Pluralism.
"Wanda's done all those things by working with people. She would never say, 'I did them alone,'" Smith said. "We all have areas where we're more comfortable. Her job is to push people to become engaged in areas where we're less comfortable."
How does she manage that?
"Wanda's story resonates with people," said Marie Vea, assistant dean for student services and staff development in the Rubenstein School of Environment and Natural Resources. "A lot of the students and people I work with are looking for someone who can understand ... feeling really, really different. If they can find Wanda ... she's the person who can say, 'I know what you're feeling. I've been in your shoes.'"
'Inner Steel and Stubbornness'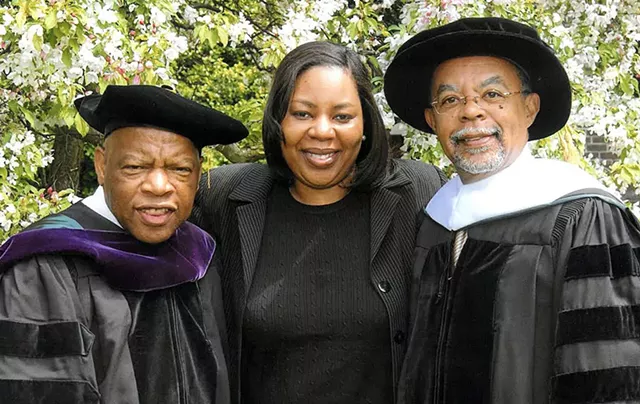 Courtesy of Wanda Heading-Grant
Rep. John Lewis, Wanda and Henry Louis Gates, Jr.
Hanging behind Heading-Grant's desk in her office in the Waterman Building is what she calls her "wall of fame," which she proudly shows off to a reporter. There, the self-described "selfie queen" displays photos of herself with various celebrities and dignitaries she's met over the years. Nearly all have been deeply involved in the civil rights movement, including Rep. John Lewis (D-Ga.); poet and memoirist Maya Angelou; author and philosopher Cornel West; and author, actor and academic Angela Davis.
One photo shows Heading-Grant alongside singer, actor and longtime civil rights champion Harry Belafonte, whom she brought to campus in 2008 for an MLK Day celebration. Afterward, she drove him to the airport and waited with him for hours when his flight was delayed. It was a rare opportunity to hear Belafonte's stories about Martin Luther King Jr. and his wife, Coretta Scott King.
"Who gets to do that? I love my job!" Heading-Grant said with almost giddy exuberance.
Heading-Grant's tales of her brushes with fame don't come across as boastful. She said her encounters with influential people and deep thinkers served as continual reminders of how far this once-poor black girl from southern New Jersey has come — and why she continues to do the work she does. Paraphrasing a verse from the New Testament, she said, "To whom much is given, much is required."
Heading-Grant grew up Wanda Heading in Trenton, about 25 minutes from Philadelphia, in a predominantly African American and Puerto Rican neighborhood. By the time she was age 12 or 13, she said, her parents had split up; she and three younger brothers were raised by their single mother, Dot.
Heading-Grant described her upbringing as "moderately poor." Though she was never homeless, the refrigerator might be empty some days until her mother came home from her job as a teacher's aide for Head Start. Later, Dot was one of the first seven women hired by New Jersey Transit as bus drivers — a job in which she suffered the indignity of having a white man spit in her face. Nonetheless, for a woman who'd long made ends meet on minimum wage, the $25,000-a-year salary occasioned a major improvement in her family's lifestyle.
"My mother was my champion. She always said I'd go off to college," Heading-Grant remembered. "But no one ever said how I was going to do it."
Heading-Grant excelled in high school. Her guidance counselor had attended Saint Michael's College in Colchester, the town where Heading-Grant now lives. When she told him she wanted to "be different" from her classmates, who were all applying to New Jersey schools such as Seton Hall University and Rutgers University or to traditionally black colleges in the South, the counselor offered a suggestion. "You really want to be different?" she recalled him saying. "Apply to the University of Vermont."
Courtesy of Wanda Heading-Grant
Angela Davis and Wanda
At the time, Heading-Grant knew nothing about Vermont, but she got accepted to UVM — and to every other school she applied to, including some that were more competitive. As a first-generation college student, Heading-Grant said, she didn't know how to choose among them. "I just liked the sound of Vermont."
In fact, she picked UVM over the University of Pittsburgh because she assumed the latter would be too cold for her. Her only point of reference was TV broadcasts of Pittsburgh Steelers games, held in a snow-covered stadium.
The summer before Heading-Grant started at UVM, her mother, aunt and cousin drove her to Burlington for what's now known as the Summer Enrichment Scholars Program. Targeted to first-generation college students, those with limited income and students of color, SESP allowed her to spend three weeks on campus to get acclimated before other students arrived.
Though Heading-Grant had considered herself a "smart kid" in high school, she was unprepared for the rigors of college and struggled her first year, academically and socially.
By the end of her sophomore year, however, she'd made the dean's list, and many more friends. Among the latter was her future husband, Jarvis Grant. He wasn't a UVM student but had moved to Burlington for an apprentice program at General Electric.
Heading-Grant graduated in May 1987 with a bachelor's degree in social work. Her family assumed she'd return to Trenton. Heading-Grant wanted to stay in Vermont, but she was too embarrassed to tell her mother she was staying for a man. When she began looking for jobs and realized what modest salaries social workers earned, someone — she can't remember who — suggested she attend graduate school instead.
"In my wildest dreams, all I'd ever thought of was getting my undergraduate degree," she said. In May 1987, Heading-Grant was accepted into a one-year accelerated master's degree program at Adelphi University on Long Island; by June 1988, she had her degree. That same year, Grant proposed.
The couple wed in 1989 and returned to Burlington, where Heading-Grant took a night-shift job for the Howard Center in what's now the UVM Medical Center. She worked as a crisis clinician doing psychiatric evaluations in the emergency department.
Because the church had always been a central part of her life, Heading-Grant joined the first traditional black church in Vermont, the New Alpha Missionary Baptist Church in Burlington, which her family still attends. It was founded by the Rev. Rodney Patterson —who, in the late '80s, was also director of what was then called UVM's Multicultural Center, now the Mosaic Center. Patterson offered Heading-Grant a job in the counseling center as its first clinical social worker.
"About seven months into it, I realized I didn't like it," Heading-Grant said. She missed crisis work, being constantly busy and engaged with the doctors, nurses and emergency responders in the ER. Though she was doing important work, she said, the center felt too slow for her.
In 1991, Heading-Grant was again in church when she met a fellow parishioner, Marion Metivier-Redd, who'd just been hired as UVM's chief diversity officer. Heading-Grant didn't know a thing about affirmative action, but Metivier-Redd wanted someone with a social work background to conduct trainings on sexual harassment and nondiscrimination. Because of Heading-Grant's master's in social work and her triage skills, she was hired as assistant director.
In 1993, Metivier-Redd left the university, and then-UVM president Thomas Salmon asked Heading-Grant if she'd take over as executive director of the Office of Affirmative Action and Equal Opportunity. She held that job for 10 years.
In 2003, Heading-Grant was pregnant with twins when she completed her doctorate in education, educational leadership and policy studies at UVM. Afterward, she wanted to branch out. So then-provost Bramley invited her to "go over to the academic side" and work as associate dean in the College of Education and Social Services — the college from which Heading-Grant had graduated.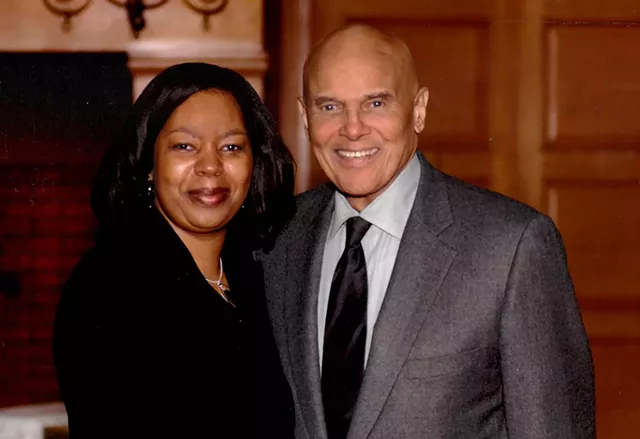 Courtesy of Wanda Heading-Grant
Wanda and Harry Belafonte
"Oftentimes women are overly mentored and undersponsored," Heading-Grant said, meaning that professionals will offer advice but not necessarily put their own reputations on the line to vouch for a female job candidate. "But that sponsorship is so important, especially for women and people of color."
She did get that sponsorship from Bramley, she said, who went to bat for her time and time again. Three years into her job as dean, Heading-Grant decided she missed doing university-wide work. Again, Bramley lent her his support, and she was appointed associate provost for multicultural affairs and academic initiatives, a position she held until 2010.
During that time, Bramley recalled, UVM hired a woman as dean of the Grossman School of Business and a woman as dean of the College of Agriculture and Life Sciences, in addition to hiring and promoting other women and faculty of color.
Bramley ascribes much of that progress to Heading-Grant and her combination of experience, connections and hard work. He said she has a unique ability to "speak about the importance of creating a more multicultural and diverse institution with knowledge, warmth and humor that disarmed the skeptics and won over the bystanders." At the same time, Bramley added, she "has an inner steel and stubbornness when needed."
Heading-Grant concurred. She was a shy and bashful kid, she said, but "that went out the window for me a long time ago."
A Long Way to Go
Luke Awtry
Wanda Heading-Grant talking with students
Those who know Heading-Grant say she's more than just "the diversity person" at UVM. She's a wife, the mother of three adult children and, come October, a six-year survivor of breast cancer. She's a woman of deep spiritual faith whose joyous embrace of life is motivated in part by tragedy, including the unexpected death of her youngest brother at age 40.
When her mother died at age 47 in a car crash, Heading-Grant assumed the role of family matriarch, playing that role from a distance while also working as a UVM administrator. For three years she took care of her surviving brothers, who'd lived with their mom, paying their bills and helping them out until they got on their feet. She even cooked them soul food dinners, which she and her husband packed up and drove down to Trenton every other week.
Ask those who know Heading-Grant what she's like personally, and you're likely to hear about her love of dance, cooking, faith and community. In addition to her work on campus, she's served on the Women's Leadership Council for the United Way of Chittenden County and on the board of directors at the Flynn Center for the Performing Arts.
"I love Wanda, and I admire her so much," said John Killacky, who served as the Flynn Center's executive director from 2010 to 2018 and is now a state legislator representing South Burlington. When he arrived in Burlington from San Francisco, Killacky recalled, he sought Heading-Grant's advice on navigating Vermont's very different racial and cultural environment. She became "a great sounding board for me, as a colleague and a peer," he said. Soon after, he invited her to join the board.
But Heading-Grant wasn't just "the diversity voice," Killacky emphasized. Her deep institutional memory in Burlington, as well as her breadth of experience at UVM, proved invaluable. Heading-Grant was on the Flynn board, he noted, when the campaign of then-presidential candidate Donald Trump asked to rent the Flynn MainStage for a January 2016 political rally. Because Sen. Patrick Leahy (D-Vt.) had rented the space a few years earlier, rejecting the Trump request would have been problematic.
Heading-Grant offered the Flynn advice on addressing the dilemma based on her UVM experience in dealing with controversial speakers and groups, including members of the homophobic Westboro Baptist Church. Afterward, Killacky said, she helped the board review its policies and procedures for approaching controversial events in the future.
"It was terrific," Killacky added. "I was learning in hindsight, and she was leading with years of experience."
Heading-Grant's service to the Flynn wasn't all work. She likes to boast that she cooked traditional soul food and sweet potato pie for B.B. King and his band on two separate occasions when they played in the Queen City.
After one of those shows, she recalled, the legendary blues guitarist invited Heading-Grant onto his tour bus and handed her a $100 bill in appreciation for the pie.
"I asked him what he liked about it," Heading-Grant recalled. "He said it reminded him of his mother."
By no means does Heading-Grant believe the hard work is behind her. When it comes to increasing diversity and inclusion at UVM, she emphasized, it's more than just "a numbers game." In 1999, students of color comprised only 4 percent of the UVM campus. This year, it's 12 percent.
Though the university is making progress, she said, there's still much work to be done. The recent revelations of prominent Virginia politicians' histories of dressing in blackface brought new attention to UVM's Kake Walk, a fraternity tradition involving public blackface performances that wasn't abolished until 1969. While that may seem like ancient history to some, the resurgence of white nationalism and overt acts of racism, in Vermont and elsewhere, ensures constant reminders of the importance of Heading-Grant's work.
"Each and every one of us has to be responsible for what's going on in our communities and in society right now," Heading-Grant said. "If we expect things to be better around any of the ills and 'isms,' it has to start with us ... I feel a sense of responsibility because I care about my community. I feel like I was born to do this work."