Matthew Thorsen
Christopher Veal
When Christopher Veal visited Morehouse School of Medicine in Atlanta, Ga., for his admissions interview in 2015, he felt a sense of belonging. "I saw faculty of all races," Veal said of the historically black school. "I saw a community that was strong, that really typified diversity." He decided that Morehouse was "hands down" his top pick.
But the Detroit native wanted more than just a medical education. When he was an undergraduate at the University of Vermont, Veal, who is black, started the Minority Association for Premedical Students. "I made an organization that, to this day, helps people of color and continues to push for the idea that people like us [belong] in medicine," he said.
Although Veal thought he might have a better experience emotionally at Morehouse, he eventually chose UVM's Larner College of Medicine. "I thought about this activist spirit I had," he said. He wanted to change the narrative at UVM medical school, which has traditionally enrolled a small number of black students. Veal realized, he said, "I can become part of the solution."
The medical college has improved in diversity performance in recent years. People of color, who made up less than 20 percent of the student body in 2005, constituted nearly one-third of students last year — 144 out of 469. That increase gave the school more diversity than any other UVM division, according to university spokesman Enrique Corredera.
Despite this progress, the medical school has not yet attracted robust enrollment from the two largest minority groups in the U.S. In the past five years, it has graduated just 11 black and 47 Hispanic students, compared with 84 Asian and 325 white students.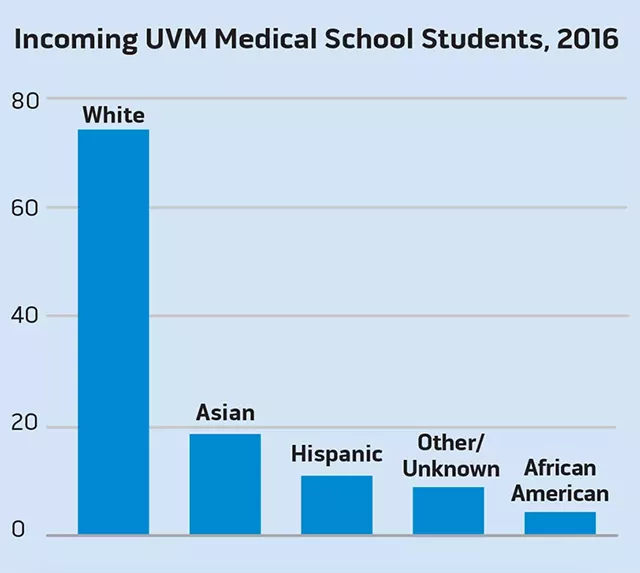 Students of Asian heritage, which dominate UVM's minority enrollment, are not generally underrepresented in American colleges and medical schools. However, UVM wanted to include them in its diversity initiative "because we don't have a huge Asian population in Vermont," explained medical admissions director Cary Jewkes.
Like medical schools across the country, UVM receives a much smaller number of applicants from racial and ethnic groups that are underrepresented in the medical field.
"Anybody who meets our requirement, we would try to interview them, because we're competing with other schools to get those applicants," Jewkes noted.
UVM's medical college has broadened its definition of "diversity" in another way. It has increased LGTBQ representation among its students, and about 20 percent of its first-year students identify as LGBTQ, according to Corredera. In addition, rural Vermonters who are first-generation college students are "incredibly underrepresented statistically," said Tiffany Delaney, the school's director of diversity and inclusion. As the only medical college in the state, UVM wants to increase those numbers.
As outlined in its strategic action plan, the medical school wants to create new pipeline relationships with Middlebury and St. Michael's colleges, as well as schools in Burlington, Winooski and the Northeast Kingdom.
"In attracting students that already understand what Vermont is and what we stand for, we have a better chance of retaining them," Jewkes said. "One of our problems of attracting and retaining students is that, for somebody who isn't from Vermont, it's kind of a culture shock."
Recruiting underserved minorities is generally difficult for UVM because of the state's overwhelming whiteness, though students of color report largely positive experiences after they arrive. Even so, they sometimes feel isolated and face more pressure to succeed.
"I have the disadvantage of being the only black male in my class," said Veal. "In a career where there are so few of us ... I am representative of the entire race, whether I want to or not."
Second-year student Anthony Gallegos, a Californian, echoed those thoughts. "There is a little bit of pressure to not fail, because they might think, Oh, maybe the minorities are failing out more often because they can't handle it," he said. "Of course, being one of the few Mexicans in medical school, I think it's something to be very proud of."
Third-year student Desiree DiBella, who is black and attended white institutions at home in Tennessee, said the lack of community in Vermont was a "little scary" at first.
"It might sound so trivial, but something that triggered me [was when] I couldn't find the hair care products that I use," she said.
Now in her third year of study, DiBella noted that only a few people of color have given lectures to her class. "It's hard to see yourself at the end of this very difficult journey and see yourself practicing," she said, "when you don't see yourself reflected in the people who are teaching you."
Veal said the medical school could more easily recruit minority students if its faculty were more diverse. Currently, only 8 percent of the faculty members are people of color. "It is important that when they are recruiting faculty members to come here, they should put extra emphasis on having people of color, because it means so much to the students that they teach," he said.
In terms of faculty of color, Delaney said UVM is in a situation similar to other medical schools. "We often are trying to recruit the same people," she said. The college has specified recruitment of minority faculty members in its 2018-2023 strategic plan.
The advantages of having a diverse student population are clear. Diversity has been shown to lead to creativity and innovation and is key to solving complex problems, said David A. Acosta, chief diversity and inclusion officer at the Association of American Medical Colleges.
Increasing the number of minority medical professionals also will work toward eliminating health disparities, he said. Patients receiving treatment from a physician who shares their language or cultural background are more likely to follow treatment regimens and report better health outcomes.
UVM's college of medicine aims to recruit 20 percent of its student body from each racial or ethnic group. "I don't know if we can ever achieve it, but that would be a goal," said Jewkes.
Courtesy Of Uvm/andy Duback
UVM Larner College of Medicine class of 2020
Acosta said that Vermont should publicize its assets to help attract more minority students. For example, the state has more primary-care physicians per capita than any other. This is a "nice recruitment tool," he said, since minority students are three times more likely to go into primary care than nonminorities.
Another "asset": UVM accepts students who are recipients of the Deferred Action for Childhood Arrivals, Acosta pointed out, referring to immigrants who were brought to the United States illegally when they were children. Only about a third of American medical schools do.
Acosta observed that schools have to recruit students of color in the right places. "If you have a deliberate intent in truly diversifying your workforce, you will develop action plans around that, including an outreach," he said. "You will go to targeted institutions that have higher graduate percentage of the minority groups that you're trying to recruit. It's not rocket science."
However, UVM has not actively recruited students from historically black colleges and universities or Hispanic-serving institutions that are farther afield. "We don't really have a huge budget for travel, and it is an expensive way to recruit a student," Jewkes explained.
Elizabeth Bonney, a black professor at the medical school, believes that the college has made some strides in recruiting minorities. But she said that it's just as important to cultivate an inclusive environment so these students can be successful.
"The critical problem, which is a conflict between white and male supremacy and the quest for justice, equality and self-determination, has continued to exist," Bonney pointed out. "It continues in academic medicine and science at some level."
Over the years, Bonney said that she has counseled students and colleagues of color who have experienced racial bias at UVM, although she declined to offer specific examples. "I'm not going to deny to people coming into my office that these kinds of issues do exist and can manifest themselves in difficult situations for people," she said.
"There needs to be more working with senior faculty and leadership around encouraging people to examine their own biases," Bonney said. "I think the level of actual getting down and dirty into these kinds of processes has not yet occurred."
In the meantime, minority students are trying to make the medical college a more welcoming and inclusive community. DiBella has compiled a community guidebook for students. Last year, she spoke at a White Coats 4 Black Lives event at the medical school to decry institutionalized racism within the health care system.
Veal said his "active pushing" last winter helped to persuade a prospective student of color who felt ambivalent about UVM to accept the school's offer. Next fall, he hopes to screen his documentary that discusses U.S. health care reforms through the eyes of a medical student. He's also planning to pursue a PhD in health policy and health economics.
When he graduates, Veal said, he wants to do his residency in a city or a place where residents come from a lower socioeconomic background. Having grown up in a household where he and his mother often had to go without electricity so that Veal could attend a private school, he said, "I want to be a doctor for the poor because I was poor. I want to make sure my community doesn't feel like I'm forgetting them."