MalcolmSeveranceCourtesyDave Abrams/Green Mountain Photography
Now that he has self-published a history of the University of Vermont's Grossman School of Business, 91-year-old Malcolm Severance is mapping his next moves.
"One goal," he said during a recent interview at his home in Colchester, "is to have as much influence as I can over what happens to the remaining land I own." That would be 70 undeveloped acres at Severance Corners, a strategically situated section of town named for Malcolm's parents.
Seated at a dining room table beside his wife of 65 years, the UVM professor emeritus reflected in a strong voice on a varied career that included an eight-year stint in the Vermont legislature (1999-2007) and a series of jobs at the university. As UVM officials noted in awarding him an honorary doctor of laws degree in 2008, Severance may actually hold the record for the most titles acquired by a Catamount: graduate (class of 1949), professor of economics and business, assistant dean of the College of Arts and Sciences, special assistant to the president, chair of the business department, and member of the UVM board of trustees.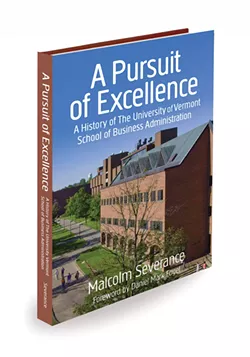 A Pursuit of Excellence: A History of the University of Vermont School of Business Administration by Malcolm Severance. Self-published, 318 pages.
Gladys Severance, also a member of UVM's class of '49, offered comments of her own during the interview. It coincided with the publication of her husband's 318-page book, A Pursuit of Excellence: A History of the University of Vermont School of Business Administration, which took him five years to complete.
That history starts in 1899, when the business education program was established thanks to a $50,000 donation from UVM alumnus John Converse, a manufacturer of locomotives. Severance's story concludes symmetrically with an account of a gift from another UVM alum — the $20 million given last year by corrugated-box maker Steven Grossman, for whom the School of Business is now named.
SEVEN DAYS: You played a key role in the business department's transition into a school of its own in 1981. Apart from that, what was your biggest achievement at UVM?
MALCOLM SEVERANCE: What I'm proudest of is hiring the best people I could find as faculty members. Vermont isn't known as a center of business, and the university was paying 15 to 20 percent below the market rate, so it wasn't easy to attract top talent. You therefore have to be imaginative. We tried to create an exciting environment where we did interesting things even though the department didn't have a big budget.
I wanted to bring in potential superstars who might be there for only a short time rather than hiring average teachers who would be there forever. You don't ever worry about hiring someone better than you are. Those are the people who will move the program forward.
GLADYS SEVERANCE: They worked their butts off. They worked so hard against all odds to establish the School of Business.
SD: What was the biggest impediment you faced?
MS: Not having enough money to do all that we wanted. But I suppose you can never have enough money for that!
SD: Was there any resistance at the university to creating a School of Business on the grounds that it isn't based on an intellectually rigorous discipline?
MS: There was that sort of resistance from sections of the College of Arts and Sciences. They didn't see why it would be important to have a business school at UVM. Now, though, 10 percent of UVM students graduate with business degrees.
Also, those aren't exactly easy intellectual challenges people face in the world of finance.
SD: How would you rate UVM students? Are they serious about their studies?
MS: How can I answer that? I've been retired for 30 years.
When I was teaching, I'd tell students on the first day of class that the average grade was going to be a C and that those above average would get a B, and maybe there'd be a few As. Those below would get a D, and some students will deserve to fail. I said that at the start so they'd be able to change class if they wanted.
But what happened over my career was grade inflation. It came to be seen as a failure if you didn't get at least a B. As a result, grades became meaningless.
SD: You spent a sabbatical year [1968-69] at the University of California's Berkeley branch. How did that compare to UVM?
MS: It was wilder. I got teargassed three times, and I was there during the demonstration for People's Park when a protester was blinded [by police firing birdshot bullets].
GS: What surprised us when we came back to UVM was how much longer everyone's hair had grown.
SD: What about your years in the state legislature? What stands out?
MS: The two years I spent on a health and welfare committee were especially good for me because I had to deal with people I never had dealt with in my life.
Being on a health care reform panel was also very interesting, even though I was sort of a fifth wheel. The committee wanted Vermont to have a single-payer system. I said folks aren't ready for that. Turns out, they still aren't ready for that.
SD: I see you've got a Feel the Bern coffee mug. Are you a Sanders supporter?
MS: I've had only one contact with Bernie my whole life. It was some years ago at the Ramada Inn where there was a gathering of state legislators that he also attended. Bernie said to me, "Malcolm, what are you doing these days?" I said I was in the legislature and was a moderate Republican. Bernie shook his head, said, "Vanishing breed!" and walked away.
I would go with Bernie over either of the other two candidates who are now running for president.
SD: Can you tell me about the history of Severance Corners, which is just a short distance from your home?
MS: It's named for my parents, who built a farmhouse there in 1930. My father, John Herbert Severance, was a local boy, born in Essex Junction and raised in Colchester. My family actually goes back six generations in Colchester — back to Ebenezer Severance, who came here in 1806 from Connecticut.
Before that, the Severances lived in Massachusetts. John and Abigail Severance came there from England in something like 1640.
SD: You and Gladys have three children, so it looks like the Severance presence in Vermont will continue.
GS: Yes, we have three very different children. Mark is a banker who lives in Shelburne. Dawn is a horsewoman who has 34 stalls about a mile up the road from us. Lyn [an illustrator and designer] lives on North Prospect Street in Burlington. She and her husband [Bill Harvey, a partner in the couple's design firm] converted a garage on the property into their studio. It's quite beautiful. We call it the Garage Mahal.